I have tried and tested this natural scrub. It's simple to make and smells so delicious (you'll probably want to eat it).
There's no need to buy body scrub from the store again. You can make fragrant (and inexpensive) DIY sugar or salt scrubs at home. They are excellent exfoliators for the body (especially in winter).
Use it weekly to buff your skin to a soft, smooth finish.
Be careful with this body scrub as it makes the shower slippery, and make sure to rinse it well. And tell your boyfriend/partner/children what it is, so that they don't try to eat it!
Cacao & Coffee Body Scrub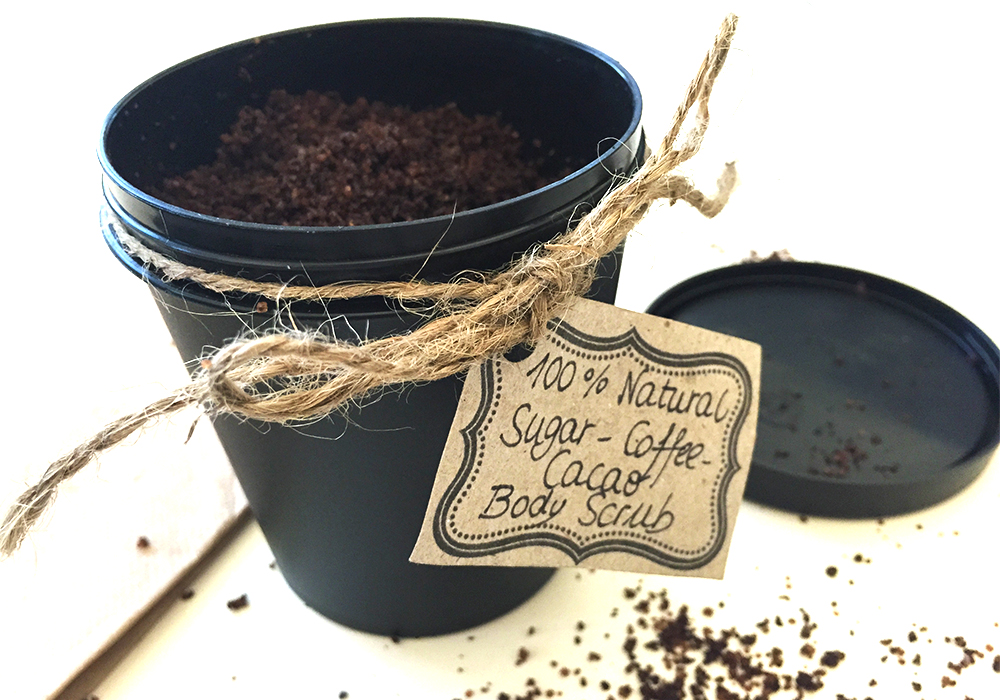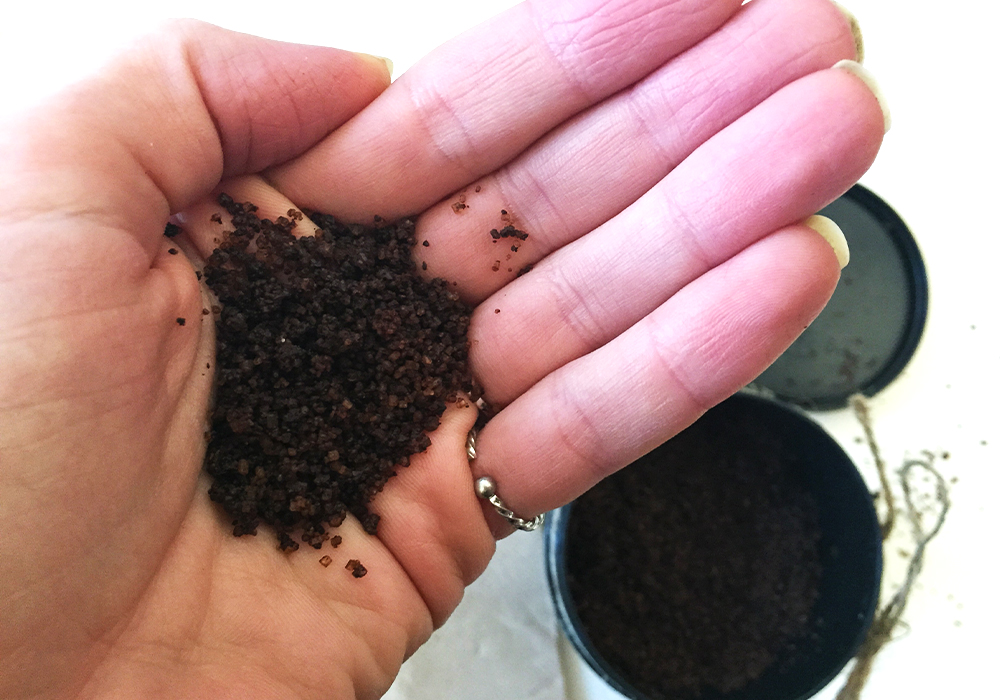 Ingredients (for 1 jar of scrub):
1 cup Raw sugar
¼ cup Organic unrefined coconut oil
½ cup Fairtrade ground coffee
3 tbsp Organic cacao powder
You'll need:
Recycled jars with lids (collect old ones them from everyone you know, I used old jars which used to contain jam, pasta sauce, coconut oil etc.)
Twine (or any recycled string or ribbon you have)
Jute or any other pretty fabric to cover the lids (you can even cut-up old t-shirts)
Recycled paper for the tags
Holepunch & scissors
Instructions:
The most annoying part: Clean and dry all your jars thoroughly and remove old labels. They might need scrubbing if the labels were really sticky. It took a while but I got all the labels of mine.
Now the fun part: Combine all ingredients in a mixing bowl. Add more coconut oil or more raw sugar to adjust consistency. You want it to be soft and easily scoopable but not too runny and greasy. Try not to lick your fingers, especially after you've added the ground coffee!
Pour the scrub mix into the clean jars and close the lid.
Cover the lid with a square or jute of fabric and secure it by tying it with twine and making a cute little bow.
Make cute labels on your recycled paper: I printed mine on recycled brown card, I put the name of the scrub on the front and the ingredient list and instructions on the back.
How to use: Massage a small handful onto wet skin in the shower. Store away from direct sunlight. Use within 6 months.

---