When David Jones decides to become 100% ethical, people listen.
In an ideal world we could walk into any major clothing branch and be met with rows upon rows of ethically sourced fashion. Well, David Jones wants to make that a reality. When retailer giants like these guys get involved with a good cause, you know people will hear the message. As one of the oldest continually operating department store in the world, we say it's about time!
DJ's already homes a handful of Ethical Clothing Australia (ECA) brands, including Ginger & Smart, Jets Swimwear, Nobody denim and Roopa Pemmaraju, but this month they took it one step further. They will be increasing their ECA in-store brands and supporting young and upcoming Australian designers so to build their business in an ethical direction.
Not only this, instead of severing ties with unethically sourced clothing brands, DJ's wants to champion accountability among its suppliers. This means enforcing the standards laid out in their Ethical Sourcing Program.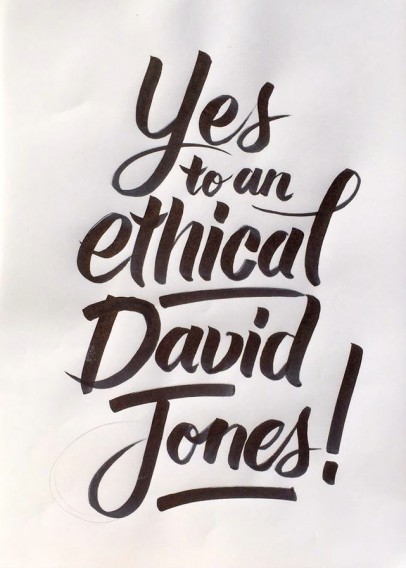 While fashion accounts for 65% of David Jones' products, the retailer plans to see the shift right across the cosmetics and electronics departments as well. This change follows the 2013 Baptist World Aid Fashion Report, where DJ's was awarded an 'F' for weak or non-existent policies that could prevent exploitation in supply chains. This year they have achieved a 'C', and they want to keep climbing.
"It's fantastic they're recognizing that labour rights issues occur across industries, and the fact they're using their influence to positively change everything they're in contact with."
- Gershon Nimbalker, Baptist World Aid
We are so happy to hear that major Australian retailers are committing to changing the fashion industry through ethical sourcing! Fashion Revolution was created to spread awareness of causes like this one. We can't wait to see what brands they will be stocking!
What you can do
Think green when you buy fabrics, fashion and accessories
Choosing the right low-impact fabrics, buying for quality and durability, and reusing and swapping clothes are all ways to cut CO2 pollution.
997
Tonnes of CO2
savings pledged
Did you like this post? Then join us in taking practical climate action to live better for us and for the planet.
---