This is a guest article from One Ingredient Chef
Chocolate. Raspberry. Pancakes. What could be better? Oh, I know: let's make them super healthy, all natural, and insanely delicious. I cook different versions of these pancakes at least twice a week for breakfast – it's a proven fact that starting your morning with pancakes makes it impossible to have a bad day.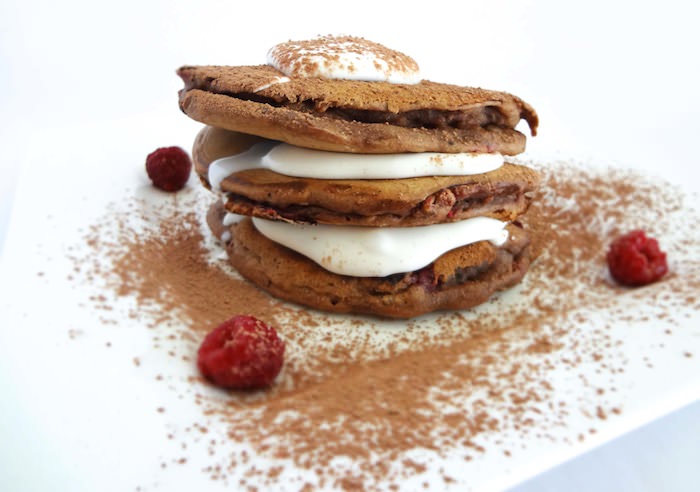 Makes 3 medium-sized pancakes
Ingredients:
1/2 cup whole wheat pastry flour (you can sub any flour)
3 tablespoons rolled oats
1/2 teaspoon baking powder
dash of salt
dash of stevia (or other natural sweetener)
1 tablespoon cocoa powder
1/4 cup raspberries (fresh or frozen)
1/2 cup non-dairy milk
1 teaspoon vanilla
2 teaspoons coconut oil – optional
Step One
Stir together all dry ingredients (flour through cocoa powder) in a mixing bowl. Add milk, vanilla, coconut oil (optional), and raspberries and continue stirring until well incorporated. If the batter seems too thick, add a tablespoon more non-dairy milk.
Step Two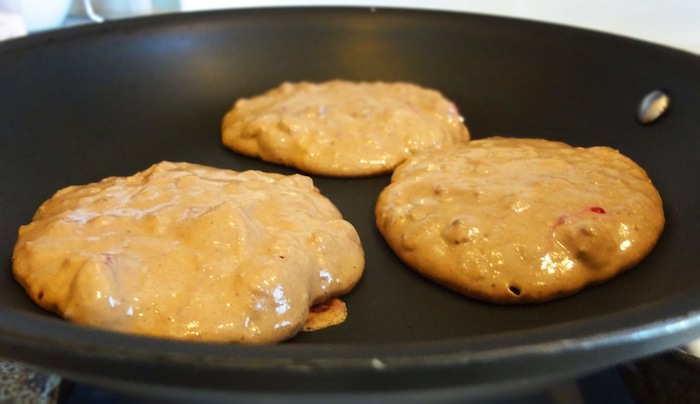 Heat a non-stick skillet over medium heat and spoon the batter into about 3 medium-sized pancakes. If they seem too thick, use a fork to quickly spread the batter out before it begins to cook.
NOTE: if using a non-stick pan, you don't need to add oil, cooking spray, or butter – they add extra calories and the pancakes shouldn't stick once cooked.
Step Three
After about 3-4 minutes, flip the pancakes and cook for another 3-4 minutes until the centers are thoroughly cooked. As you can see from the pictures, these pancakes tend to be thicker than most (which I love), but they do take a few extra minutes to cook.
Mine are topped with home-made coconut whipped cream which can easily be made by refrigerating a can of full-fat coconut milk, extracting the solid parts from the can, and whipping with a little vanilla and agave. Fruit or peanut butter (seriously!) also work great as toppings.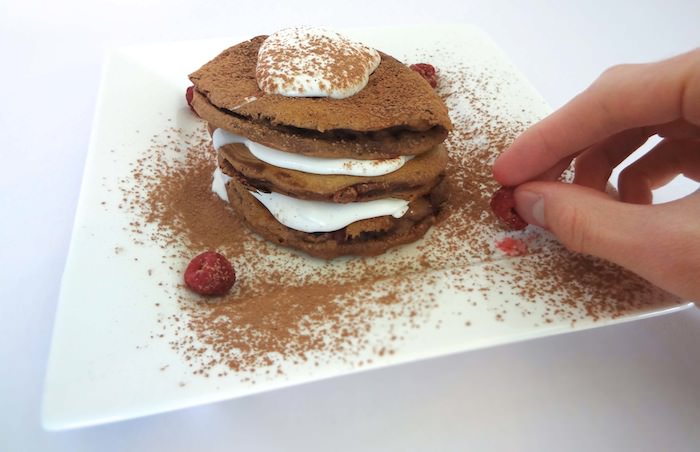 Be sure to check out Andrew's website for more amazing plant-based recipes!
Find our why he calls himself the One Ingredient Chef here.
Banner image: Shutterstock
READ THIS NEXT: Grilled Kale Wraps With Chunky Homemade Hummus
1 Million Women is more than our name, it's our goal! We're building a movement of strong, inspirational women acting on climate change by leading low-carbon lives. To make sure that our message has an impact, we need more women adding their voice. We need to be louder. Joining us online means your voice and actions can be counted. We need you.
---