We're currently in the middle of a shift in our collective behaviour. We're finding new ways to work, care for our health and new ways to connect with our communities (although Zoom trivia is certainly chaotic!). In the middle of this change, we're also being forced to re-evaluate our relationship with environmental best practices. Although we're travelling a lot less, we're using more disposable containers and cups in our efforts to be more sanitary and continue supporting local businesses. That doesn't mean we need to give up on all the hard work we've been putting towards the environment. Here are some of the ways we've seen people repurposing everyday items right now.
Repurposed Face Shields
Reverse Garbage, a staple of Sydney's Inner West and my local Sunday haunt, has been putting together face shields for health workers who haven't had access to protective gear. Reverse Garbage is a reuse centre, think of it like a giant secondhand store that gets all kinds of donations en masse. Recently, the Reverse Garbage team put together homemade kits for volunteers to put together face shields; using repurposed plastic covers from office binders, foam, and double-sided tape. So far they've constructed 700 masks and are currently working on another batch of 700.
The Australian Broadcasting Corporation estimates that 11 million masks and protective equipment are being shipped around to hospitals in Australia. This is a mammoth effort, but some hospitals are still falling short of supplies. Speaking to the Sydney Morning Herald, the creative director of Reverse Garbage Kirsten Junor said of the masks: "They're not glamorous, they're not pretty, but that's what Reverse Garbage does."
If you've got access to resources at home (you'd be surprised at what you have), look at these instructions from Reverse Garbage and try and make some for some of the teachers or health care workers in your life.
Working from home?
Working from home has created a new work environment. Kids running into our work meetings, housemates sharing a kitchen table on 3 different calls, and small-talk with your favourite desk plant. If you need some home desk inspiration take note! After a quick search online, and wanting to get a little creative, I decided to make a home desk from recycled materials. To do this, I picked up a pre-loved door from Reverse Garbage (we swear this isn't sponsored content) to turn into a desktop.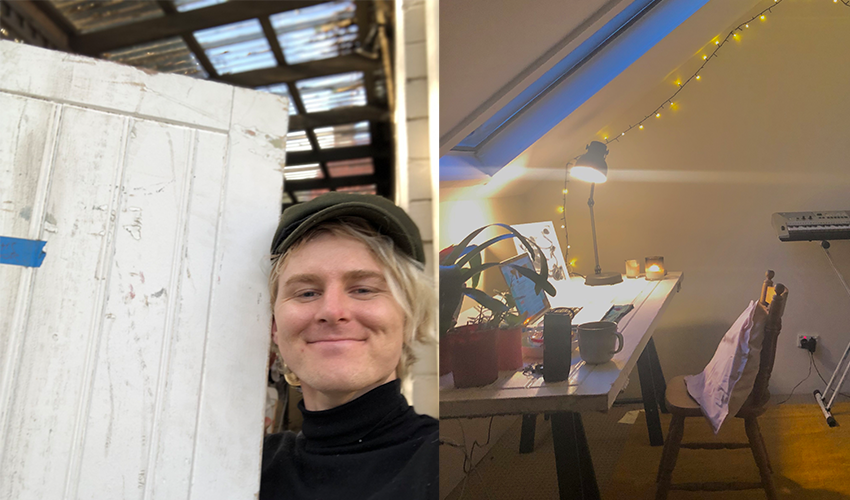 A photo of me with my desk, pre-makeover and post
I already had the legs for the desk from my old high school desk. But in the more likely event that you don't have legs readily available, keep an eye out for some milks crates or pallets. If you're going down the pallet option, try searching "unwanted pallets near me" and you'll be surprised how many options you'll find for people trying to get rid of them for free. Just make sure to give them a good sanding to get rid of any splinters in the wood.
All I needed to finish the desktop was sandpaper (to smooth over the cracks), a bit of paint (I love an aesthetic), a few screws and an electric drill (borrowed from my mother) to attach the desk to the legs. All-in-all, the desk took about half a day (including picking up the door) to put together and cost roughly $20. Another team member from 1 Million Women put the below standing desk together from milk crates and cardboard boxes on top of an existing desk: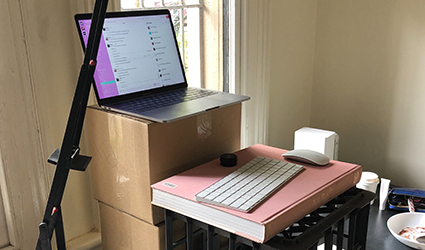 Get creative!
Point 3: DIY worm compost
You wouldn't be mistaken for thinking that all of your friends are now artisan bakers (when did everyone learn how to make focaccia?) and culinary geniuses. Although we'll admit we've blogged about some amazing vegetarian dishes which you can find here. But with everyone spending more time at home cooking, there's been an increase in the amount of food waste coming from people's homes too. When food decomposes in a landfill, methane is released into the atmosphere and contributes to global warming. One way you can combat this right now at home is by making a DIY worm compost. These don't have to be extravagant, and can even be made out of polystyrene boxes if you've got any spare after a delivery, or maybe your neighbour has one!
For tips on how to put one together, check out this awesome DIY video on how to 'Make your own worm farm' from the fantastic Lish Fejer and Berni Hobbs.
Worm farms create great fertiliser and will help your garden thrive!
We need to be conscious of how we consume during this crisis. Everything we consume will still end up somewhere. There are so many possibilities in terms of how we can repurpose household goods and use what we already have at home. So let's do it!
Any DIY projects you'd like to see? Or any examples of the above? Let us know in the comments below.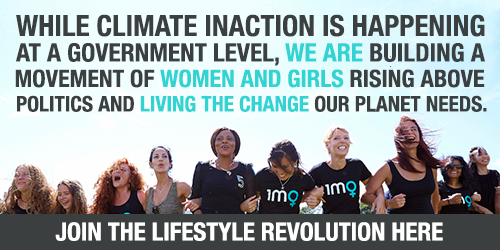 ---