The Paris Climate Summit is not just a series of talks taking place between world leaders behind closed doors. It is a melting pot of activists, artists, and real people making their voices heard on the streets.
We've already reported on artist collective Brandalism and their mass (anti) marketing campaign that saw Paris swamped with over 600 artworks protesting the corporate sponsorship of COP21.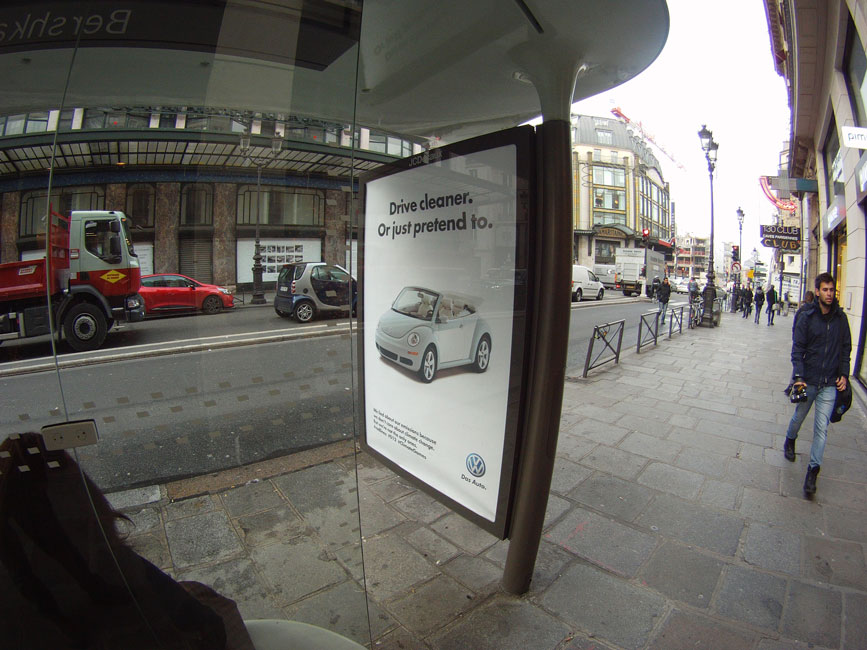 Image: Brandalism
If you missed it, you can read the story and check out the gallery here.
Artist brings melting glaciers to Paris.
Danish-Icelandic artist Olafur Eliasson harvested icebergs from Greenland and brought them to the middle of Paris to melt.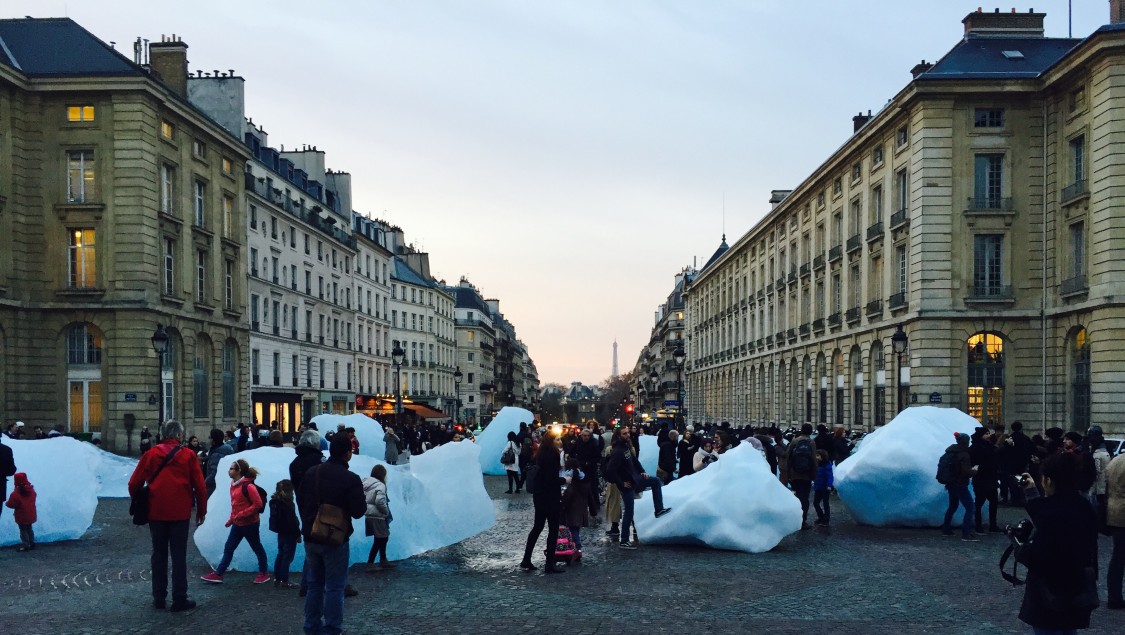 Image: Natasha Geiling/ThinkProgress
Eliasson recovered 12 large blocks of ice from the Nuuk fjord in Greenland. He transported them to Paris in shipping containers usually reserved for shrimp and has placed them at Place de la République as a visual and tangible reminder of the change climate irregularities are creating in our world.
"The ice we are going to put in Paris is a tenth of what melts in a second in the Greenland summer."
- Olafur Eliasson
Shepard Fairey releases 'Earth Crisis'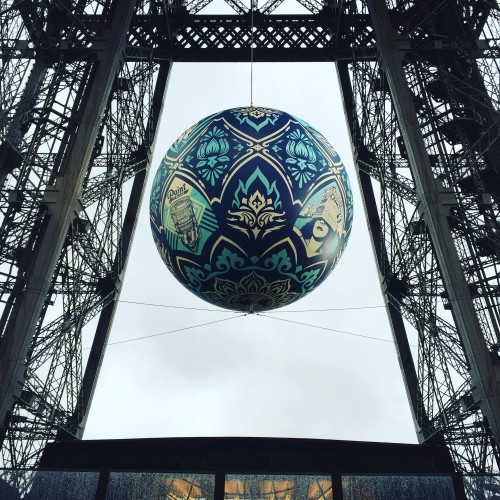 Image: Shepard Fairey
American Street artist Shepard Fairey, who attracted mainstream media attention for his Obama 'HOPE' posters during the 2008 US presidential election has revealed 'Earth Crisis'. The work is a giant sphere suspended between the first and second floor of the Eiffel Tower.

"My political stance on protecting the planet is driven by my concern for the quality of life for future generations. I'm not an alarmist, but I do think people need to understand that we are facing an earth crisis. I think it is exciting that the globe provides different experiences for the viewer from a distance and up close while living in the heart of the Eiffel Tower. I hope the Earth Crisis Globe appeals visually but also generates a needed conversation about the fate of our planet," the artist said on a statement released via his website.
A forest is planted on the Eiffel Tower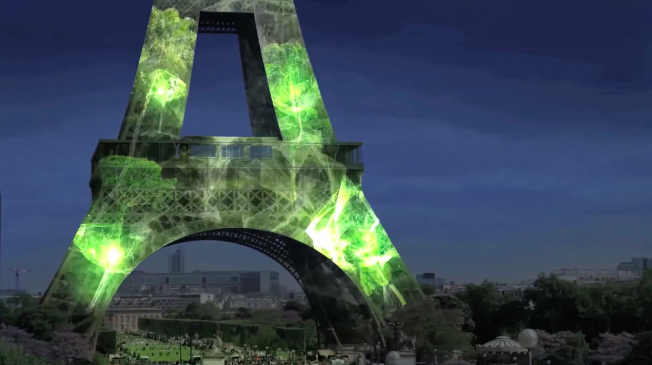 Image: 1 Heart 1 Tree
The 1 Heart 1 Tree project uses digital mapping, light projection and smart phone interaction to project trees that 'grow' to a users heartbeat on the Eiffel tower. The digital tree is then assigned to a real life tree that will be planted somewhere in the world.
Read the full story here: Eiffel tower lights up for 100% renewable energy
Riot police clash with climate activists
There are continued tensions between the French police and climate activists who feel their voices are not heard amongst the official talks at COP21.
Click the image to watch video footage.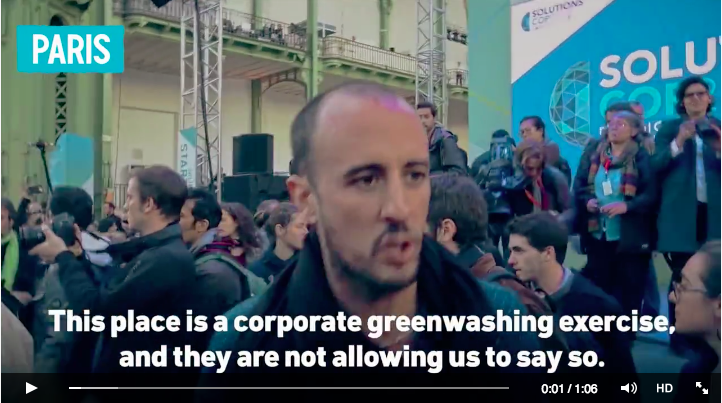 Artist and activists gather to create peace sign in front of Eiffel Tower
Hundreds of artists and activists gathered near the peace wall in front of the Eiffel Tower to create a peace sign using their bodies that called for a shift to 100% renewable energy. 1 Million Women founder Nat Isaacs was proud to be part of the demonstration!
Indigenous leaders call for the end of fossil fuel extraction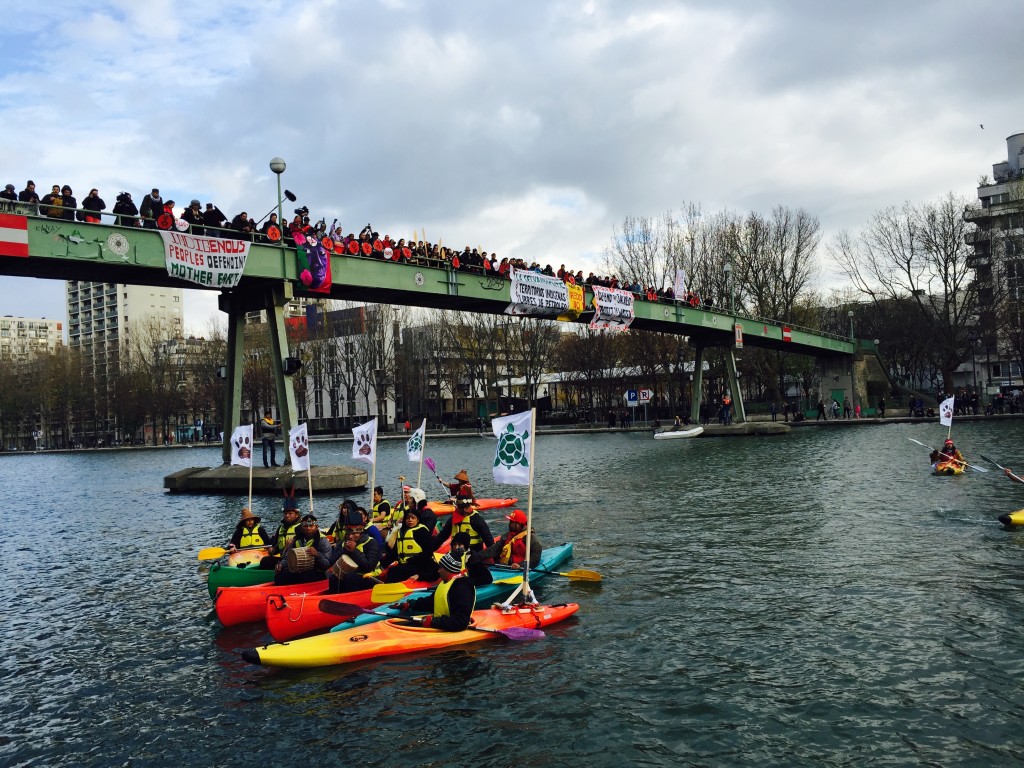 Image: Natasha Geiling/ThinkProgress
Indigenous tribes from the Arctic to the Amazon staged a demonstration on Bassin de la Villette – the largest artificial lake in Paris – to call for an end to the extraction of fossil fuels and to protest the omission of indigenous rights from an international climate treaty.

It truly is an exciting time in Paris at the moment. Good news is being released in the form of tech initiatives and unexpected players stepping up. Be sure to follow the developments on our wrap up blogs. If you're on the ground at Paris we'd love to hear from you or see your pictures!
Banner image: La Croix
READ THIS NEXT: The People's Climate Summit: taking COP to the streets.

READ THIS NEXT: Paris Climate Summit: Wrap up day 3
'You're the Voice' – Our anthem from women for climate action and hope.
With a vibe of hope building that the nations of the world will agree on a breakthrough climate change treaty in Paris this December at the UN Climate Conference (COP21), we have an opportunity to influence world leaders in making decisions that will safeguard the world for future generations.
Using the power of music, we want to inspire every woman, man or child to ADD THEIR VOICE - #IMTHEVOICE - to our anthem and form a united call to world leaders for strong action on climate change. No matter who you are, you can add your voice!
Will you watch the anthem and add your name? It's as easy as clicking a button.
With your help, we can capture the attention of governments and stand as a clear call for climate action and hope.
---