Danes are supposedly some of the happiest people on the planet, but it's more than just their good attitude solving their climate woes.
When discussing green cities around the world, Copenhagen is a no brainer.
Famous for its cycling-mad residents and electric buses, Copenhagen is leading the way in climate adaption and green innovation, and was consequently dubbed the European Green Capital in 2014 for its environmental efforts. However, while the Danes are notorious for green living and eco innovation, and have been for many years, Copenhagen is a city that has been forced to 'go green' in order to actually survive the worsening assault of climate change in the future.
Copenhagen has experienced an onslaught of extreme weather conditions in recent years, which are worsening with the effects of climate change. In 2011, the biggest cloudburst ever hit the city, bringing heavy rains and severe floods, causing damages to homes, buildings and infrastructure amounting to around 800 million euros. The city just wasn't prepared for such intense weather patterns, particularly when it is so densely populated and consists almost entirely of paved surfaces.
It was after this catastrophic event in 2011 that the City Council adopted the Copenhagen Climate Adaption plan, which outlines how the city will prepare itself for the "climate of the future", and set its ambitious goal of becoming the first carbon neutral city by 2025.
If you want to know more about the climate challenges faced by Copenhagen, and the implementation of the Climate Adaption Plan, have a look at this video. It highlights the new direction the city is taking, away from underground drainage and towards above ground catchment and water diversion strategies. Awesome stuff!
Many amazing initiatives have been conceived out of this adaption plan, including this incredible transforming park area in Saint Kjeld's quarter.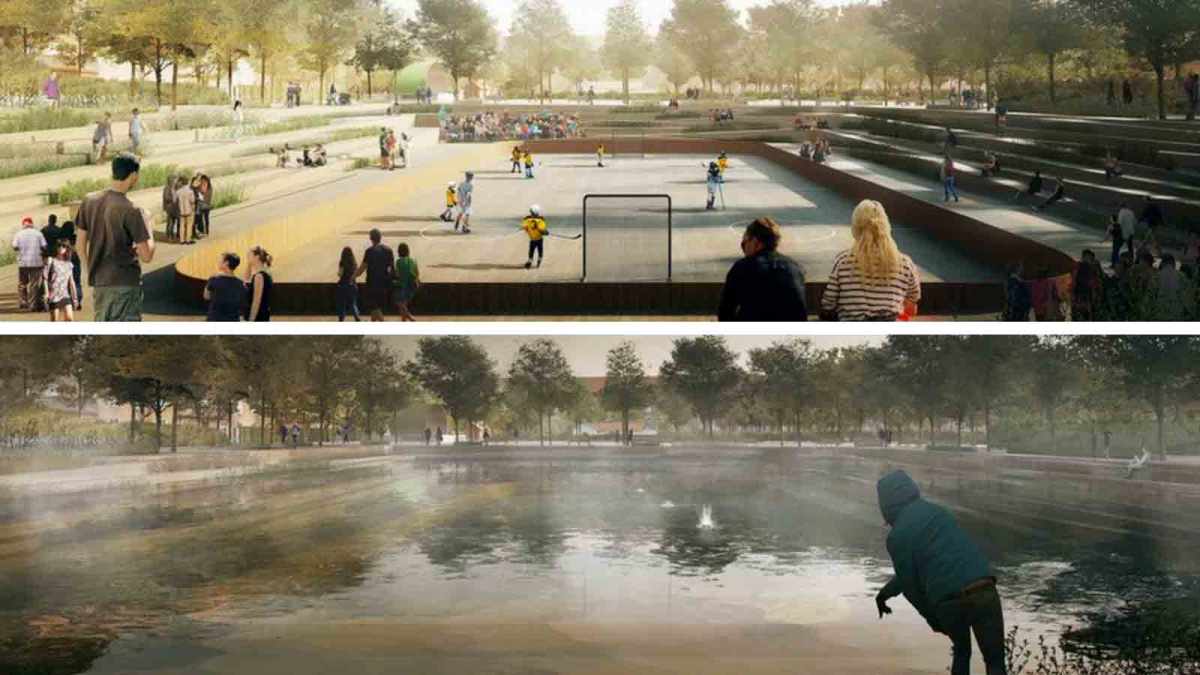 Image credit: architecture lab
To the unsuspecting eye, this square looks like any other you'd find around Copenhagen. Children playing, sun shining, people sitting under the trees. It's what you can't see that makes Tåsinge Plads so unique.
Tåsinge Plads is just one part of architecture firm Tredje Natur's endeavour to create the first ever climate adapted suburb, which will see Saint Kjeld's quarter transform into Copenhagen's greenest neighbourhood.
During heavy rains, the park can transform into a series of ponds. Sounds soggy, but it means the water can be held until the storm runoff subsides, to relieve the sewer systems and avoid over-filling. Not only that, but it allows urban spaces to transform and adapt to the climate conditions as they change, a concept which is at the heart of the 'greenest neighbourhood' initiative.
Clever underground landscaping of the Tåsinge Plads has included a water redirection system, which guides storm water into large underground bladders. Here's the fun part – above ground, children can play on the bouncy floor panels, and the energy created from their feet pumps water through the pipes below. This has to be up there as one of the coolest interactive-transforming-urban-green spaces we've ever seen!
More GREEN FACTS you should know about Copenhagen:
In 2009, the city set an aim to reduce carbon emissions by 20% by 2015, but they smashed this goal and achieved it by 2011 instead
A record breaking 71% of the city's hotel rooms are certified as eco-friendly
In 2010, 35% of the population cycled to work or school, and currently 63% of Copenhageners use bikes each day – it has been dubbed the "city of cyclists" for this reason
15 years ago, the Copenhagen harbour was so polluted it was un-swimmable and posed health risks, yet now it has been cleaned and pollution is kept low enough to be able to swim in it
Copenhagen hosted the 2009 United Nations Climate Change Conference
Copenhagen was named the European Green Capital in 2014
Are there any sustainable initiatives happening in the city you live in? Let us know in the comments below and we can feature it in our Cities of Tomorrow series. #CitiesOfTomorrow
Read this next: Beck Dawson Battles Climate Change For Sydney
Read this next: How would you like your cities to look like green jungles?
1 Million Women is more than our name, it's our goal! We're building a movement of strong, inspirational women acting on climate change by leading low-carbon lives. To make sure that our message has an impact, we need more women adding their voice. We need to be louder. Joining us online means your voice and actions can be counted. We need you. We're building a movement of women fighting climate change through the way we live.
---