The following guest blog post is by Bill Granger, from his book - Bill's Everyday Asian.
This is a great way to ease yourself into the idea of tofu –the crispy salt and pepper coating and spicy-sweet dipping sauce are a match made in heaven. It's also the ideal drinks snack for your vegetarian guests.

Salt & pepper tofu with lemon soy dipping sauce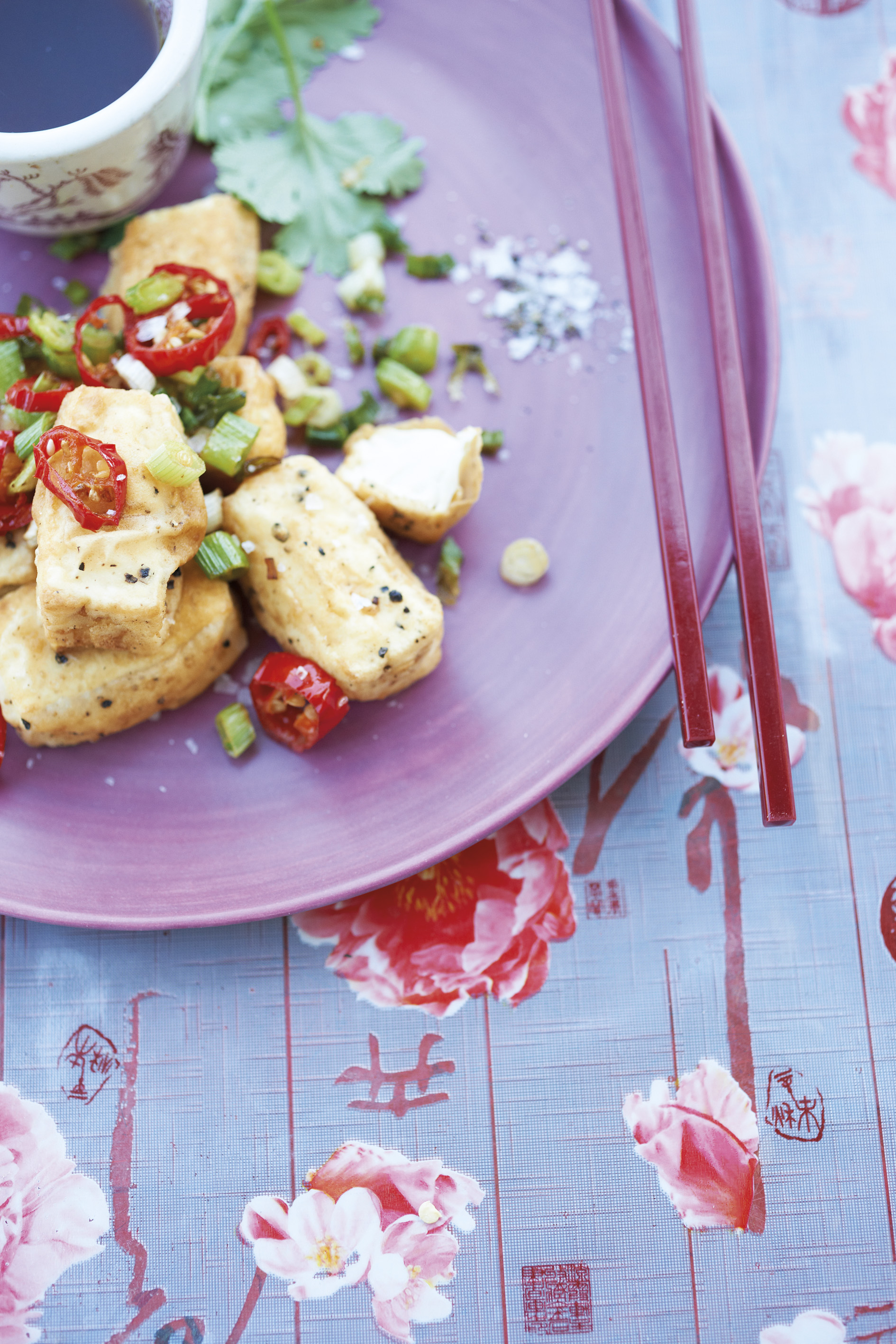 Ingredients
4 tablespoons plain flour
1/2 teaspoon Chinese five spice powder
500g silken tofu
600ml light flavoured oil, for frying
2 spring onions, thinly sliced
1 red chilli, sliced
lemon soy dipping sauce (see recipe below)
small handful coriander leaves
Lemon soy dipping sauce
1 1/2 tablespoons lime juice
1 1/2 tablespoons lemon juice
3 tablespoons mirin
2 tablespoons light soy sauce
Directions
Tofu
Season the flour generously with sea salt, freshly ground black pepper and the five-spice powder.
Cut the moist tofu into thick fingers and roll in the seasoned flour to coat.
Heat the oil in a deep saucepan over medium–high heat until hot. Drop the tofu into the oil and fry for 3–4 minutes, tossing regularly, until golden all over.
Remove and drain on paper towel.
Fry the spring onion and chilli for 2–3 minutes or until starting to turn golden. Remove and drain on paper towel.
Serve the tofu with the dipping sauce and dress with the coriander leaves and the spring onion and chilli.
Sauce
Put the lime and lemon juices and the mirin in a small saucepan.
Bring to the boil then remove from the heat and set aside to cool.
Stir in the soy sauce.
About Bill Granger: Bil is a self-taught cook whose easygoing and joyful approach to cooking is an essential element in his enduring popularity. Born in Melbourne into a family of butchers and bakers, Bill moved to Sydney when he was nineteen. As an art student with a passion for food, he worked part-time as a waiter and gradually his focus shifted from the easel to the kitchen. In 1993, at just 22 years old, he opened the original bills in the Sydney suburb of Darlinghurst, followed by another in Surry Hills in 1996 and then Woollahra in 2005. All have become firm favourites with both locals and tourists alike.
We're building a movement of women fighting climate change through the way we live.
Join us and be counted.
---