Chia seeds are like little balls of amazing, sometimes I look and them and wonder how such a small thing can be packed with so much goodness and make a dish so delicious you'll think you're eating dessert not breakfast.
I'm going to quickly break down why chia seeds are worth fitting into your diet and then give you a recipe that not only will take little time, effort and culinary abilities but will also send your taste buds into a frenzy.
The straight up benefits of chia
- At 19% protein chia seeds are an incredible source of plant-based protein to keep you fuller for longer
- Chia seeds are high in Iron, Magnesium & Calcium (18%) making them an excellent way to get these nutrients on a plant based diet
- Chia seeds are packed full of fibre to help boost your intake if you're missing your 5-a-day!
- Chia seeds are known to regulate blood sugar and help prevent diabetes
- They contain a high amount of omega-3 fatty acids for those who don't eat fish
- They boost your energy levels, making this pudding a brilliant breakfast option
- They also boost your mood thanks to the naturally found amino acid 'tryptophan' which helps with moods as well as sleep-deprivation
- Chia is high in Antioxidants which helps to fight free radicals in the body
Read Next: Best Ever Breakfast Crumble
Being so small and virtually tasteless by themselves chia seeds are a great plant-based way of boosting your nutrient intake.
The other great thing about this 'Superfood' is that unlike some of is superfood cousins, like quinoa, chia seeds haven't been linked to destroying the environment or having an adverse impact on the countries who rely on them as a food source.
1 Million Women is empowering women and girls around the world to lower their impact on the planet. If you love what we do, please support our work by donating a couple of dollars. For the price of a cuppa, you can help us inspire millions more! (
click to donate
)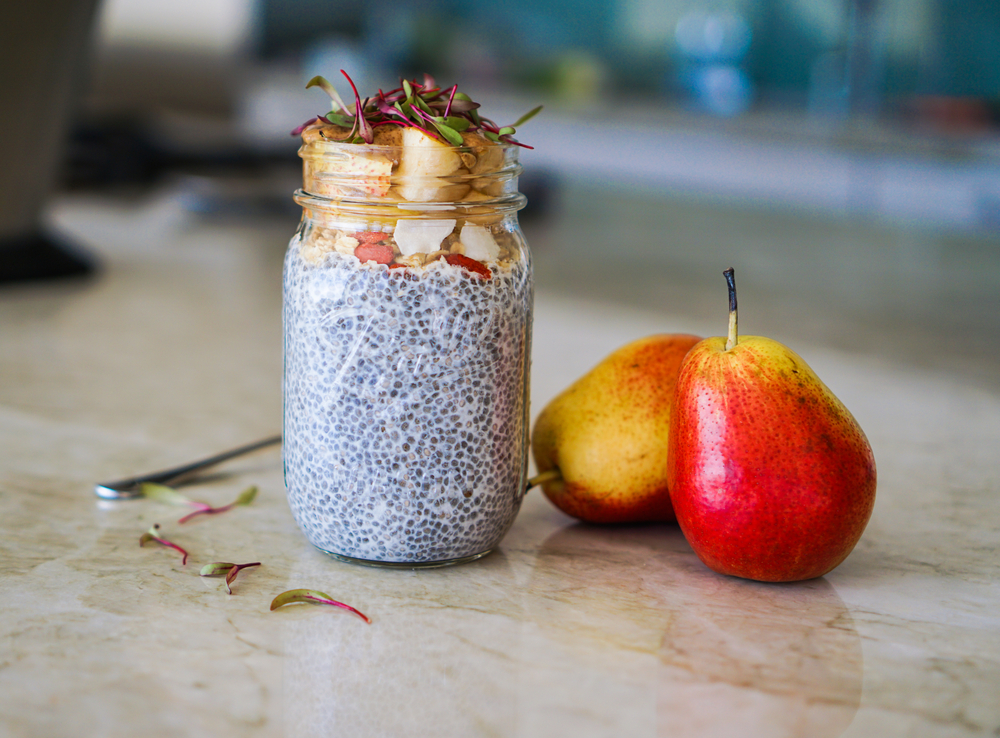 Now to the good stuff, here is the easiest, tastiest way to make chia see pudding.
What you will need:
- Two cups of unsweetened almond milk (can use soy, macadamia or anything you like)
- ½ cup chia seeds
- 2 teaspoons vanilla extract (or seeds from 1 vanilla bean)
- 1 tablespoon pure maple syrup (or pure organic cane sugar syrup)
Method:
1. Place all the ingredients in a jar and mix well (just a really good shake will do the trick).
2. Place covered in the refrigerator and give it a shake every 1-2 hours until it sets (while you binge watch your favourite series), then leave over night.
3. Open the fridge in the morning, top with some cut up seasonal fruit and take with you to work.
You will have the most delicious sweet pudding-like dessert that is actually a nutrient dense breakfast, for extra crunch and fibre top with your favourite granola like this one that we make ourselves!
Read Next: Our Top Breakfast Recipes to Start The Day Off Right
---