There is beetroot everywhere I look lately, it's filling my weekly community veg box deliveries, and since it's a hard sell in my house I have to find creative and delicious ways to either hide it or dress it up.

For the Pastry:
100g wholemeal flour
1 tsp salt
50g cold butter
30ml cold water
Pre heat the oven to 180 degrees.
In a food processor (using a pastry blade) blend the flour and butter until it turns into small crumbs (like a crumble mix).
Add COLD water bit by bit until the pastry comes together in a ball (the water must be cold, warm or tepid water will start to melt the butter and make the pastry hard to work with).
Leave in the fridge for 30 mins minimum, pastry is always easier to work with cold so it doesn't fall apart.
Roll the pastry out on a lightly floured surface and place into a 20cm (8 inch) circular frittata/ pie dish.
Blind Baking: Line the inside of the pastry with a piece of baking/ parchment paper and use baking beads or dried pulses. You do this so the pastry doesn't bubble up and has a nice flat even surface whilst it cooks.
Place in the oven to blind bake for 10 minutes.
For the filling:
2 tbsp olive oil
400g grated beetroot
5 thyme sprigs
salt and pepper to taste
handful of chopped chives or spring onions
2 tbsp of graded parmesan/ 50g crumbled feta cheese
6 slices/ 100g of goats cheese
3 eggs
30ml milk/ almond milk
Add olive oil to a frying pan followed by the grated beetroot and thyme, fry for 5 minutes until the beetroot softens.
Turn off the heat and add the chives/ spring onions and parmesan to the beetroot mix then season with salt and pepper.
In a bowl whisk the eggs and milk.
In your baked pastry case add beetroot mix, layer over goats cheese and pour over eggs.
Place in the oven to continue to cook for another 10-15 mins or until the goats cheese is golden brown, the mixture will be firm to the touch.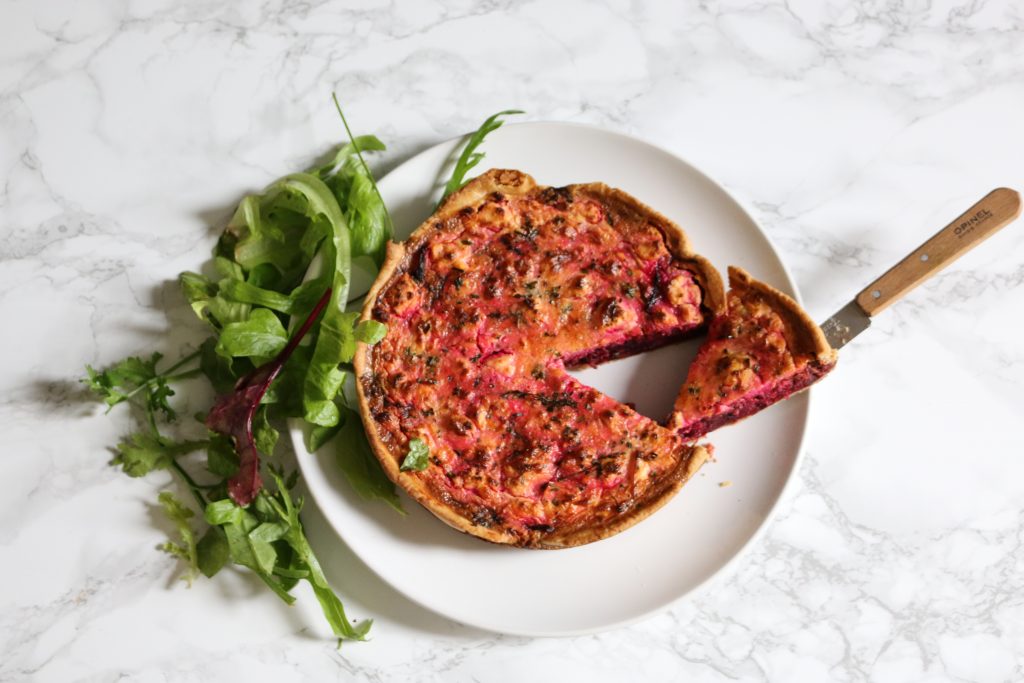 Read this next: 7 Vegetarian Recipes For A Meat Free Week
We're in a climate emergency and it's going to take all of us to get out of it. That's why 1 Million Women is building a global community of women committed to fighting climate change with our daily actions. To join the (free) movement just click the button below!
---