With today's technology it seems almost anything can be modified to be sustainable in one way or another.
Even buildings.
Buildings usually get a bad wrap in terms of their sustainability. Obviously, they take up a tonne of energy just to exist.
But make buildings sustainable, and their environmental impact may not be so bad.
Check out these quick facts -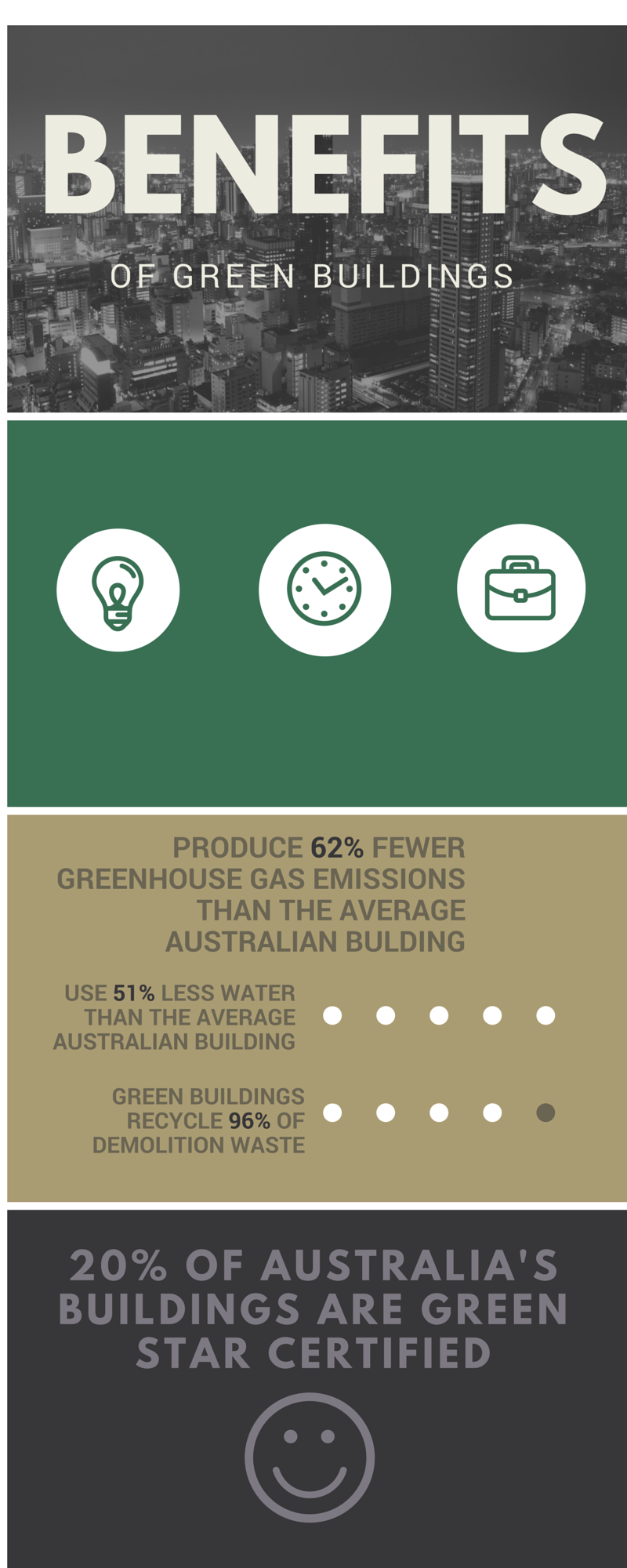 And ten points for us – Australia is a frontrunner in sustainable architecture. 20% of Australia's office space is green star certified, meaning that they have been comprehensively assessed to be environmentally sound.
Feeling pretty chuffed with that sweet fact, we decided to suss out Australia's top sustainable buildings. Some of them are even better than these beauties! Get ready to be impressed.
The Commons by Breathe Architecture (Melbourne)
The Commons won the award for most sustainable building in 2014, and you can certainly see why. It is the ideal sustainable building being home to 24 apartments, two artist studios and a café. Wanting to encourage tenants to bike instead of drive, there are no car spaces only 65 bike spaces. Not that you need a bike since the building is only 6km from the CBD and right next to the train line. Well placed, Breathe Architecture. In addition to this, The Commons has recycled timber flooring, concrete ceilings with insulated thermal mass and ceiling fans so that the building does not require air conditioning, and a rooftop full of 46 raised vegetable boxes for gardening. Boom.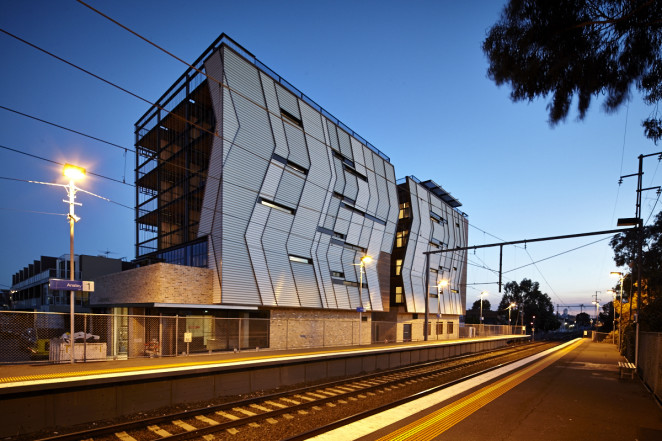 Image: Small Giants
Forest Lodge ECO centre, by Chris Knierm Code Green (Melbourne)
The Forest Lodge was built in such a narrow location that it almost didn't cut it as a sustainable building. Chris Knierm however, refused to be deterred by structural limitations and carefully planned for ecological materials (such as low VOC paints and recycled timber flooring) to be used to insulate the house without being tarnished. The humble abode also has LED lighting, an underground water storage tank, evaporative cooling and an underground solar heat storage cells. The judges commended the house for the innovative way it incorporated sustainability into new architecture.
"Green walls and a green roof invite nature into the living spaces, at the same time inviting the occupants to engage with the natural world. Stunning and inspiring."
- Jury statement, sustainable awards 2014.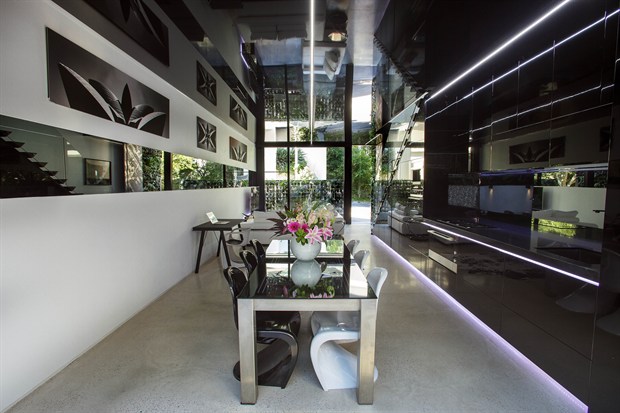 Image: Architecture & design
Central Park, by Jean Nouvel (Sydney)
If you've seen this city-dwelling masterpiece, you'll know just from looking that it's a winner in sustainable architecture. And if looking doesn't convince you, maybe this fact will - Central Park achieved a 5 star Green Star rating in 2013. Nice! You can understand why when you consider that Central Park has the biggest MBR recycled water facility in the world. The system recycles water from seven sources (e.g. rain water, storm water and irrigation water) and uses recycled water in up to 70% of residential activities such as washing, flushing the toilet, green-wall watering and air-cooling just to name a few. In addition to this, Central Park has it's own low-carbon natural gas power plant, a rooftop garden, green walls and smart-metre systems.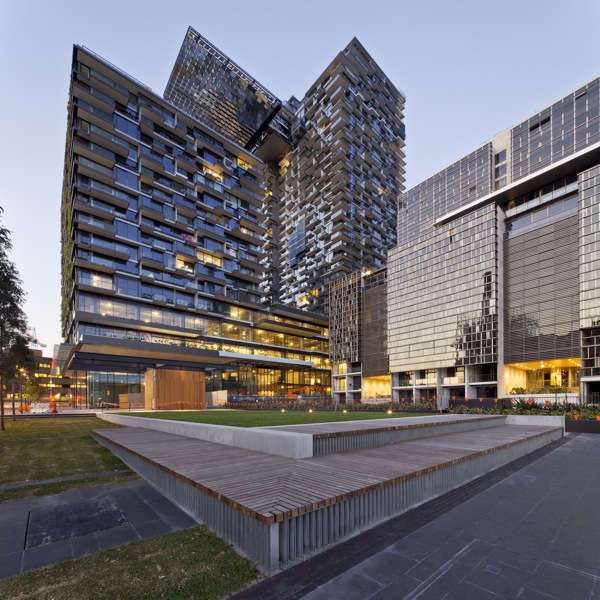 Image: The Urban Developer
Green Skills Training Centre by Green Skills (Perth)
Learning about sustainability inside a sustainable building sounds pretty on point. That's what the Green Skills Training centre offers environment students in Perth. Hailed the 'WA's greenest public building,' the Green Skills Training centre is a frontrunner in being environmentally sound. It features Solar Voltaic's which offsets 100% of the building's annual energy use, underfloor displacement of air-conditioning, a heat recovery system and 'Peel back' construction so that certain building elements are exposed so students can engage with the implementation of sustainable architecture.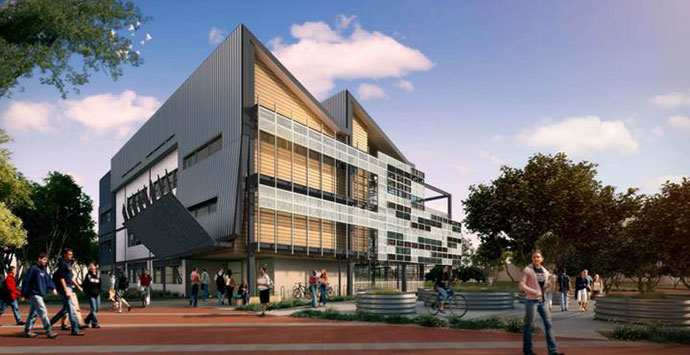 Image: Aecom
If these have inspired you, take a look at our guide of how to build a more sustainable home.
You may not be able to restructure your entire home into a sustainable building, but you can implement small strategies to make a difference, save energy and cut pollution.
Try this: Installing solar panels, water-saving shower heads or insulation so that your house can naturally heat or cool itself.
Change 3 things in your home to start, and track your progress by creating your own low-carbon life profile.

We're building a movement of women fighting climate change through the way we live.
Join us and be counted.
---