At last there's a large-scale way to use up Australia's coffee grounds. The solution? Mushrooms!
If a crowd-funding campaign is successful, Freemantle could be home to Western Australia's first urban mushroom farm, sustainably harvested from used coffee grounds.
Australia is renowned for quality coffee, but our caffeine-craze comes at a cost to the environment. Considering that only 1% of the coffee bean ends up in our drink, we're littering landfills with used coffee grounds, which decomposes to produce methane – a greenhouse gas with more than 20 times the potency of carbon dioxide.
Fortunately there are many ways that coffee grounds can be reused, including flourishing your garden or making body scrubs.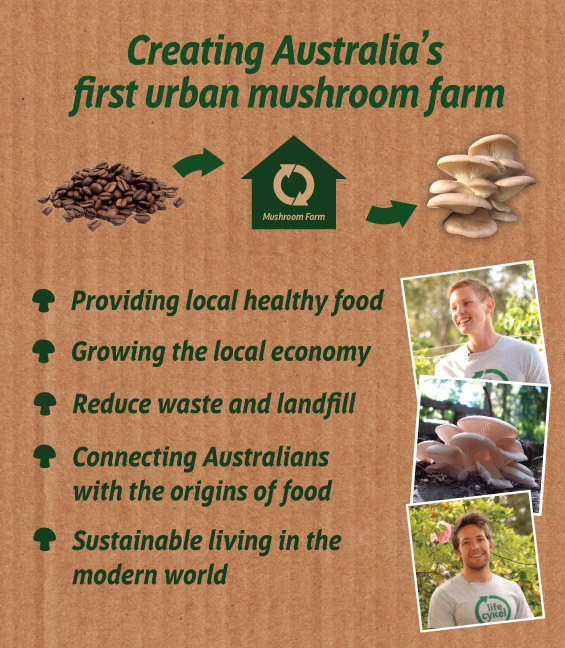 But this café debris was seen as an opportunity for Perth boys, Ryan Creed and Julian Mitchell, to help the local economy and the planet. The two unearthed 'Life Cykel' – the name of their fungi-flourishing business that grows gourmet oyster mushrooms.
They're dedicated to their environmental and local business cause and are even encouraging people to adopt their sustainable practice and grow gourmet mushrooms at home with their Life Cykel mushroom boxes.
In the greater Fremantle area alone, six tonnes of coffee grounds end up in landfill each week, amounting to 300 tonnes a year. By cycling around Perth from café to café, the boys will collect the coffee grounds for free and prevent this wastefulness from mounting, selling the gourmet mushrooms fresh to local restaurants and cafes. Imagine the potential if the rest of Australia got on board with coffee ground grown mushroom farms – we're looking at you, Melbourne!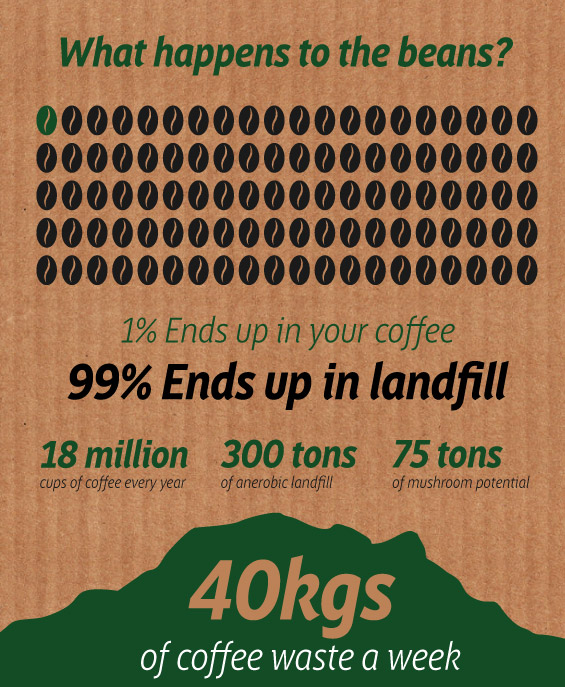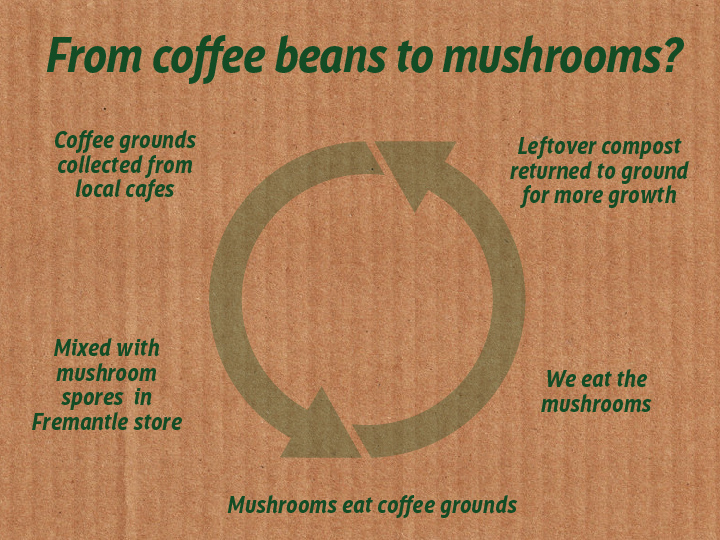 Infographics are all developed by Life Cykel
READ THIS NEXT: Your ultimate guide to composting

1 Million Women is more than our name, it's our goal! We're building a movement of strong, inspirational women acting on climate change by leading low-carbon lives. To make sure that our message has an impact, we need more women adding their voice. We need to be louder. Joining us online means your voice and actions can be counted. We need you.
---