For those of us who experienced Australia's horrific Black Summer of bushfires a few short months ago, it's difficult to believe they have already faded from the spotlight, swallowed by another crisis.
Tamar Hopkins, a Victorian mum of 6-year-old Norah was in Rosedale, on the NSW South Coast, when the ferocious New Year's Eve fires hit. It was a profoundly shocking experience – and one she'll never forget.
"We spent New Year's Eve on the beach sheltering with about 30 other people, while my father and step-mother fought the fire to save their house. All the houses further north of their place burnt to the ground," Tamar says. "My daughter was completely terrified and thought she was going to die. She still has nightmares and talks about the fire all the time."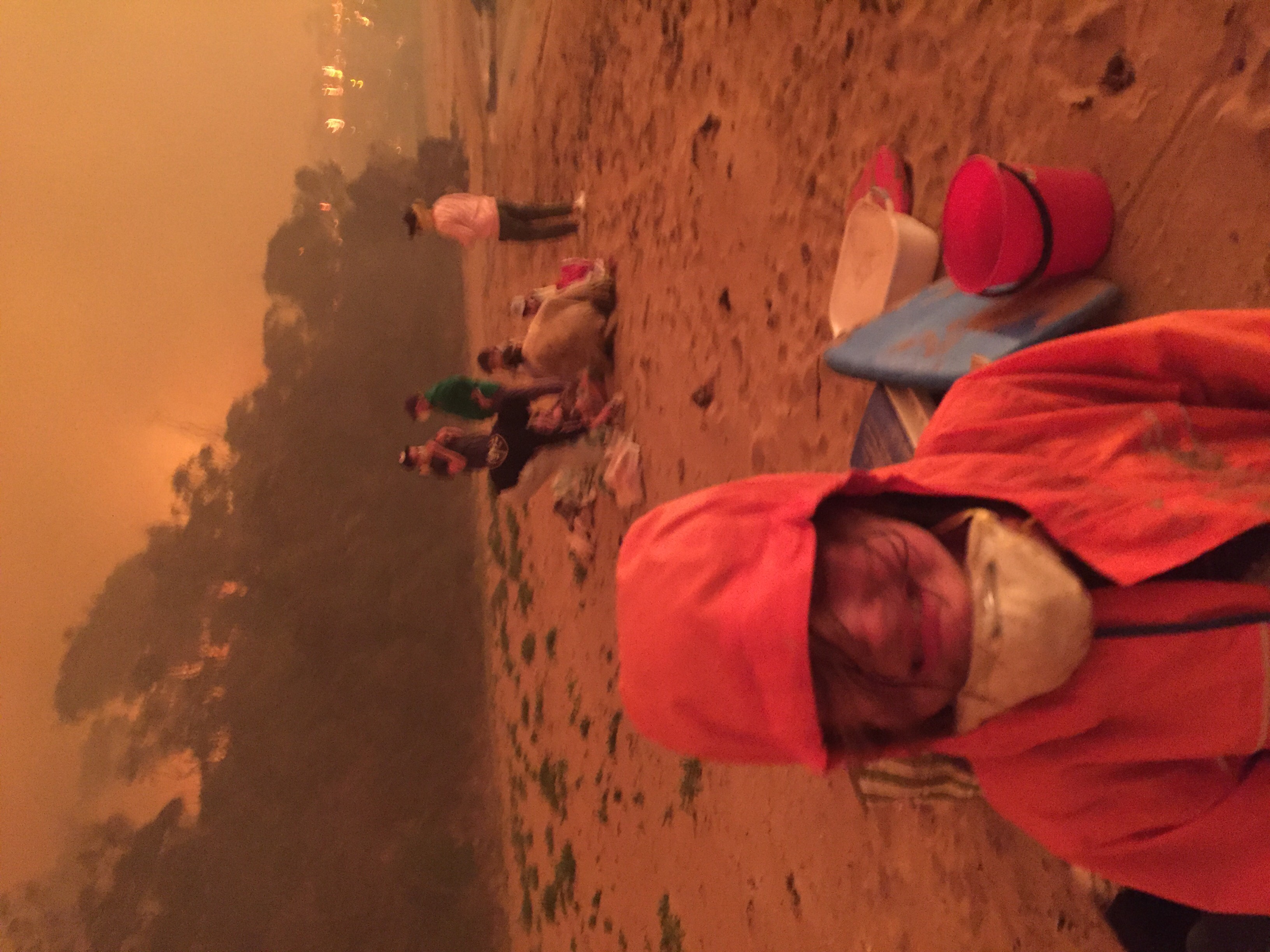 Norah, 6 at South Rosedale Beach on New Year's Eve 2019-2020

The bushfire emergency has been superseded by the COVID-19 emergency, which has so far been dealt with in Australia much more effectively than the climate crisis. Two key factors have underpinned a successful coronavirus response: it's been apolitical and based on science.
The bushfire royal commission began hearing evidence last week in Australia. The royal commission is investigating how Australia can better prepare for and respond to natural disasters, and what needs to be done to help bushfire affected communities. And as hearings started last week, Australians were reminded that many bushfire survivors have not forgotten or recovered from their trauma. Australian Parents for Climate Action (AP4CA) released an emotional video from survivors, based on submissions the group made to the commission.
Amy Bolas, from Mogo – a NSW South Coast town engulfed by the fast-moving Clyde Mountain fire on New Year's Eve – recalls taking shelter with her 15-month-old daughter on a beach in Malua Bay, with many other terrified locals.
"I ran out onto the sand as the noise of the fire began to roar, it sounded like a jet engine. My daughter was screaming," Amy says. "The smoke was so thick and the wet towel that I had covering her to protect her from raining embers kept falling off, eventually her cries began to sound like a strong wheeze. She was trying to cry, yet with every breath in, I could hear that she couldn't get any air. That's when I started to cry.
"For several days after, my daughter had small black particles weeping out of her eyes. She was crying ash."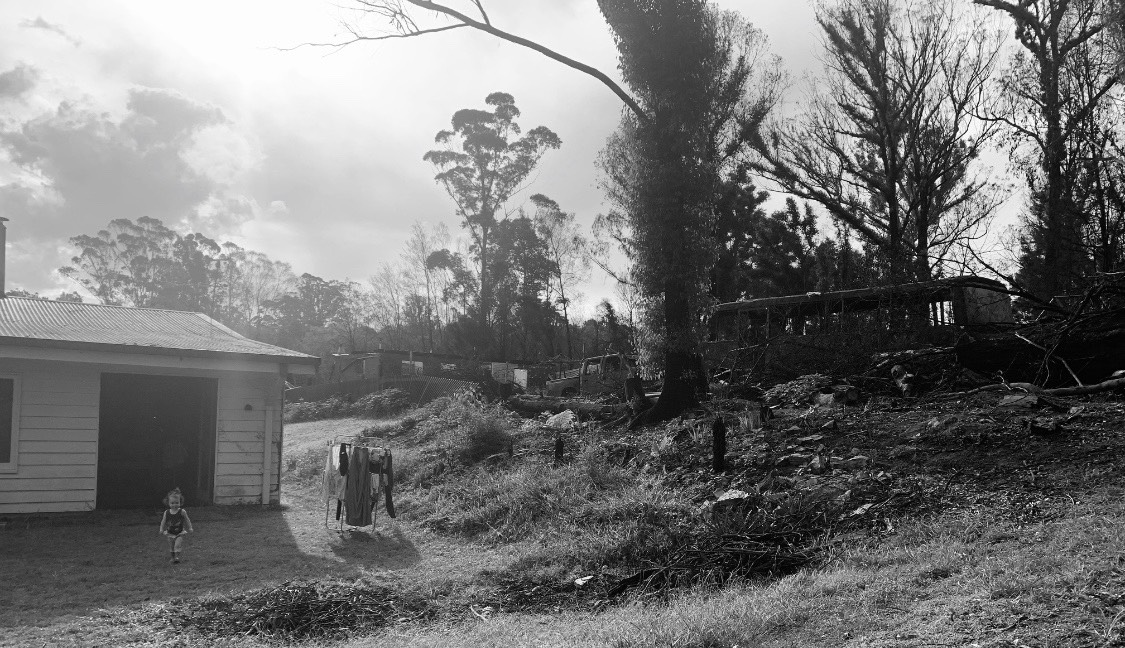 Amy Bolas's Mogo home only just escape the fire
South Coast NSW general practitioner (GP) Dr Michelle Hamrosi recalls the distressing experiences of her own family. And through her work, she's dealing with ongoing community impacts.
"Our family evacuated three times over the summer," Dr Hamrosi says. "We are some of Australia's newest victims of climate change."
"As a rural GP, I saw countless patients suffering smoke exposure, psychological trauma, anxiety, panic attack and grief. Many need much more support to recover. Many children have been traumatised and have little mental health support."
For many parents, the horror of the fires was amplified by the Federal Government's response.
"During the bushfires, the Federal Government came across as uncaring, unsupportive, disinterested and irresponsible," says Danny Jowers, a dad from the ACT. "A government that spread misinformation about hazard reduction and back burning and dismissed any discussion of climate change."
As the royal commission hearings into the bushfires have continued, we've been reminded that on climate, our Government continues to reject the recommendations of experts and scientists.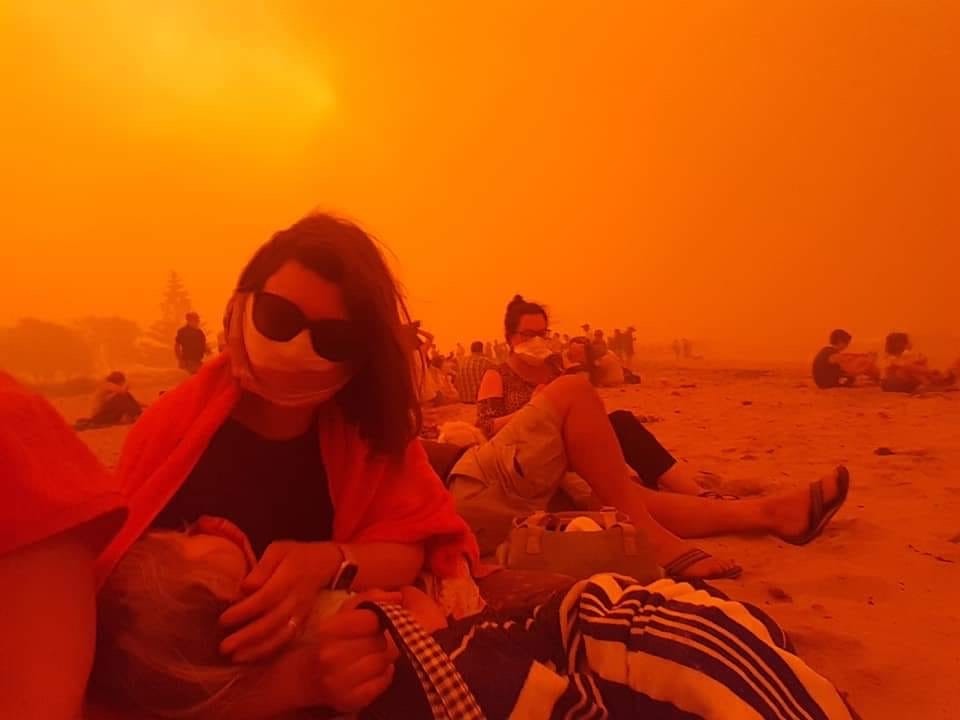 Shannon shelters with her family at Malua Bay, South Coast NSW on New Year's Eve
The hearings have confirmed what those of us living in villages destroyed by bushfires already know – Black Summer was the most destructive in decades; it was predicted; experts tried to sound warnings, but were often dismissed.
Hearings revealed an estimated 445 lives were lost due to smoke; 80% of Australians were affected; and more than 4000 people were hospitalised or sought treatment for heat and lung-related issues or asthma. The health impacts delivered a $2 billion price tag.
The link between climate change and the megafires is now generally accepted, yet our Government seems intent on rejecting widespread calls for a climate-focused COVID-19 recovery. Citizens, business, industry, financial institutions, investors, unions and environmental groups joined forces to warn that Australia's prosperous future means urgently cutting emissions. Yet, the Australian Government and the National COVID-19 Coordination Commission continue to spruik climate-damaging coal, gas and oil.
So bushfire survivors continue to speak up, sharing our harrowing experiences and calling on the government to use the COVID-19 recovery to alter the course we're on, for the safety of our children.
"I was angry and scared about our government's inaction on climate change before, now I am furious and terrified," says Shannon, a mother-of-two from the ACT.
The blackened forests around my own NSW South Coast village are now covered in brilliant green shoots, but the charred trunks beneath are a reminder of the trauma that remains. We hope that sharing these stories will help Australians – citizens and politicians alike – to remember, and act.
As we move into COVID-19 recovery, parents are calling on governments to back the implementation of proven, scalable climate solutions. We want our leaders to support climate-positive projects. This means rejecting all gas, coal and oil spending and prioritising jobs-rich clean industries.
Anything less is a failure of our governments' duty of care to all Australians – and especially, to our children.
Australian Parents for Climate Action is a community of parents, carers and those concerned about our children's safe climate futures. To let your local MPs and Senators know that you want investment in a better future, visit: www.ap4ca.org/the_covid_recovery
---