You might have missed it in the media storm surrounding the Paris attacks, but we're pleased to hear that the Turnbull Government now officially supports a long-term goal to prevent global temperatures rising by 2 degrees.
Prime Minister Malcolm Turnbull made the decision quietly at the G20 gathering in Turkey.
As Turnbull stated, the Paris agreement "must establish a durable platform for limiting global temperature rise to below 2 degrees, including through a long-term goal, accountability and transparency of contributions, and allowing for strengthening of ambition over time."
RELATED: We can avoid catastrophic global warming if we work together at COP21
This is a massive improvement from the Government's previous attitudes towards acting on climate change. In fact, this contradicts a recent statement made by Foreign Affairs Minister Julie Bishop that Australia would not support such a goal.
A spokesperson for Environment Minister Greg Hunt stated that the government intended to take a "strong and ambitious target of reducing emissions by 26-28 per cent [on 2005 levels] by 2030 to Paris" and is "confident that a strong agreement will be reached in Paris."
What can you do?
The most important thing for Australians (and the rest of the world) to do ahead of Paris 2015 is educate themselves about the issues that will be discussed. Check out the video below for a quick overview of key issues: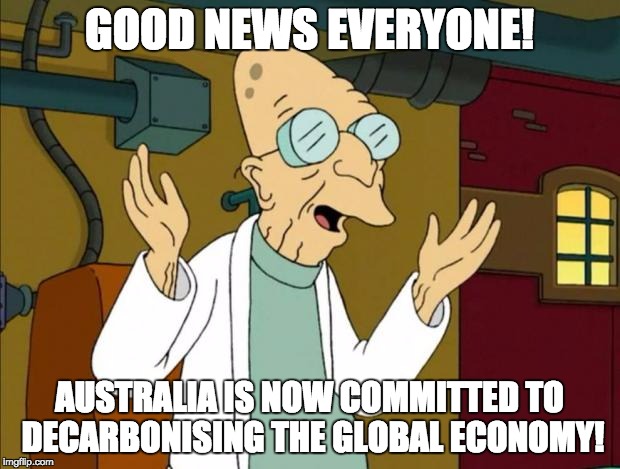 Let us know what you want to see from your government in the comments below!

[Banner Image: Shutterstock]
1 Million Women's campaign for Paris is 'You're The Voice'
With a vibe of hope building that the nations of the world will agree on a breakthrough climate change treaty in Paris this December at the UN Climate Conference (COP21), we have an opportunity to influence world leaders in making decisions that will safeguard the world for future generations.
To do this, we've recorded a cover and music video of a much-loved Australian song, turning 'You're the Voice' into a powerful anthem from women for climate action and hope.
Using the power of music, we want to inspire every woman, man or child to ADD THEIR VOICE - #IMTHEVOICE - to our anthem and form a united call to world leaders for strong action on climate change. No matter who you are, you can add your voice!
Will you support our anthem launch? It's as easy as clicking a button.
With your help, it will capture the attention of governments and stand as a clear call for climate action and hope.
---