Jill Pelto isn't just an artist, she's also a scientist!
"I graduated from the University of Maine in December 2015 with a double major in Studio Art and Earth Science," Jill says on her website. "I have always loved the outdoors and want to use my creative skills to communicate information about extreme environmental issues with a broad audience."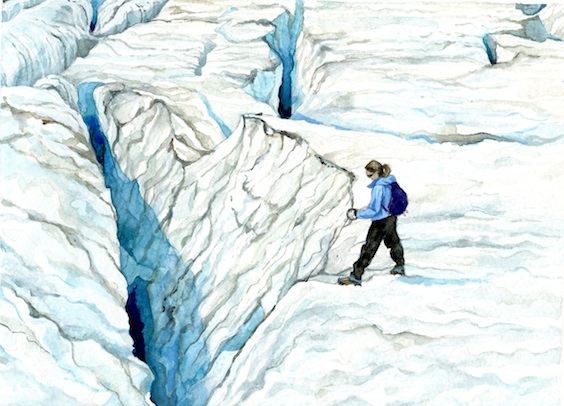 Above: Measuring Crevasse Depth
"Scientific research and data fuel the content of my artwork," she writes. "I create pieces to raise awareness about interesting and important environmental topics."
"Art is a uniquely articulate lens: through it I can address environmental concerns to raise awareness and inspire people to take action."
- Jill Pelto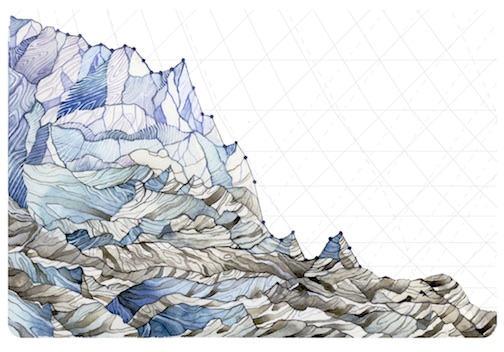 Above: Decline in Glacier Mass Balance
"The key topic in my portfolio is Climate Change data: melting glaciers, rising sea level, threatened species. I hope to cover both positive and negative issues which depict the reality of our current ecosystem."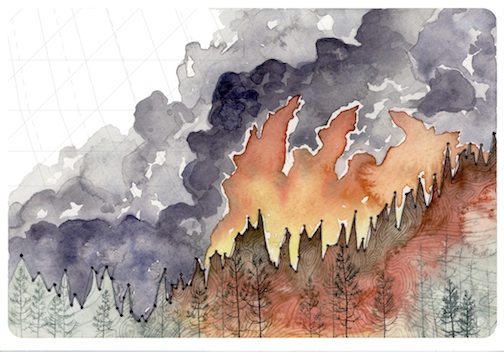 Above: Increasing Forest Fire Activity
We caught up with this amazing artist to talk about her work, climate change and how we can all work together to combat global warming.
1MW: What is the importance of individual actions when it comes to addressing climate change?
JP: I believe that in order to transition to eco-friendly societies we all must play a part. While huge changes need to be made in energy and infrastructure, everyone should adapt their lives to help this transition.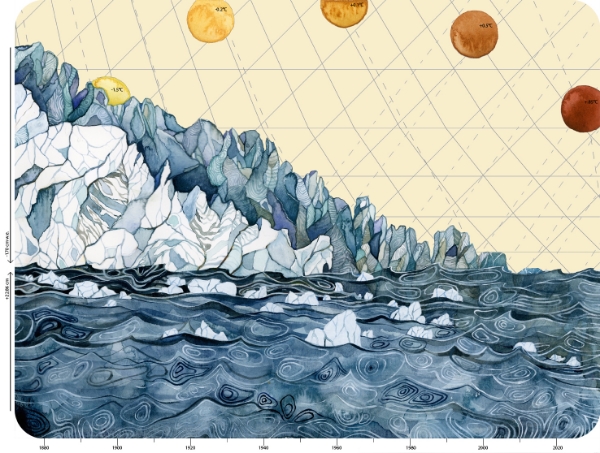 Above: Climate Change Data
Online I see time and again articles about small actions you can take to help climate change: recycling, biking instead of driving, eating less meat; in discussions with others I often hear statements about the insignificance of these actions, but in my opinion that couldn't be more wrong. Altering our own lifestyles in small but important ways is key: we all hope for a beautiful and environmentally conscious world, but we each have to play a part to achieve this. Individual actions are so powerful when they are added to thousands and millions of similar actions. Some actions make lives easier, and some make them more difficult, but they need to be done either way.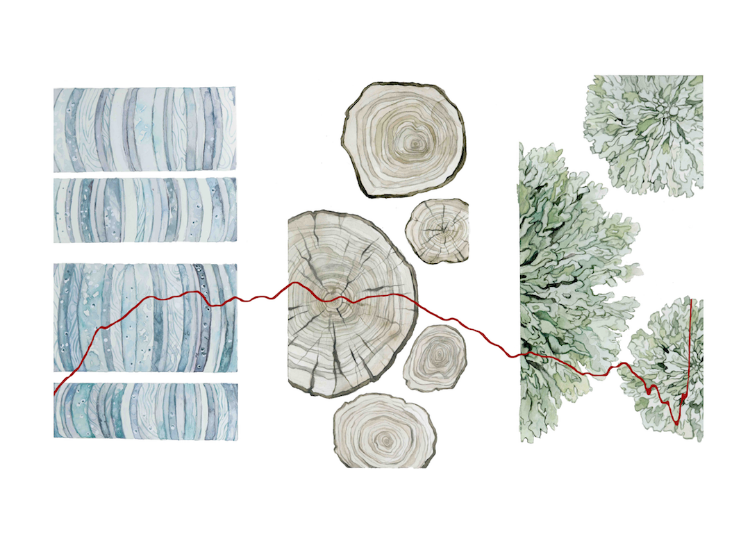 Above: Proxies for the Past
When an individual gives up on addressing climate change, she impacts everyone. We all have the strength to have hope and to make a difference. I live with four wonderful women; over the past year we have been making changes that cut costs while helping the environment. We compost and recycle, which saves on trash bags; we turn off lights and limit our water usage, saving on bills, and we carpool, which saves on gas. Be open to changing your lifestyle and share these ideas and actions with others!
1MW: Do you think that women have a special role in influencing change in society, for example when it comes to environmental action?
JP: Most definitely! Time and again I see women rising to the occasion and providing the voice of reason to the discussion on climate change. Women like Jane Goodall, Sylvia Earle, and Christiana Figueres, to name but a few, inspire me to take on the challenge of carving a path for myself that will allow me to deliver an environmental message in a powerful way.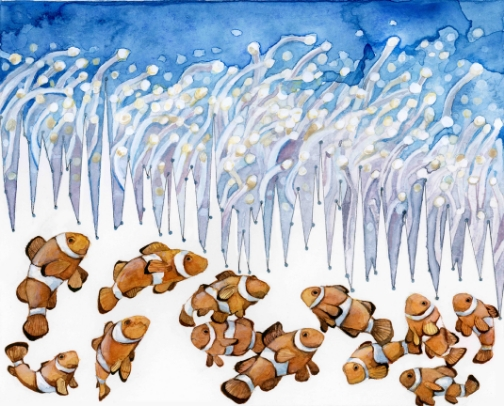 Above: Habitat Degradation: Ocean Acidification
As women's roles in global societies (slowly but surely) increase I see us making huge strides in every discipline. Women artists who address ecological issues influence me: Zaria Forman, with her massive pastels of glaciers; Toni Hamel, with her symbolic and mocking illustrations; and Crystal Morey, with her sculptures that beautifully echo our relationship to nature.
From what I have read, much larger percentages of women then men (from most any country) understand the issues we are facing with global warming. I am a feminist, so gender equality is of utmost importance to me, and when I speak for women, I do not speak against men, but more women realize that it is a reality we all are facing and that immediate action needs to be taken. Women are seen as having a nurturing role, which is positive, but for some reason that's also translated to mean we are lesser then men. Nurturing gives us the power of persuasion, of living by example, and the ability to see beyond ourselves. As we rise above that preconceived notion we find our strength, and we are unafraid to speak out: that we wish to care for our planet and change the impact that all humans currently have on the climate. Women's drive to take action on environmental issues in an intelligent and peaceful way will undoubtedly shape a beneficial society who cares about humanities' role in nature.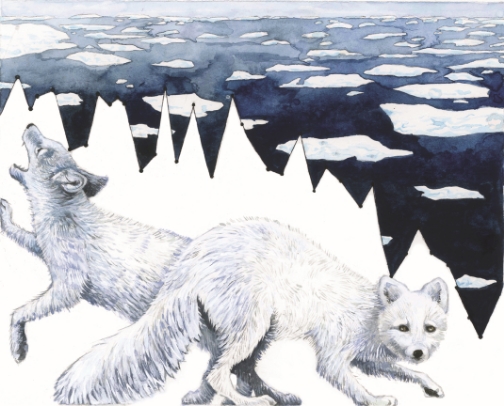 Habitat Degradation: Arctic Melt
1MW: What would your message to the 1 Million Women community be?
JP: As 1 Million Women we stand for an eco-conscious world. We are all working to improve our individual impact, and know the importance of small actions, in addition to large ones. We must inspire others to make a difference too. I meet many people who care about the environment but simply do nothing about it. It can be a mental hurdle to change one's lifestyle, and also to accept and face the frightening changes occurring to our land, seas, and atmosphere. But action and preparedness will allow us to both mitigate global warming, and to create a society that is harmonious with nature.
My message is: extend your impact to include others where you can. We won't give up on helping our planet, nor on teaching others to do so!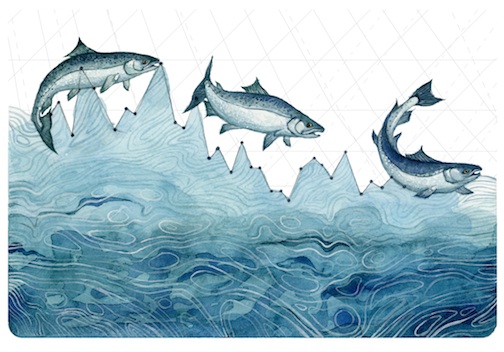 Above: Salmon Population Decline
See more of Jill's amazing work on her website and on Instagram
READ THIS NEXT: This Man Made 3500 Birdhouses From Scrap Wood To Keep Birds In Cities
1 Million Women is more than our name, it's our goal! We're building a movement of strong, inspirational women acting on climate change by leading low-carbon lives. To make sure that our message has an impact, we need more women adding their voice. We need to be louder. Joining us online means your voice and actions can be counted. We need you. We're building a movement of women fighting climate change through the way we live.

---