I pack my lunch every day when I go to work. Why? Mostly because it's far too expensive to eat out every day, but also because I want to eat healthy and fresh food that has a small environmental footprint. Just looking at all of the disposable plastic packaging that comes with takeaway food is enough to make me lose my appetite.
The secret of a great packed lunch is to find something that is easy to prepare, uses healthy ingredients, and can be transported easily. With that in mind, here are 7 yummy ideas that will make your next two weeks at work DE-LI-CIOS
1. Make your lunchtime routine enjoyable

Packing your own lunch can seem like a chore, and can take some getting used to when you're surrounded by colleagues who eat take-away every day of the week! The best way to combat this is to get into a pattern of preparing your lunch the night before, or getting up early enough to leave yourself enough time to prepare something substantial.
Another way to make lunchtime a pleasure is to beautify you packed food, be it choosing a cute lunch bag or getting creating with some cookie cutters (adorable lunches are NOT just for kids!)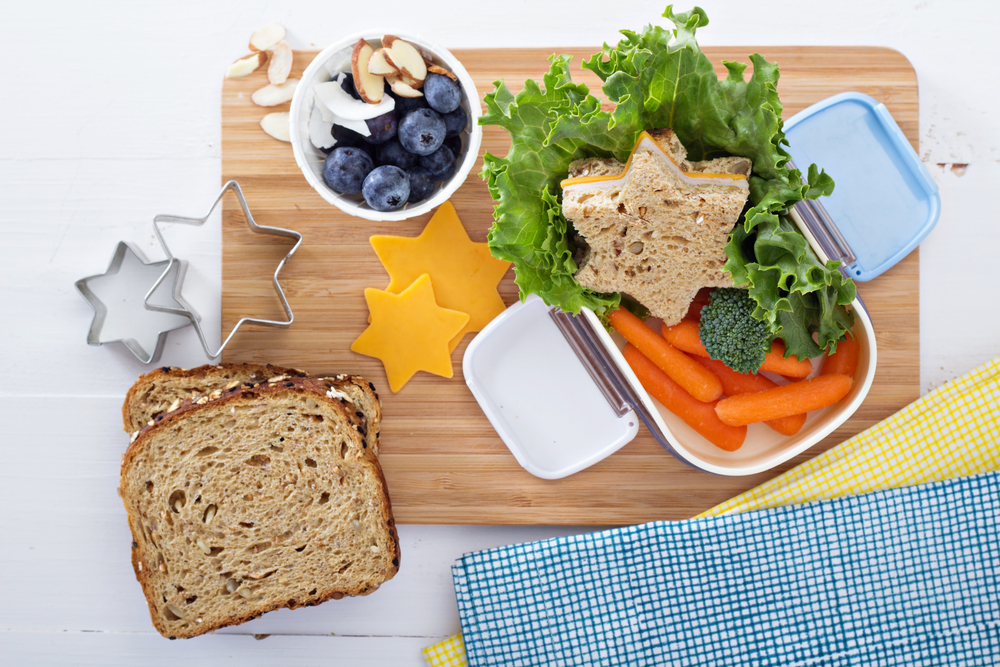 2. Sticks and dip in a jar
I am a big fan of carrot sticks with hummus, or apple slices with a cheeky honey/peanut butter combo, but stick that all in a plastic container and you'll end up with a sticky, leaky mess.

The best solution I've come across is turning an old jar (I use nice, big jam jars) into a portable snack container: put the dip at the bottom and then the sticks of fruit or veg on top so that they're pre-dipped and ready to go. The benefit of a jar is that it seals tightly and will prevent your hummus from turning your workbag into a garlic-scented disaster zone.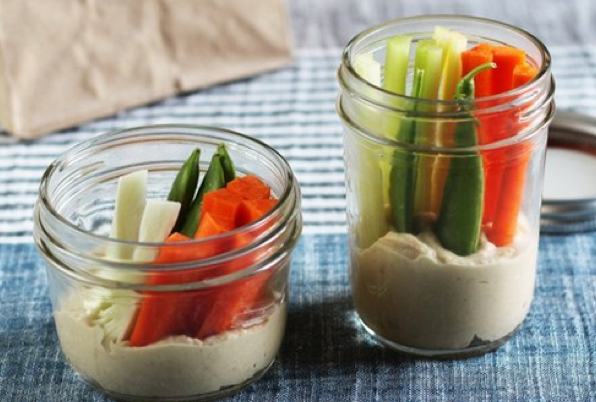 (Image: Green Blender)

Nut butters and hummus are also high protein, which will help beat that afternoon slump at your desk, and keep you energised until the end of your day!

3. Microwaved hot oats
This is by far the best use for your office microwave (or made ahead at home and eaten cool later). In your handy jam jar or other sealed container, pour ½ cup of rolled oats and 1/3 cup of milk (almond is delicious) or water. Microwave this for 1 minute on a medium-high setting, and see how the oats magically turn soft and fluffy, like a thick porridge.

This is the base for a delicious hot snack, which can be customised to make it sweet or savoury.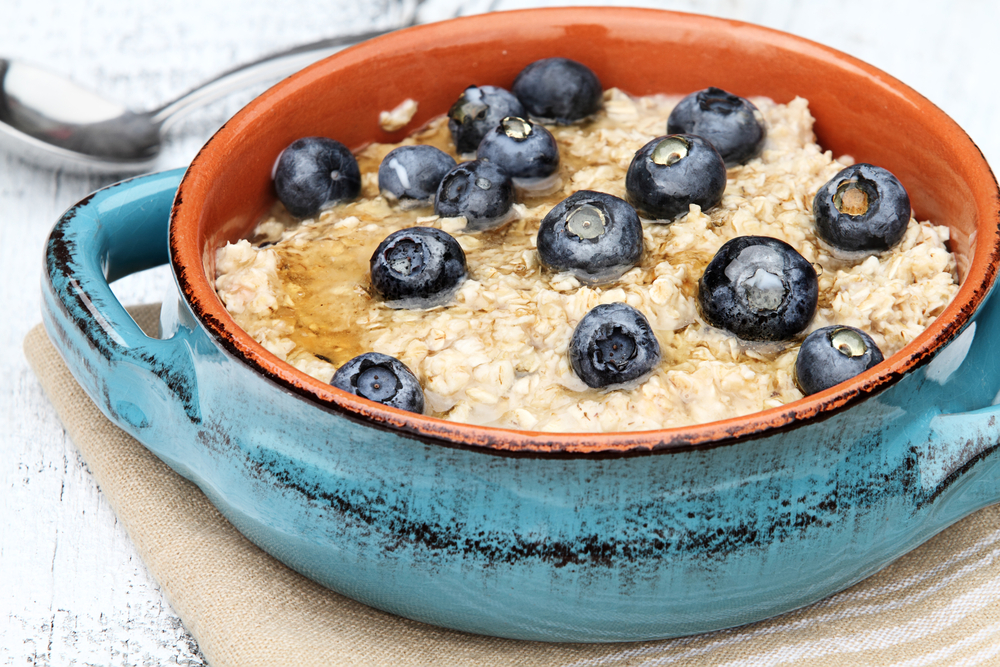 Sweet idea: Before microwaving, add 1 teaspoon of honey, crushed nuts and/or sultanas
Savoury idea:
Use water to make oats. Add a dash of olive oil, salt and rosemary for a simple accompaniment to a salad.
4. "Upcycled" rice from last night's dinner
I cook rice for dinner a few times a week, and I tend to make a bit more than I need. Rather than chucking this out, I turn my rice into gorgeous fried rice, or add it to a salad for added texture.
To make fried rice:
You can make this in a single saucepan or frying pan, and you can use whatever vegetables you have lying around. I like to stir-fry half an onion in a little oil, then add a tomato, some pak choy, shallots, carrot and then the rice. Stir through a little soya sauce, chilli, white vinegar and lime juice for some extra flavour, then eat hot and delicious.
Rice salad idea:
Toss leftover rice with finely chopped vegetables (carrot, red cabbage etc.) and slivered almonds. Eat with sweet chilli sauce. Want more inspiration? Check out this
Persian Rice Salad
.

5. Big batch make-ahead soup
If you love something warm in the middle of the day to keep you energised, but don't want to be tempted by fast food, then consider making a big batch of
Anything Soup
. In this recipe, I use pumpkin as the base, but you could just as easily use sweet potato or tomato.
Make a big batch and then freeze/refrigerate individual serve in reusable containers. This makes packing lunch so easy, because all you have to do is grab some soup and a few slices of bread (or a bread roll) and you've got a hearty and hearty meal!
1 Million Women is empowering women and girls around the world to lower their impact on the planet. If you love what we do, please support our work by donating a couple of dollars. For the price of a cuppa, you can help us inspire millions more! (click to donate)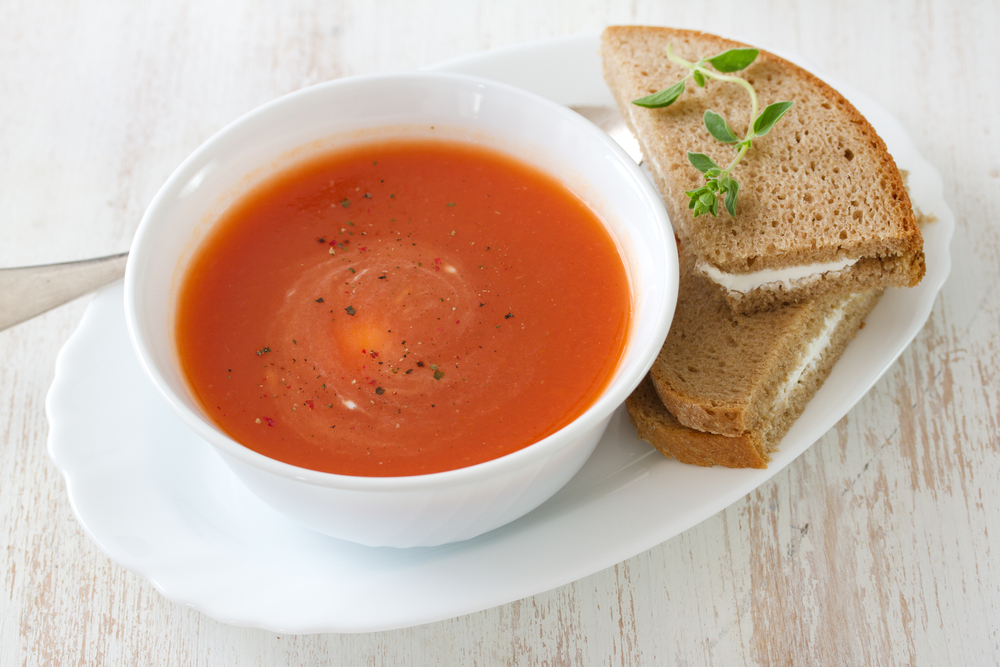 6. Pack a jar of healthy things to nibble on
Sometimes when I'm at my desk, I'll feel the need to eat something even though I'm not particularly hungry. This might be because I'm stressed, and is sometimes because my body is low on energy. This is why I always have a jar ready with some healthy, crunchy snack items.
Some ideas for your snack jar could be carrot sticks, apple slices, almonds and other nuts, sunflower seeds, roasted chickpeas with a little salt, or
homemade pita chips
.
As a rule, keep "moist" things like veggies and fruit in a different container to dry things such as crackers and nuts. This is so your crunchy things don't become soggy.
7. Don't forget something to drink!
If you like juice, infused water, Milo or flavoured almond mylk, consider bringing your own supply to work to make getting through the day a bit easier.
I'm a tea addict, so I usually go through 7 or 8 cups in a workday (more if I have looming deadlines), so I love bringing
my own tea blend
and infuser so that I can have something a bit more exciting than just standard tea bags.
Bringing your own drinks (and mug/Keep Cup) is a great way to keep motivated ("When I finish this paragraph I'm getting up and making a cuppa!") and is very comforting (I'm sipping my homemade Chai as I'm writing this!)

What's your favourite packed lunch idea? Let us know in the comments below!
READ THIS NEXT: 12 ways to save money in the kitchen (that are also good for the planet)
Images: Shutterstock
1 Million Women is more than our name, it's our goal! We're building a movement of strong, inspirational women acting on climate change by leading low-carbon lives. To make sure that our message has an impact, we need more women adding their voice. We need to be louder. Joining us online means your voice and actions can be counted. We need you.
---