There's an old saying that one man's junk is another man's treasure; and when it comes to repurposing waste it couldn't be any closer to the truth. Finding new uses for old items can save you a significant amount of money and armed with a little thought and creativity, creates a unique flow of inspiration in any space.
But DIY projects offer an even bigger benefit to them. Turning trash into something new and useful; whether its old plastic bottles, cardboard boxes or renovation rubble is one of the easiest ways to do your bit for the environment. And as more people realise the value of recycling, upcycling, repurposing and reusing things to reduce waste – the bigger impact we can create.
Solid waste is a massive issue today. With new things being built on a daily basis and waste getting dumped into the landfills, it's become even more vital to opt for recycling and repurposing to ensure waste is disposed effectively. Before you throw that next bit of 'junk' out, why not change its use and turn it into something better? Here's a few great ideas to get you started:
1. Wine Bottle Chandeliers

You won't need to feel as guilty next time you and your friends polish off a few bottles of wine when you can create a chandelier wonder piece after! Wine bottles can be collected and reused to illuminate a space, whether you build a DIY bottle lamp or a uniquely designed chandelier – and it won't cost you an arm and a leg to purchase, just some time and inspiration.
Empty wine bottles can also be turned into a mini terrarium to make for an inexpensive and arty gift – this is perfect for old wine glasses too if you've just upgraded! Wine bottles can also be used as wall art (especially ideal for the big wine lovers) – just use a bracket to hang the bottle off the wall and dress up with some plants or a single flower.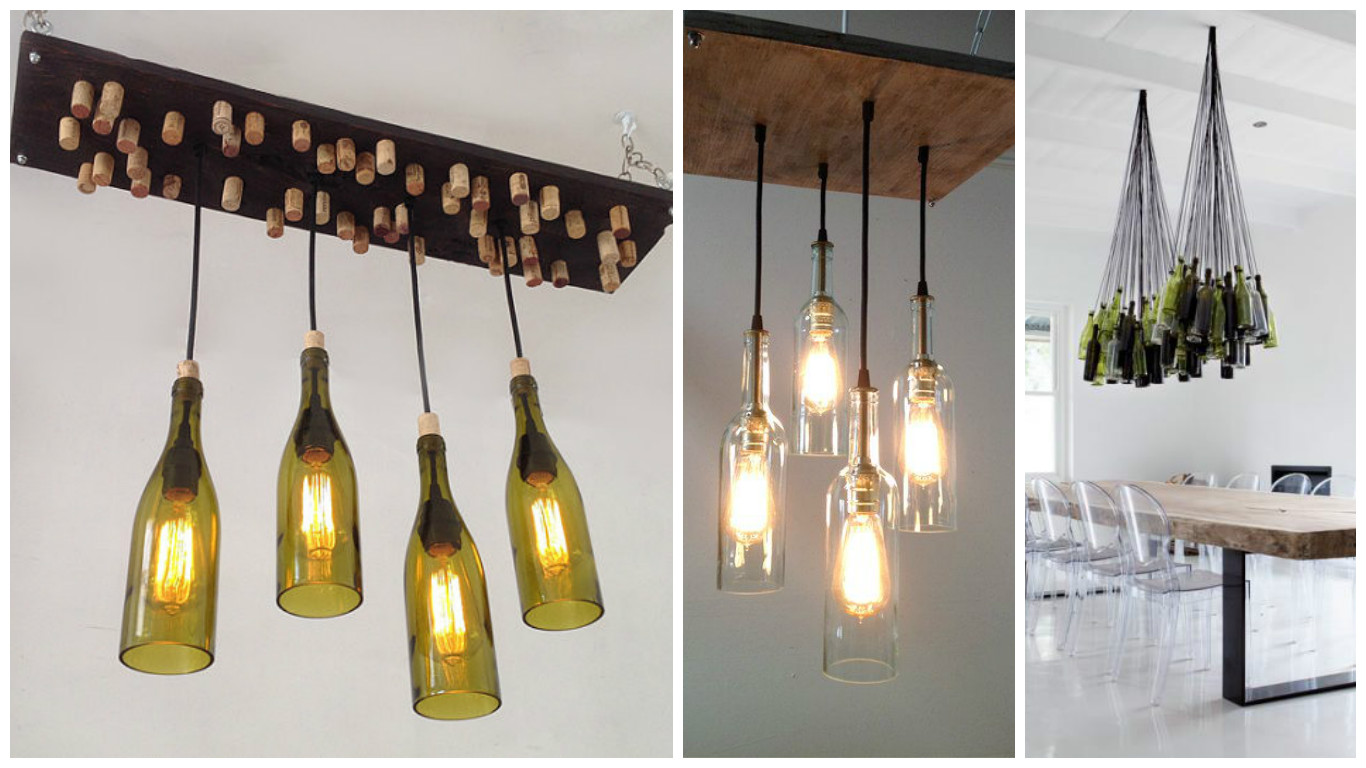 2. Getting Arty with Restored Windows
If you've just finished a renovation or see an old window that's been thrown out, why not use it to display art of photos? Use masking tape to hold the glass together and safely break it out until you're left with just the window frame. You can re-paint the frame or simply sand back for a restored aged framed look which will add character to any space. Once the frame looks how you want it to, it can be hung up and used as a window display case. For another fun and easy DIY option, use string across the frame and pegs to hang photos, reminder notes or paintings.

3. Create a Plastic Bottle Vertical Garden
Plastic bottles of any kind are notorious for clogging up the house recycling bin but are one of the best for recycling into something awesome. The PET plastic that most bottles are made of is resilient, flexible, food safe and transparent so giving them a second life is easy.
The ideas are endless with these, but a personal favourite of mine is the plastic bottle vertical garden. Creating your own vertical garden can dress up an outdoor entertaining area with limited space and offer an easy way to grow your favourite herbs, small flowers or succulents. You can also use recycled plastic bottles to make an ottoman seat, an outdoor bird feeder and a cherry blossom paint stamp, just to name a few.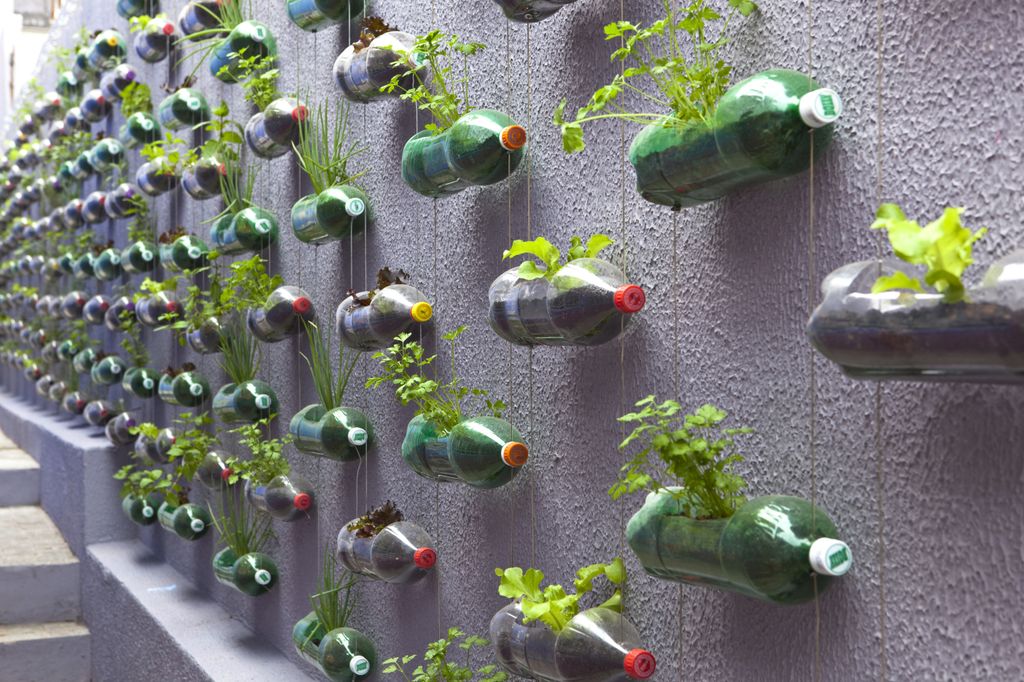 Image: This is Colossal
4. Renovation Rubble to Statement Gabion Walls
Renovations provide the ultimate opportunity to salvage some things and make new uses for them.
The leftover rubble can be used to create a DIY gabion retaining wall or planter box by holding the 'waste' material in a galvanised steel wire case, known as a gabion. Instant Waste Management, an enterprising waste management company based in Western Australia, have recycled and repurposed the waste material they collected from their customers' skip bins, instead of just dumping it into a landfill, to create a gabion wall around their office car park to show just how striking repurposed renovation rubble can be.
General debris left over from the renovation can also be compacted on site and reused as hardcore for landscaping or select various items from the waste to reuse yourself. An old door can be sanded back and painted to be turned into a dining table top, or dig out some of those old windows for the arty ideas above.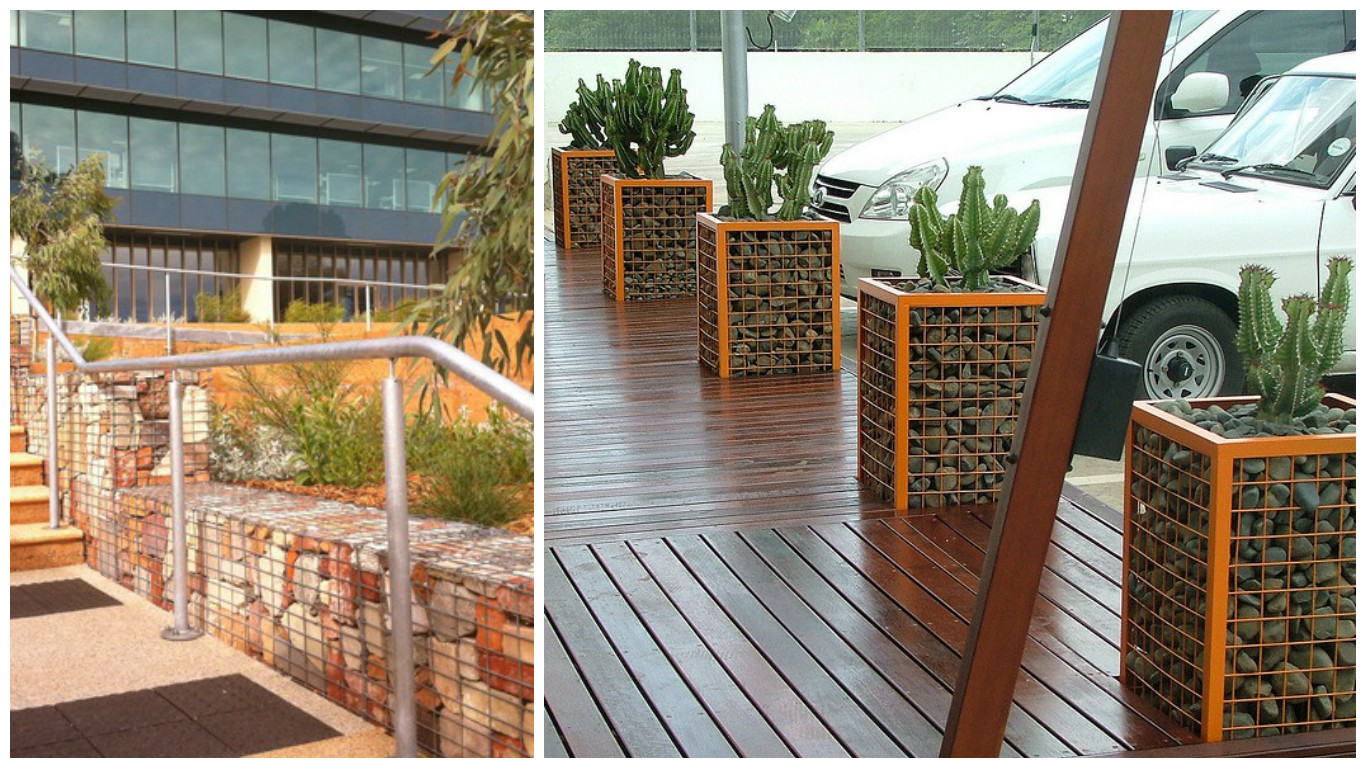 Image: Pintrest
5. Vinyl Art
That pile of scratched records you've been meaning to throw out can be turned into oodles of cool DIY options. Ideal as a cost-effective gift idea for that music-loving friend or simply to give your home space a facelift, repurposing vinyl can make for a really easy DIY project. From vinyl wall art options, to notebooks, handbags, dessert stands, photo frames and even jewellery – unplayable vinyl can open up a world of opportunities. Or better yet, head to your local op shop to get cheap old vinyl to use for your next DIY project.
6. Pallet Projects

Recycled pallets make for fun projects by using them to craft furniture with, bedroom and outdoor accessories, fences and signs. These natural wood pallets add a trendy appeal to any home and can be easily sourced at a very inexpensive or even free price. Shipping pallets in particular have usually been treated with chemicals so it's important you inspect the pallets before using to determine whether it's safe to use or not.
Spruce up your outdoor entertaining space with a shipping pallet patio chair, lounge couches, dining table or a bar space to rest your drinks on. Wooden pallets can also add warm characteristics to the bedroom as a bed frame or build a wine rack for the lounge area or a sturdy workbench for the man cave or shed.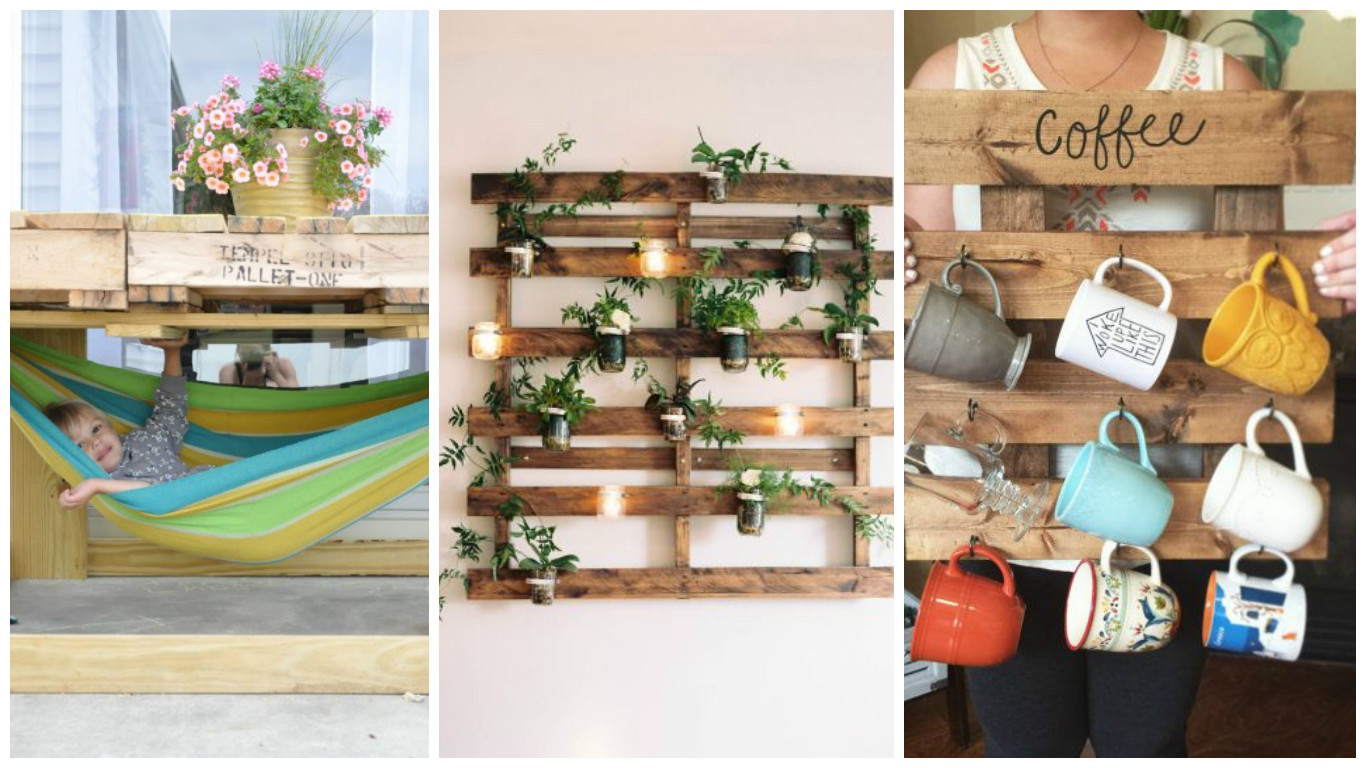 7. Repurposed Boxes into Wall Art
Most houses have a lot of shoe boxes laying around that can be repurposed into wall art. The lids of old shoeboxes or other cardboard boxes make the ideal 'canvas' for stylish artwork to dress up a dull looking wall – exceptionally perfect if you're renting and can't paint. Cover the lids with a layer of primer and a semi-gloss white spray paint or any colour of your choice. You can create patterns using tape or get creative with other tools and various colours to complement your style and home. After you've utilised the shoebox lids for wall art, make use of the actual boxes for an easy DIY wall shelve.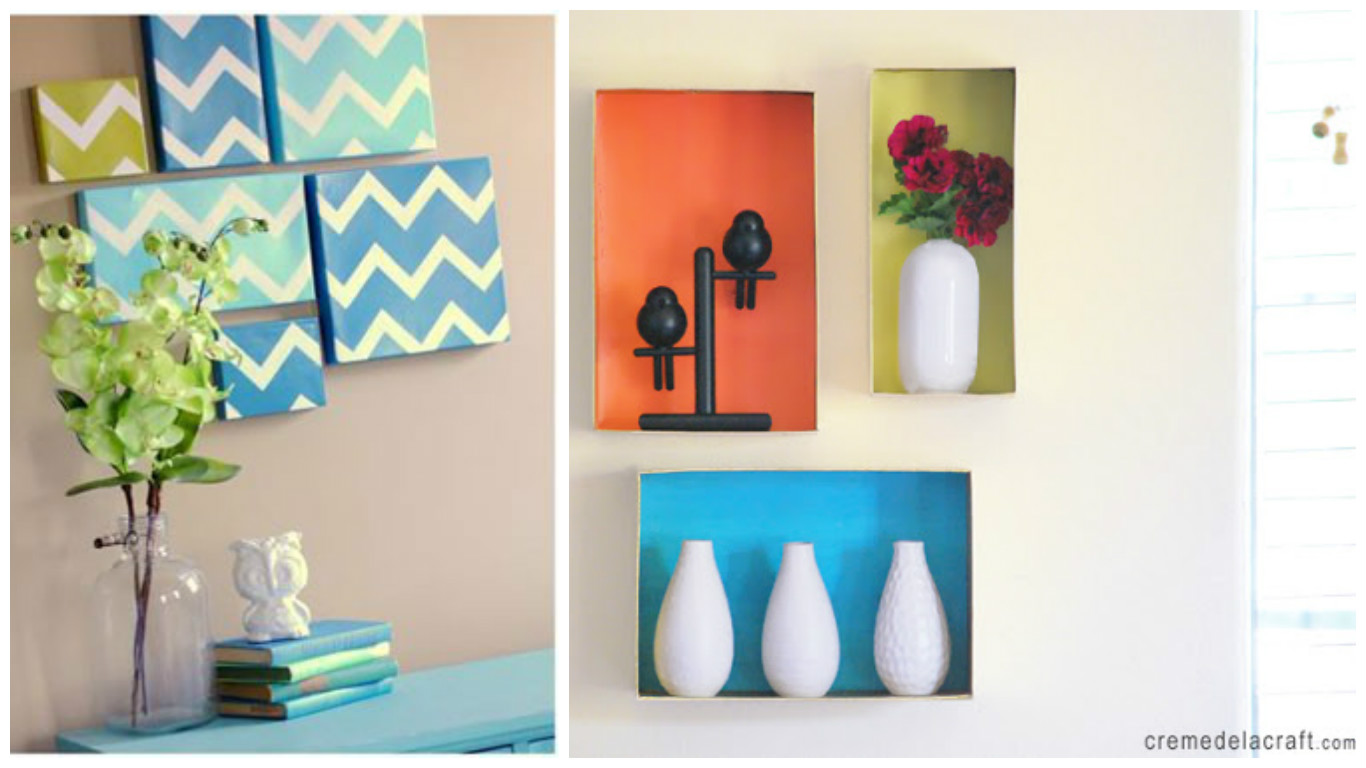 Image: Creme de la Craft
With the use of a little inspiration and creativity, waste can be transformed into something pretty spectacular. Just because something no longer functions the way it should doesn't mean it's time to completely throw it away. Start getting into the habit of recycling and repurposing today – the environment and your wallet will thank you for it!
This article is written by Jayde Ferguson, who writes for Instant Waste Management – an industry leading provider of skip bins and larger waste management services, for home renovations to construction sites. You can catch Jayde on Google+ to discuss this piece.
Banner Image: Shutterstock
Read this next: Our Best DIY Posts
Got a great DIY project you think that we should know about? Let us know in the comments below!
1 Million Women is more than our name, it's our goal! We're building a movement of strong, inspirational women acting on climate change by leading low-carbon lives. To make sure that our message has an impact, we need more women adding their voice. We need to be louder. Joining us online means your voice and actions can be counted. We need you.
---