I love me a good cocktail, especially when it comes after a long day.
That's not true, I'll use any excuse under the sun to drink one of these, and winter is no exception. Therefore I present to you: Hot cocktails - yummy and warm so you can keep drinking them no matter the season! Here we go:
Hot Apple Cider
8 cups of apple cider, ½ cup orange juice, 1 cup of Bourbon, 2 tablespoons of sugar, 2 teaspoon whole cloves, 4 cinnamon sticks, 1 teaspoon nutmeg.
Bring everything except Bourbon to the boil in a pot. Simmer for 15 minutes. Add Bourbon and stir. Immediately strain and serve. Garnish with orange or lemon slice, place a cinnamon stick in each mug for presentation. Great for keeping those cold symptoms at bay and getting your vitamins! Also great for kids, minus the alcohol.
Peppermint Hot Chocolate
Sign. Me. Up… Make your normal hot chocolate and add a splash of peppermint schnapps (Crème de menthe is also good). This is great for a dessert, and I for one plan to be drinking this until the cows come home.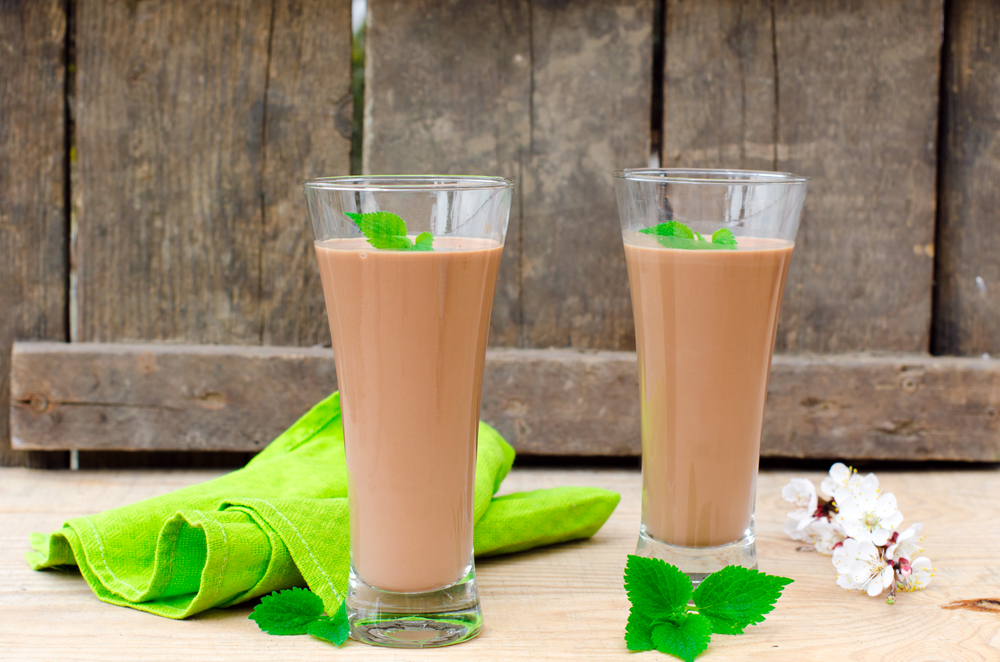 Mulled Wine [recipe from Jamie Oliver]
A warm classic. 2 clementine mandarins, 1 lemon, 1 lime, 200g caster sugar, 6 cloves, 1 cinnamon stick, 3 bay leaves, 1 whole nutmeg (grated), 1 vanilla pod (halved lengthways), 2 star anise, 2 bottles Chianti or other Italian red wine.
Peel large sections of peel from clementines, lemon and lime. Put sugar in large saucepan over medium heat, add the peels and squeeze in clementine juice. Add cloves, cinnamon stick, bay leaves and 10-12 gratings of nutmeg. Throw in halved vanilla pod and stir in just enough red wine to cover the sugar. Let simmer until sugar dissolves then bring to boil for 4-5 minutes until you have a thick syrup. Turn the heat down to low and add your star anise and the rest of the wine. Heat through and serve.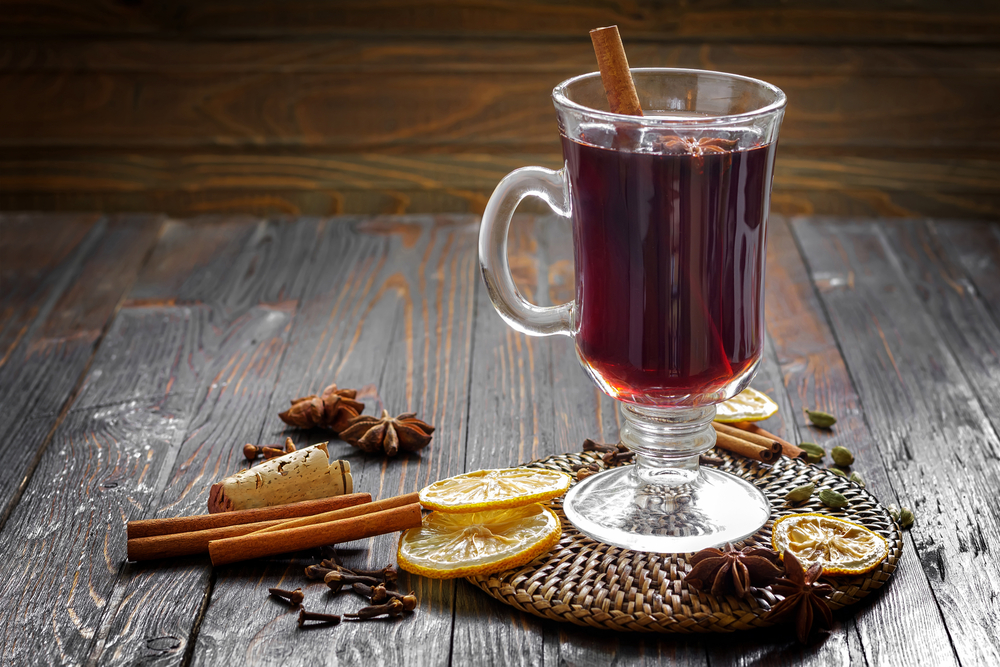 Spiced Hot Toddy
Perfect for a cold. 7g honey, 177ml of brewed chai tea, 44ml Makers Mark, 44ml orange juice, 1 cinnamon stick.
Put honey in a warmed mug. Stir in hot chai tea with cinnamon stick until honey dissolves. Add whiskey and orange juice, stir. Garnish with orange twist.
HOT TIP:
A GREAT WAY TO STOP FRUIT LEFTOVERS FROM GOING TO WASTE IS TO TURN THEM INTO SYRUPS AND GARNISHES FOR A VARIETY OF COCKTAILS. BERRIES AND KIWIFRUIT, CAN BE SMASHED AND BLENDED WITH SUGAR AND HOT WATER TO BE MADE INTO COCKTAIL SYRUPS. OTHER FRUIT CHUNKS CAN BE THROWN INTO DRINKS SUCH AS SANGRIA.
Winter Julep [picture credit: Divine Caroline]
44ml bourbon, 22ml brown sugar syrup, 1 teaspoon peppermint tea, hot water, mint sprig.
Brew tea in 150ml boiling water for 4 minutes, remove infuser. Add bourbon and sugar syrup, stir. Garnish with mint sprig and serve in Irish coffee or brandy snifter.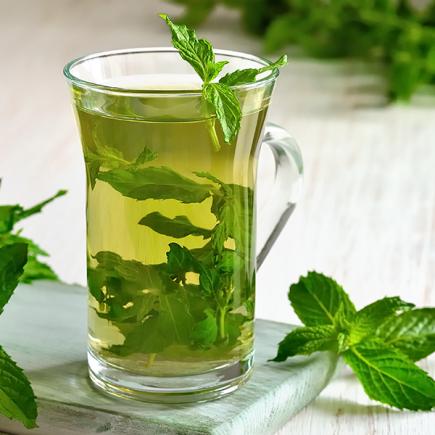 Tom and Jerry
2 eggs separated, 2 ½ tablespoon sugar, 1 cup Jamaican rum, 1 ½ vanilla extract, pinch of ground allspice, pinch ground cloves, pinch ground cinnamon, 2 2/3 cups milk, 1 teaspoon grated nutmeg.
Whisk egg yolks briefly, add sugar, 1 tablespoon of rum, vanilla extract, allspice, cloves and cinnamon, whisk through and set aside. Beat egg whites with egg beater until stiff and glossy, fold into yolk mixture and set aside. Bring milk to simmer over medium heat in a pan, then remove from heat. Add egg batter to a mug, slowly add 4 tablespoons of remaining rum, stirring constantly to prevent curdling. Fill mug with hot milk and stir. Sprinkle with nutmeg.
[image credit: Chezus]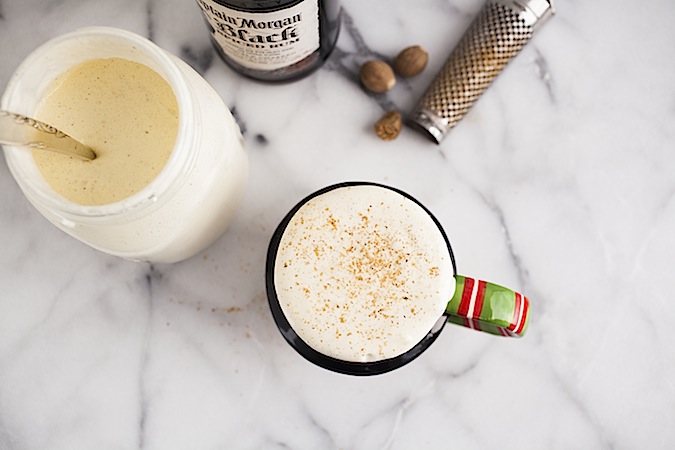 Some of these take more effort than others, but they are all delicious and perfect for a warm night in! As always, remember to keep hydrated this winter and drink lots of water. These cocktails are (sadly) a sometimes food! Remember to shop locally for those fruits, and if something isn't in season, just refer to our winter produce table for alternatives!
[image credits (unless otherwise stated): Shutterstock]
READ THESE NEXT:
How-to make your own chai spice mix
What you can do
Buy local, fresh and in-season when you shop for fruit and veg
When you buy fruit and veg do the following: choose locally produced, in-season and fresh rather than frozen, don't use plastic bags and avoid any overpackaged items. Do this for a month then try to keep going.
1,200
Tonnes of CO2
savings pledged

---