Whether you're taking off for a few days or months, these simple supplies and travel tips are guaranteed to reduce your environmental impact and save you some money while on the road!
1.Firstly and most importantly, a reusable water bottle.
Even if the drinking water is safe in the country you are travelling to, you'll still need water while you're out and about during the day so find yourself a funky, chemical-free bottle and keep it with you during your trip.
Most hotels, hostels and even cafes, airports and train stations will offer a safe drinking water refill station where you can top up your bottle for free, which cuts down on costs and saves countless plastic water bottles. If you're staying in one place for a while and don't have access to a water refill station, buy a larger amount of water (ie. 10L bag) from the supermarket and refill your bottle yourself. Stainless steel drink bottles are a good choice for durability, keeping liquids cooler for longer and are lightweight. You can go a step further by purchasing a bottle that is also capable of filtering water as an extra health precaution, which may be useful depending on your destination.
Read more: Are we being scammed into buying bottled water?
2.A reusable straw (or request not to have straws with the drinks you buy overseas).
Reusable straws are becoming more commonly available with steel, glass or bamboo straws being sustainable alternatives to single-use plastic straws. For more information on initiatives to cut down the use of plastic straws, follow the www.laststraw.com.au campaign in Australia or other campaigns with the same goal in Indonesia and abroad. Similarly, to cut down on plastic or disposable cutlery, chopsticks and the packaging it comes in, eat your food in rather than taking it away when you can and carry some reusable eating utensils with you.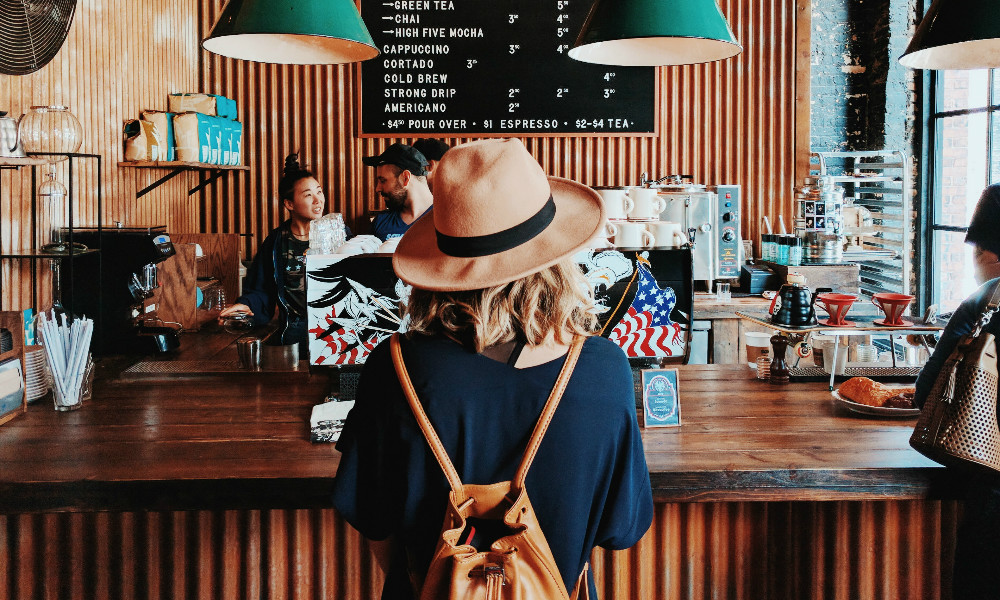 3.A reusable carry bag.
When you're on the road or out for the day sightseeing, you will undoubtedly need an extra carry bag at some stage. Whether it's for shopping purchases, laundry runs or to lug around any food waste/rubbish until you can find a suitable bin, a reusable bag will save you from having to use a crazy amount of plastic bags on your journey. If you're travelling through Asia, it's particularly important to keep an eye on food and drink vendors when they are preparing your items and let them know you don't need a carry bag, otherwise you are likely to end up with small plastic bags for anything and everything, even takeaway drinks.
if you've got an old t-shirt then you can whip up a DIY bag in under 15 minutes. See below for instructions.
4.Planet friendly body care and cleaning products.
If you use natural products at home, why not continue to do so abroad? It might not sound like a big deal but it will have a positive impact on your health as you'll be exposed to fewer synthetic chemicals and less harmful chemical residues will be produced in the process, which is better for the environment! Some of my favourite products to take travelling are: Castile soap - a concentrated, non-toxic, plant-based liquid/solid soap which can be used for a range of purposes on the road, including as shampoo, soap, shaving cream, dishwashing and laundry detergents (especially useful for times when you need to do some sneaky hand washing). Solid shampoo and conditioner bars made from natural ingredients are also good options and can last the distance for longer journeys. Essential oils are a great alternative to chemical laden perfumes and also make a useful addition to natural first aid travel kits. Finally, always opt for non-aerosol deodorants and insect repellants(ie. choose roll on, cream or sprays instead) or use natural alternatives.
Recipe: Natural deodorant for sensitive skin
Recipe: DIY coconut oil beauty products
5.Avoid unnecessary food packaging and dispose of waste wisely.
While this isn't something you can pack, it's a choice you can make while travelling to significantly cut down on the amount of waste you produce. When buying fresh foods abroad, especially fruits and vegetables, try to source them from local markets where they are sold loose as opposed to the heavily wrapped produce available in most supermarkets and convenience stores (and don't forget to take your reusable bag to the store!). When disposing of waste, always check if your hotel or hostel has a composting option and specific recycling bins to reduce your contribution to general landfill. During my latest trip through Asia, I've been pleasantly surprised by the amount of composting and recycling facilities available, even at small hostels.
It's encouraging to see the growing number of initiatives around the globe focused on reducing the environmental impact of heavy tourism. Be part ofthe positive change by adopting a more eco-friendly travel style with these tips and other planet-strong travel hacks. Most importantly, have fun!
Passionate about all things natural, Hannah writes to share ideas on high vitality health and nutrition. Qualified as a Naturopath with a special interest in sustainable living, you can read more of her work at nutritionnotes.com.au
Read this next: In the age of climate change i've decided not to have kids, here's why

We're in a climate emergency and it's going to take all of us to get out of it. That's why 1 Million Women is building a global community of women committed to fighting climate change with our daily actions. To join the (free) movement just click the button below!

---