Full disclosure; I'm not a vegetarian I'm a try-and-eat-less-meat-atarian, think-about-your-impacts-atarian. Basically I try and be mindful of what I eat, and I try to only eat a small amount of meat meals per-week. Here at 1 million women we are about all the changes you can make to reduce your carbon footprint, whilst understanding that everyone has a different cultural, economic and social lifestyles. There's no real need to label it!
In saying that, every now and then it's nice to have a completely meat-free week. It makes you realize how easy and tasty it is to choose meat free options. Sometimes I feel like I used to choose meat options to feel 'fuller' especially when eating out, but these days I try and make conscious decisions and I've realised that most places I eat, the veggie options are far more interesting.
In the vein, I've put together 5 plant-based recipes for a meat free week. Give it a go, you might be surprised by how delicious and satisfying your week can be without meat.
Read next: Benefits of a plant-based diet
Monday:
I'm a firm believer that Monday nights should be something comforting and delicious, you're already back at work. You may as well have dinner to look forward to. And what is more comforting than pasta? Nothing. Nothing is more comforting than pasta.
Plant based spaghetti carbonara with shitake bacon
Ingredients:
Shiitake bacon
Half a kilo (1 pound) of shiitake mushrooms, trimmed and thinly sliced
¼ Cup of olive oil
1 ¼ teaspoon of sea salt
½ teaspoon freshly ground pepper
Pasta Carbonara
Half a kilo (1 pound) of spaghetti pasta of your choice
2 tablespoons olive oil
1 large onion chopped
3 cloves garlic, minced (to be honest, I usually put a whole head in, your call!)
400 grams (14 ounces) soft tofu
½ cup water
2 tablespoons lemon juice
2 ½ teaspoons sea salt
freshly ground black pepper to taste
Chopped parsley for garnish
Nutritional yeast for garnish
Method
Shitake Bacon
Pre-heat the oven to 190°c (375°F)
On a large rimmed baking sheet, toss mushrooms with oil, salt and pepper. Bake for about 30 minutes, turning frequently with a spatula, until lightly browned and crisp.
Pasta
Cook your pasta according to the directions, drain and return to the pot.
Meanwhile, heat oil in a medium pan over medium heat. Add the onions and let them cook until soft, Add garlic and let cook for a few more minutes. Remove from heat.
In a blender, combine onion, garlic, tofu, water, lemon juice and salt. Process on high until very smooth (around 2 minutes)
Add the sauce to the pasta and toss to coat, season with pepper and salt as needed. Allow the pasta to sit for a couple of minutes to allow the sauce to thicken slightly. Top with shiitake bacon, parsley and nutritional yeast and serve!
Recipe sourced from: Chef Chloe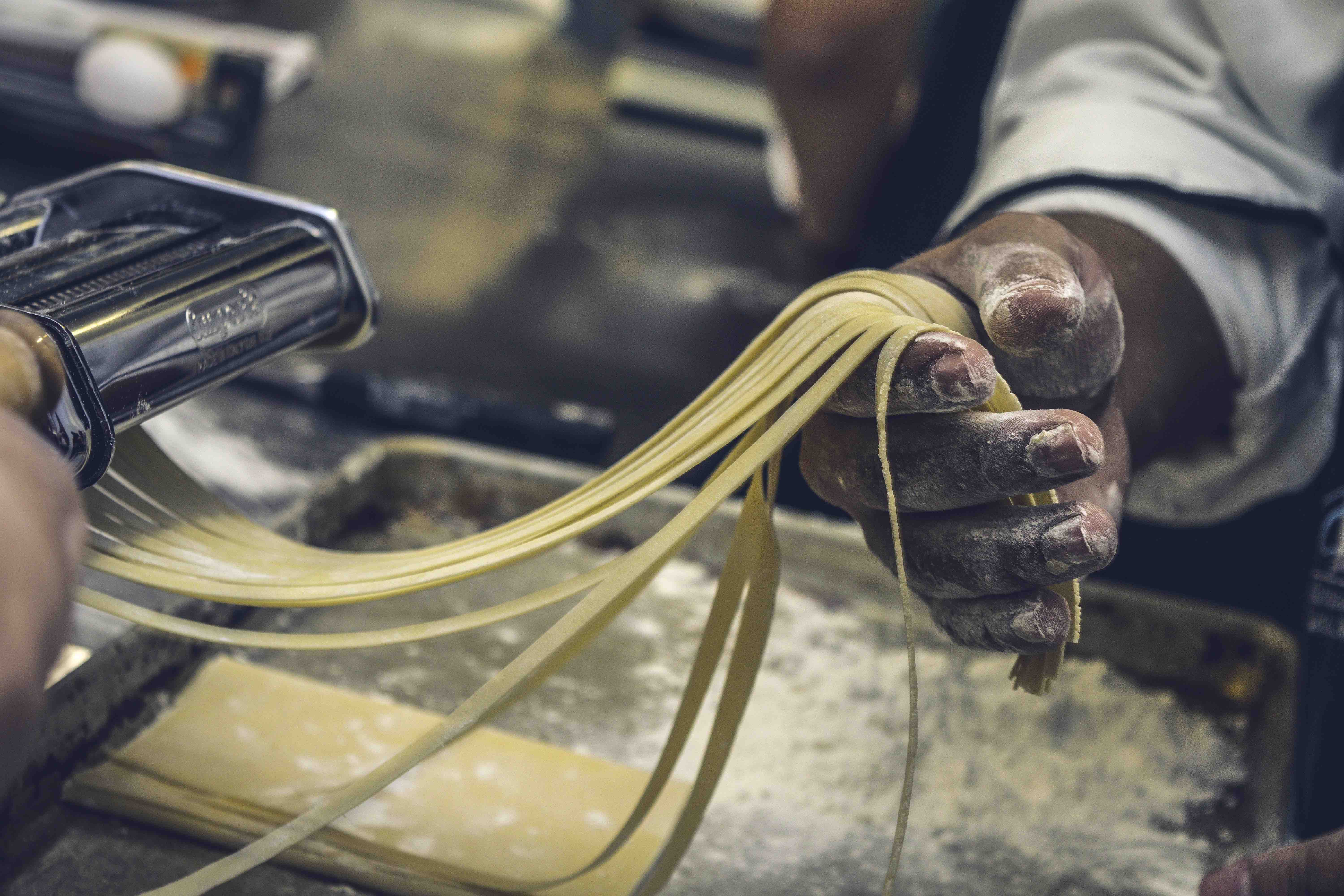 Tuesday
Tuesday is a bit of a non-event, you can't really complain because it's the middle of the week because it's kind of the start but you feel like you're already swamped. Tuesdays call for a super simple, easy to whip up dinner.
Plant based nachos
Ingredients:
No-cheese sauce
1 cup potatoes peeled and diced
1 large carrot
¼ cup of water
2 tablespoon olive oil
¼ cup Nutritional yeast
¼ teaspoon onion powder
½ teaspoon paprika
pinch of cayenne pepper
Nachos
Corn chips of your choice
2 diced tomatoes
refried beans
2 green onions, diced
a hand full of coriander, finely chopped
1 jalapeno chopped
Guacamole

1 Avocado
Squeeze of lemon
2 garlic cloves minced
Pepper & salt to taste
Method
No-cheese sauce
Boil the carrots and potatoes until they are soft (roughly 20 minutes, you can get this going while you prep the rest of the dish), blend the potatoes and carrots until they're super smooth.
Add the rest of the ingredients and blend until smooth. Rather than using more water, use the water you boiled the carrots and potatoes in. Not only will it taste better, but it'll save water. Add water as you please, until the consistency is smooth but not watery.
Guacamole
With a fork, mash up the avocado in a small bowl squeeze half a lemon into the mushed mixture, add the raw minced garlic and salt and pepper to taste. If the intensity of the garlic is too much, squeeze a bit more lemon.
Nachos
Spread your corn chips onto a tray and pop into the oven on a low heat for 5 minutes to warm them up.
Then layer refried beans, green onion, tomatoes (can add lettuce, corn etc.), do a second layer of corn chips and once again do a layer of beans and other ingredients. Pour a generous amount of 'No-cheese sauce' all over the top, add a generous dollop of guacamole and viola!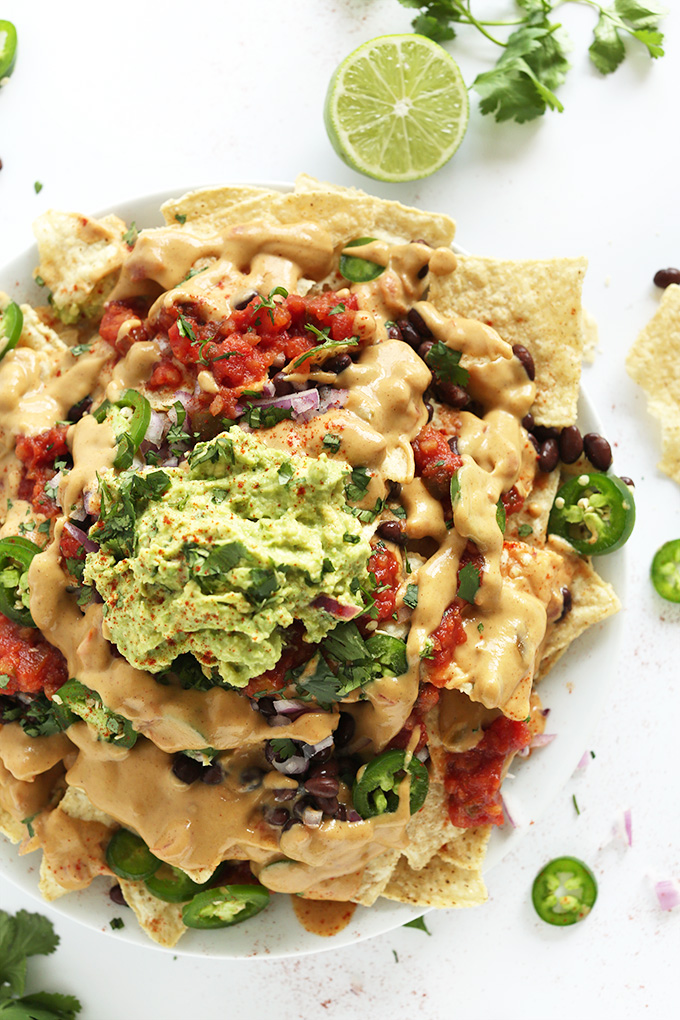 Image credit: The minimalist baker
Wednesday
This recipe is a staple that I eat nearly once a week, the measurements are rough and it is so easy you can tweak it however you like, but even the most hard core of carnivores request I make this upon their visits to my household.
Salt and pepper tofu with mushroom sauce and sesame broccoli
Ingredients
Mushroom sauce
1 tub of swiss brown mushrroms, sliced
1 handful of dried shitake mushrooms (soak them as long as you can, if I know I'm making this dish I'll soak them in warm water over night, if I decide last minute, I'll soak them in boiling water for as long as possible)
1½ teaspoon soy sauce
1 teaspoon Chinese vinegar
1 table spoon sesame oil
1 tablespoon veggie stock
4 cloves garlic, roughly diced
1 brown online, sliced
3 dash of fish sauce
1 teaspoon of corn flower (use left over from tofu)
Tofu
Soft tofu, cut into cubes
1 cup of corn flower
2 teaspoons salt
2 teaspoons ground pepper
2 cups rice bran oil
Sesame broccoli
Sesame oil
Sesame seeds
Broccoli
Boiling water
Read next: Handy hints for developing a healthy plant-based diet
Method
Mushroom sauce
Heat up the sesame oil in a small pot, put onions in and cook for a couple of minutes or until soft, throw garlic in and cook for a further minute.
Add sliced Swiss brown mushrooms and stir until they're just starting to soften, add dried shitake mushrooms.
After 2 minutes on low heat, add all the sauces, stir for a bit and bring the heat up to medium.
After another 2 minutes add the stock. You can let this bubble away whilst you do the rest of the dish, give it a stir every now and then but it should start to reduce the liquid and thicken up, use the teaspoon of left over corn flour from your tofu sparingly as you stir to help the thickening process.
Salt and pepper tofu
Heat the rice bran oil in a medium size pot on a high heat. Rice bran oil is great in Asian cooking as it has a super high burning point and doesn't have a lot of flavor (especially good for frying).
Mix you corn flower, salt and pepper in a small bowl. Toss the cubes of soft tofu, they should have enough liquid on them to stick the mixture to the out side. Put a plate next to the stove with a tea towel on it, to place the tofu squares onto.
Using a slotted metal spoon put 3-4 cubes into the oil at a time, make sure you step back as you put them in the oil as they will most likely spit. Each batch should take around 40-60 seconds (until golden brown). Transfer onto the plate with a tea towel to soak up excess oil.
1 Million Women is empowering women and girls around the world to lower their impact on the planet. If you love what we do, please support our work by donating a couple of dollars. For the price of a cuppa, you can help us inspire millions more! (click to donate)
Sesame Broccoli
Before starting on your tofu, start the water boiling; once it's at boiling point turn it down to medium heat.
Place a colander or steaming tray above the water. Right before you start your tofu, put your broccoli into the colander and put a lid on it.
Once you've finished your tofu (around 7 minutes) your broccoli should be cooked but not mushy. Toss the broccoli in some sesame oil and sprinkle sesame seeds on top.
Put tofu and broccoli in a bowl and lather with delicious mushroom sauce, enjoy.
Thursday
Thursday is so close to Friday that it's basically mocking us. Thursday is the day I keep myself super busy so I don't have an accidental Friday night too early, this normally means going to the gym, or a movie anything really; to keep me busy. Thursday is a quick meal, Thursday is a curry.
Spicy lentil curry in a hurry
Ingredients
1 cup lentils
1 cup basmati rice
2 cloves garlic diced
½ onion finely chopped
1 tablespoon extra virgin olive oil
450 grams (16 ounces) canned tomato puree
2/3 cup coconut milk
½ teaspoon garlic powder
½ teaspoon ground ginger
½ teaspoon turmeric
1 teaspoon garam masala
2 teaspoons curry powder
Method
Put the rice in the rice cooker and let it cook while you do your curry
Cook the lentils on medium high heat for 40 minutes, drain and set aside.
Heat the olive oil in a frying pan. Add the garlic and the onion and cook until golden brown, add the tomato puree, coconut milk and spices and cook for around 5 minutes, stirring occasionally.
Add the cooked lentils, stir and cook for 12 to 20 minutes over medium heat.
Serve the curry on the rice, and veg out, pun intended.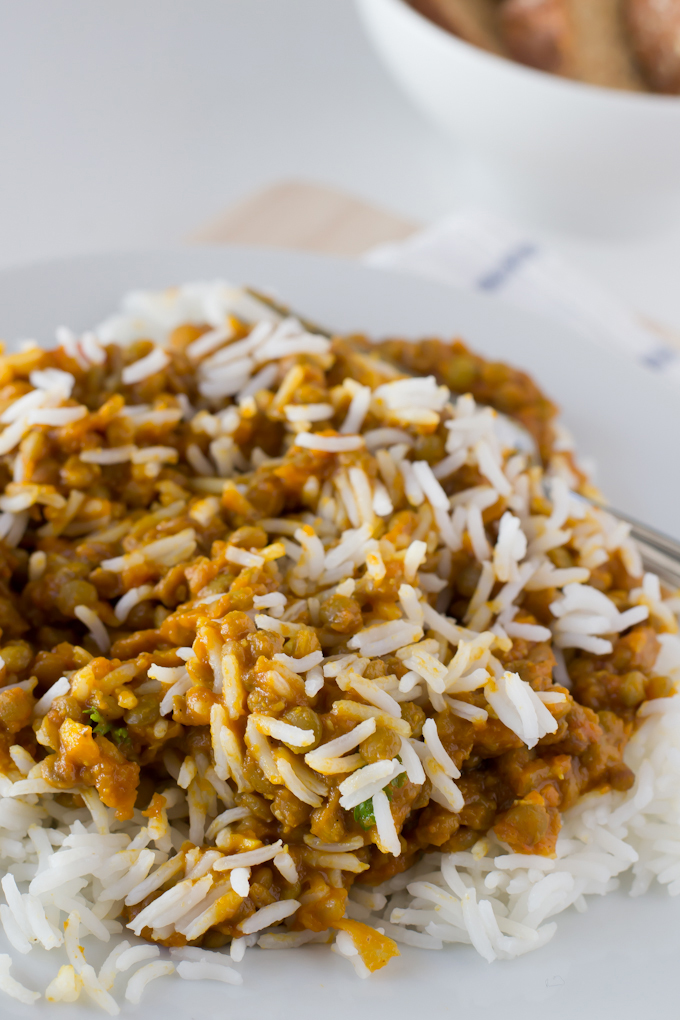 Recipe and image sourced from Simple Vegan Blog
Friday
It's Friday! You've finished the week and its Friday! We're going to celebrate with a crazy delicious I-can't-believe-it's-not-pork-pulled-pork-recipe, you can do anything you like with this, you can make delicious Mexican food or just slather it on a bread roll with your choice of veggies and have a pulled pork sandwich or you can invite your friends over and make pulled pork sliders, just trust me, its delicious.
BBQ pulled 'Pork' jackfruit recipe
Ingredients
Smokey BBQ sauce
2 cups of tomato cups tomato sauce
2 tablespoons tamari
3 tablespoons maple syrup
2 tablespoons apple cider vinegar
1 teaspoon all spice
Lots of smoked paprika
Cracked pepper
Lots of dried thyme leaves
Jackfruit pulled pork
550 grams (19 ounces) of canned jackfruit in brine, rinsed and drained (any good Asian super market will stock canned jackfruit)
¼ cup of water, plus more as needed
Tablespoon of dried Thyme
Tablespoon of dried oregano
Teaspoon of smoked paprika (or to taste)
Method
Smokey BBQ sauce
Add all the ingredients to a small saucepan and whisk together on medium heat. Simmer for about 5 minutes and then take off the heat.
Jackfruit pulled pork
In a non-stick pan, add all of the ingredients and simmer on a medium heat. Mix everything around for about five minutes, using a spatula to coat the spices and herbs evenly.
Add your Smokey BBQ sauce and coat the jackfruit
Allow this to simmer for 30-40 minutes, or until its soft and pulls apart. While its simmering use a fork to slowly break apart the jackfruit. The sauce will thicken and you will be left with a sticky, pulled 'pork'!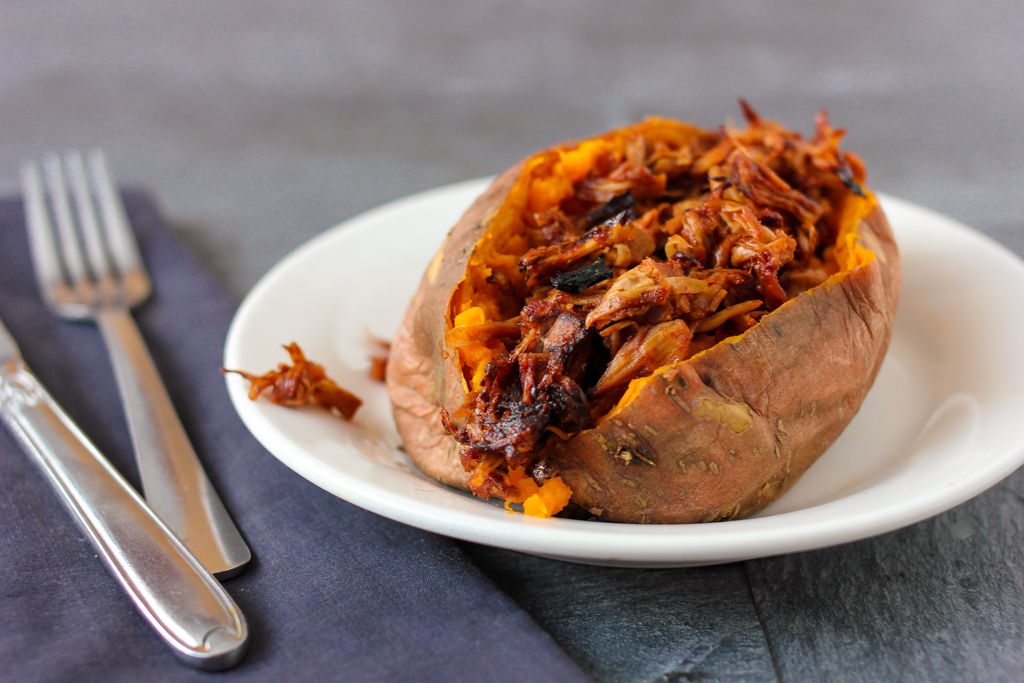 Image credit: Lumionous Vegans
And there you have it, a whole work weeks worth of plant-based recipes that are delicious and easy to make. Did you know that for us regular meat eaters, cutting out 1 one 150g red meat meal a week you can save approximately 195kg of CO2 in a year?
All images sourced from Google images unless otherwise stated
Read next: 10 best cauliflower recipes- delicious and low waste
1 Million Women is more than our name, it's our goal! We're building a movement of strong, inspirational women acting on climate change by leading low-carbon lives. To make sure that our message has an impact, we need more women adding their voice. We need to be louder. Joining us online means your voice and actions can be counted. We need you.
---