We gave you 5 plant-based dinner recipes for a meat-free work week, and then we gave you 5 more plant-based dinner recipes for a meat-free work fortnight and then we stepped up our game with 5 plant-based breakfast recipes, so you probably knew where we were going next but now we bring you 5 plant-based lunch ideas to take to the office!
Eating a plant-based diet has become easier, with more people conscious of the agricultural industry, and how it is responsible for 51% of global greenhouses gases, 55% of water use in the United States and 91% of destruction of the Amazon.
In saying that, the best way to ensure you're having a 100% plant-based work week is to bring your own lunch to work, not to mention that by bringing your own you're also avoiding single use plastics.
Read next: Benefits Of A Plant Based Diet
While I'm not strictly plant-based myself, I put a lot of effort in to making sure I eat animal products only occasionally rather than for every meal, and every now and then I have a completely plant based week.
Did you know that if 1 Million Women cut out 150g of red meat a week, it would save the equivalent of C02 as taking 45,000 cars off the road for a year?
Monday: Goat 'Cheez' and avocado sandwich
Mondays are all about throwing your lunch together, and not having to think too much. However, you've also got Sunday free if you wanted to whip up this goat 'cheez' for the week. If you can get into the habit of prepping food on Sunday's it becomes that much easier come Monday morning, if you need a hand, check out our guide to meal prepping here.
Ingredients:
Goats 'cheeze' (Needs to soak over night)
- ½ cup raw pine nuts
-1 teaspoon extra virgin olive oil
-1 teaspoon lemon juice
-
Teaspoon lemon zest
- ½ clove of garlic, finely minced
- 2 teaspoons of nutritional yeast (found at health food shops, or online if you're remote)
- ¼ teaspoon ground black pepper (extra for topping)
Other ingredients
- Plant based bread of your choice
- Avocado
- Pea sprouts
Method
- Pre-head your oven to 60 degrees Celsius (140F)
- Place pine nuts in a glass jar or bowl, cover with an inch or two of cold water and soak over night
- Drain pine nuts and put into food processor or blender with all the other ingredients and blend for 3-5 minutes, until completely smooth
- Scrape the blended 'cheez' into a small oven-friendly bowl or container, tapping on a bench to rid of all air bubbles, and use a spatula to smooth the surface

- "Dehydrate" in the oven for 3-4 hours (if you have a dehydrator, set to 115 degrees for 6-8 hours)
- The 'cheez' will form a rind on top and become a firm texture of spreadable goats cheese, simply scrape the rind off and viola! spread it onto pretty much anything.
- Spread 2 sliced of bread liberally with goat 'cheez' add sliced avocado and pea sprouts and top with cracked pepper (as well as anything else you fancy)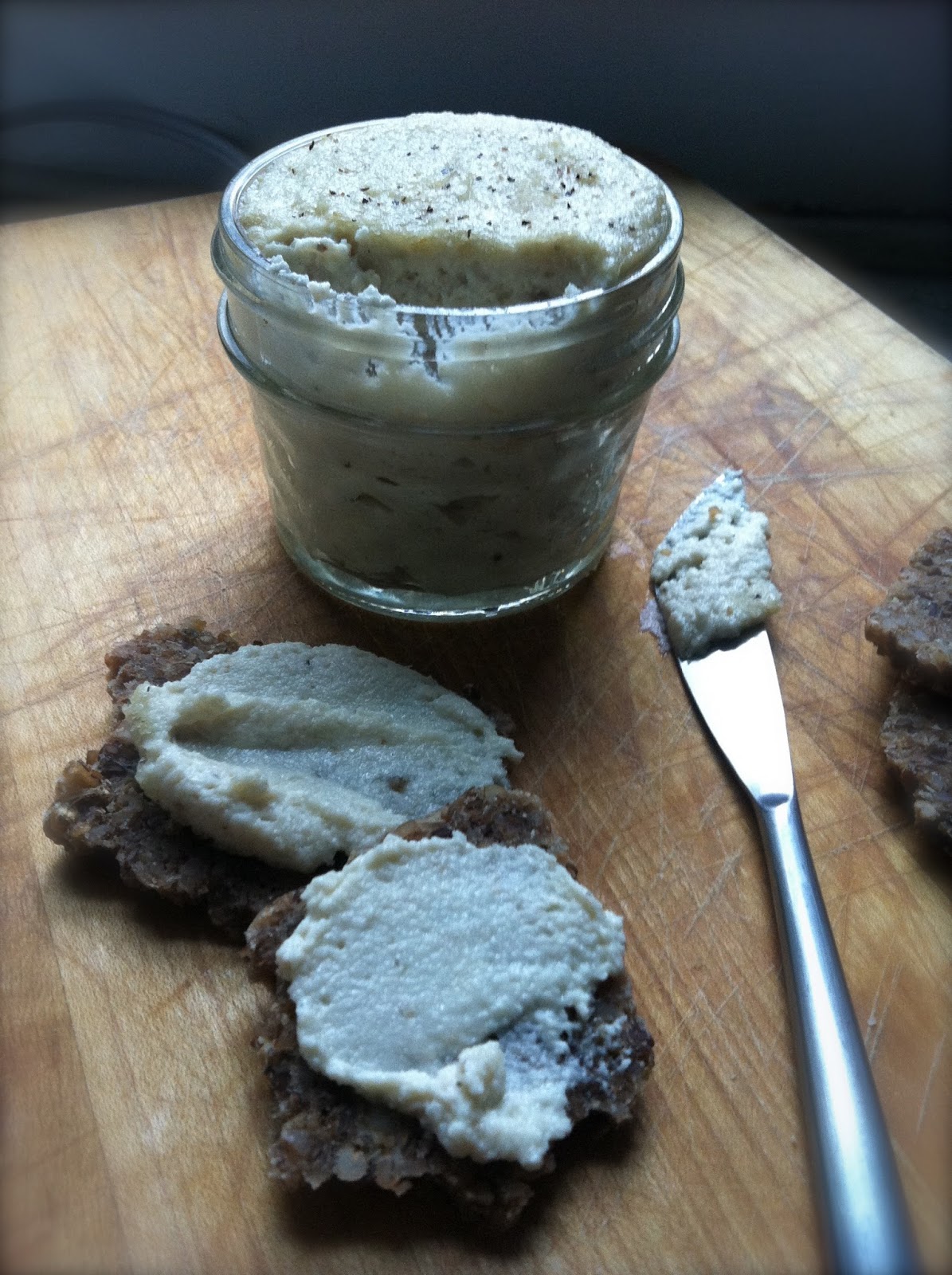 Image & recipe adaption: SlowClubCookery

Tuesday: spiced broccoli and almond salad
This is one of my very own recipes, an adaption of a dish that was served at a restaurant I worked in. I've often made this recipe before work, depending on how much time you have in the morning, if you pop the broccoli on as soon as you wake, before your shower the whole dish hardly needs any effort and takes 20 minutes all up.
Ingredients:
- Baby spinach, depending on how much you make I'd suggest around a cup per serve
- ½ cup broccoli in smallish florets (I like to cut a head of broccoli up the night before, keep the stalk aside for Wednesdays quick stir-fry)
- 1 tablespoon Moroccan spice, any will do, I'm fortunate to have a wonderful spice shop- try and find something with hints of cinnamon and aniseed
- 1 tablespoon Extra virgin olive oil
- ½ cup of almonds, roughly chopped
- 1 heaped spoon of raisins
Method:
- Wash spinach and place in a container/ lunch box
- Put oil into a non stick frying pan on medium heat, allow to warm up
- Once heated, throw broccoli florets in, leave to cook for around 3 minutes
- Give broccoli a stir (or just pick up and shake the pan)
- Add spice mix and give another good shake
- Cook for another 10 minutes shaking/ stirring occasionally to make sure broccoli is evenly cooking & being coated in spices
- Throw almonds into the pan, and give another 3 minutes
- Pour contents onto a chopping board with paper towel down to remove excess oil
- Toss broccoli & almonds through the spinach and add raisins, pop your lunch box lid on and viola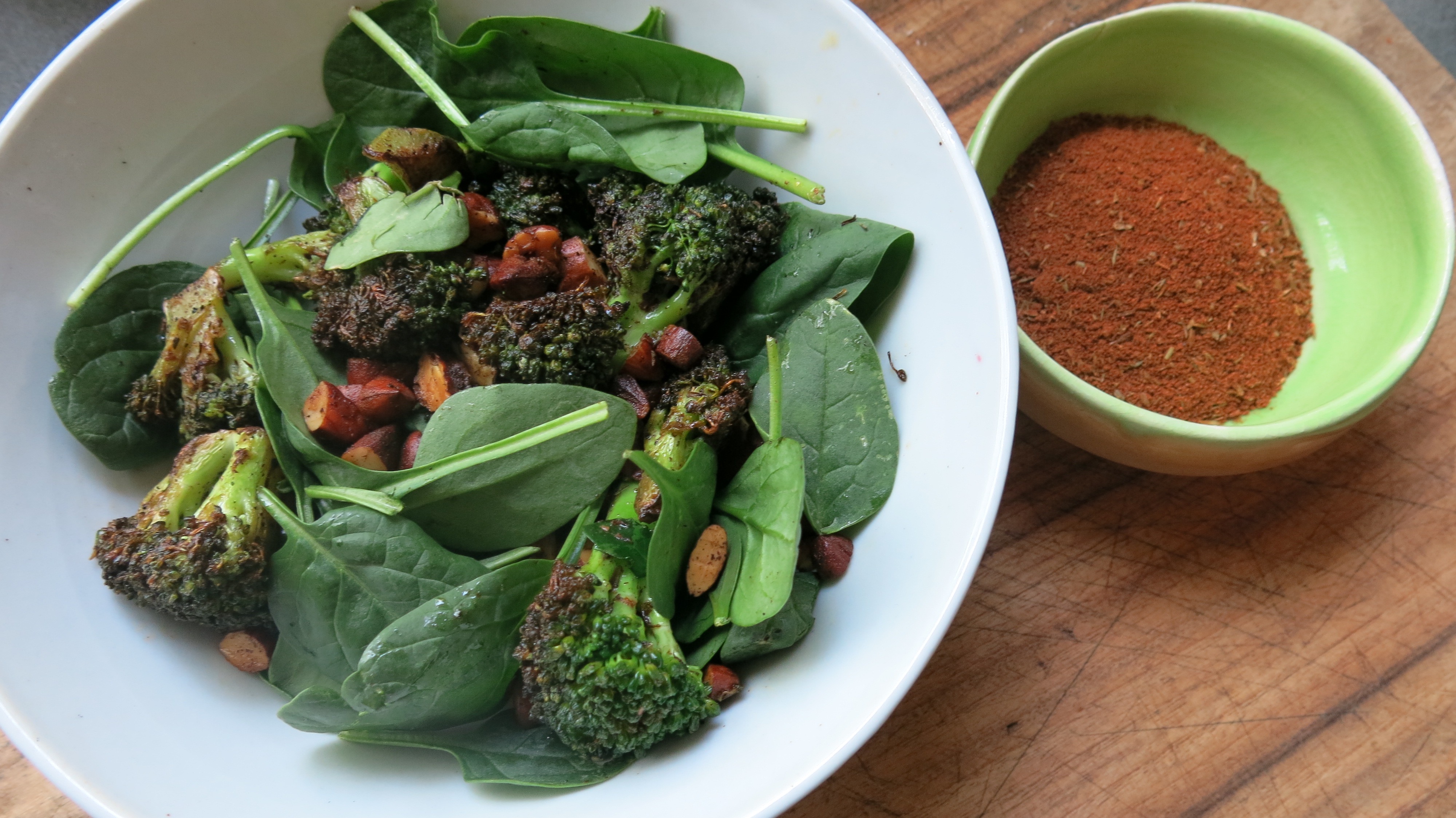 Image source: The Author
1 Million Women is empowering women and girls around the world to lower their impact on the planet. If you love what we do, please support our work by donating a couple of dollars. For the price of a cuppa, you can help us inspire millions more! (click to donate)
Wednesday: Quick and easy hump day stir-fry
I ALWAYS have rice in the fridge, I make it every couple of days in the rice cooker, and when I run out I make another bunch. It can be tossed through salads and served with any kind of stir fry. You can knock this stir fry up the night before or even just prep your veggies the night before and quickly throw it together in the morning.
Ingredients:
- ½ cup cashew nuts
- 1 cup mushrooms of your choice chopped in half
- ½ cup broccoli heads
- Broccoli stalks chopped finely
- Carrots roughly chopped
- Onions roughly sliced
- Whole snow peas
- 1 tablespoon Sesame oil
- 1 teaspoon of soy sauce
- ½ teaspoon of Chinese vinegar
- A pinch of sugar
- Cooked rice
Method:
- Put a table spoon of sesame oil in a non stick pan on medium heat
- Once the pan is heated, throw the onion in, stir and cook until translucent (3 minutes)
- Throw the rest of the ingredients in, turn the heat up slightly and give a good stir
- Cook for 10 minutes, checking occasionally (a great time to have a three minute shower!)
- Give another good stir, cook for another 3 minutes then transfer onto some rice in a lunch box and take to work!
Tip: you can really use any veggies you have left in the fridge; you want them slightly undercooked so they don't go soggy when you're reheating in the office.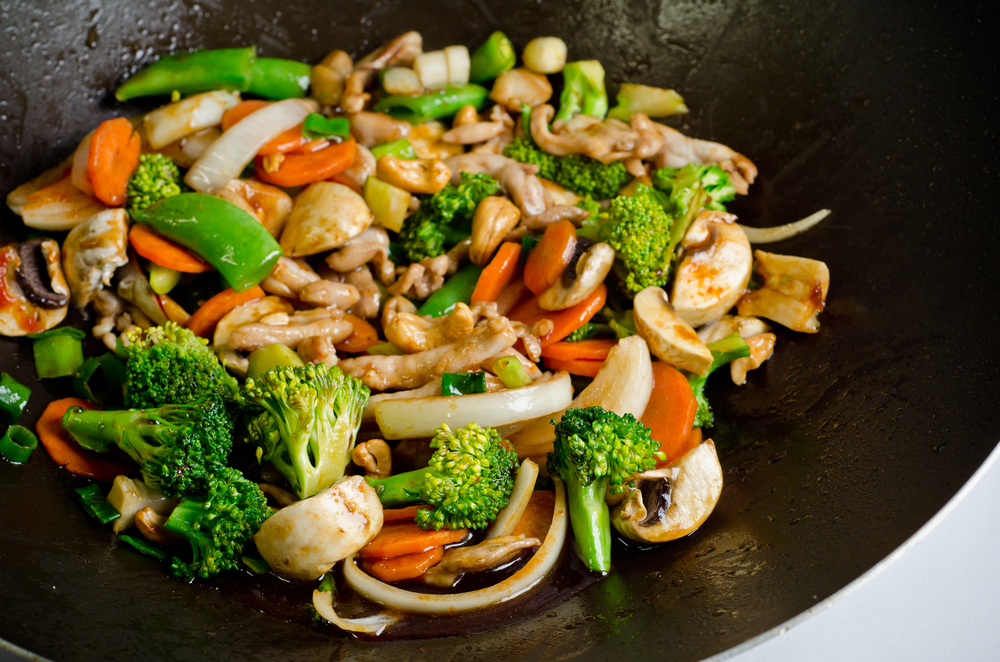 Image source shutterstock
Thursday: Creamy peanut pasta salad
This recipe is an absolute banger, and is ready in 15 minutes. You can make it the night before or get up and make it before work, and it is delicious. Packed full of protein and creamy as ever you'll be adding this to your weekly roster of lunches, plant-based week or not, this recipe serves 2.
Ingredients:
- A mix of lettuce of your choice I like chopped up red cabbage, purple kale, grated carrots and baby spinach
- 2 tablespoons peanut butter
- 2 tablespoons soy sauce
- 2 tablespoons agave nectar
- 2 table tablespoons malt or white vinegar
- A pinch or two of grated ginger
- 1 clove of garlic crushed
- A dash of water
- 150g wholemeal spaghetti
- Hand full of peanuts
- Coriander to garnish
Method:
- Cook your pasta as per the instructions
- Get all your veggies chopped up and into a large bowl
- Mix the peanut butter, soy sauce, agave and vinegar together well in a small bowl
- Add the ginger and garlic
- Add a spot of water to thin the sauce (not too much!) and stir all together well
- Drain the pasta, throw into the bowl of veggies
- Add the sauce, mix all together, garnish with coriander and peanuts and then transfer into a lunch box.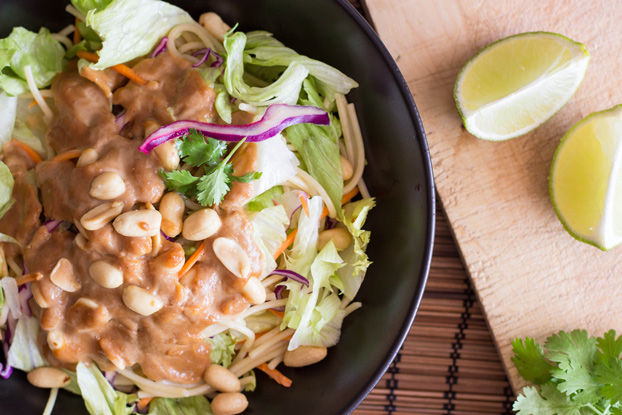 Recipe adaption & image from HurryTheFoodUp
Friday: Super simple addictive chickpea soup
Soup will forever be a lunch favorite, and this protein-packed chickpea soup is all kinds of addictive. This one is best made the night before, but the flavors actually get better when its heated up making it a perfect time-time-packer, serve with your favorite bread- it's a hearty lunch.
Ingredients:
- 6 tablespoons olive oil, divided, plus more for drizzling
- 8 cloves of garlic, thinly sliced
- 1 tablespoon fresh thyme leaves, minced
- ½ teaspoon chili flakes, plus optional extra for garnish
- 3x 425g cans of chickpeas drained and rinsed (you can keep the chickpea liquid for vegan baking, find out how here)
- 4 cups of good vegetable broth, preferably home made like our recipe here
- Sherry vinegar, to taste
Method:- Add 3 tablespoons olive oil, the garlic, thyme and chili flakes to a large nonstick pan and cook over medium heat, stirring occasionally, until the aromatics begin to sizzle but have yet to brown. Add the chickpeas, and cook 2 more minutes, stirring occasionally. Add broth and bring to a boil. Reduce heat and simmer for 30 minutes.
- Pour into a food processor, adding the extra 3 tablespoons of olive oil and blend until smooth, season to taste with salt and sherry vinegar.
- Ladle into your favorite thermos for work and put the rest in the freezer for next week, sprinkle extra chili flakes on top to your desire.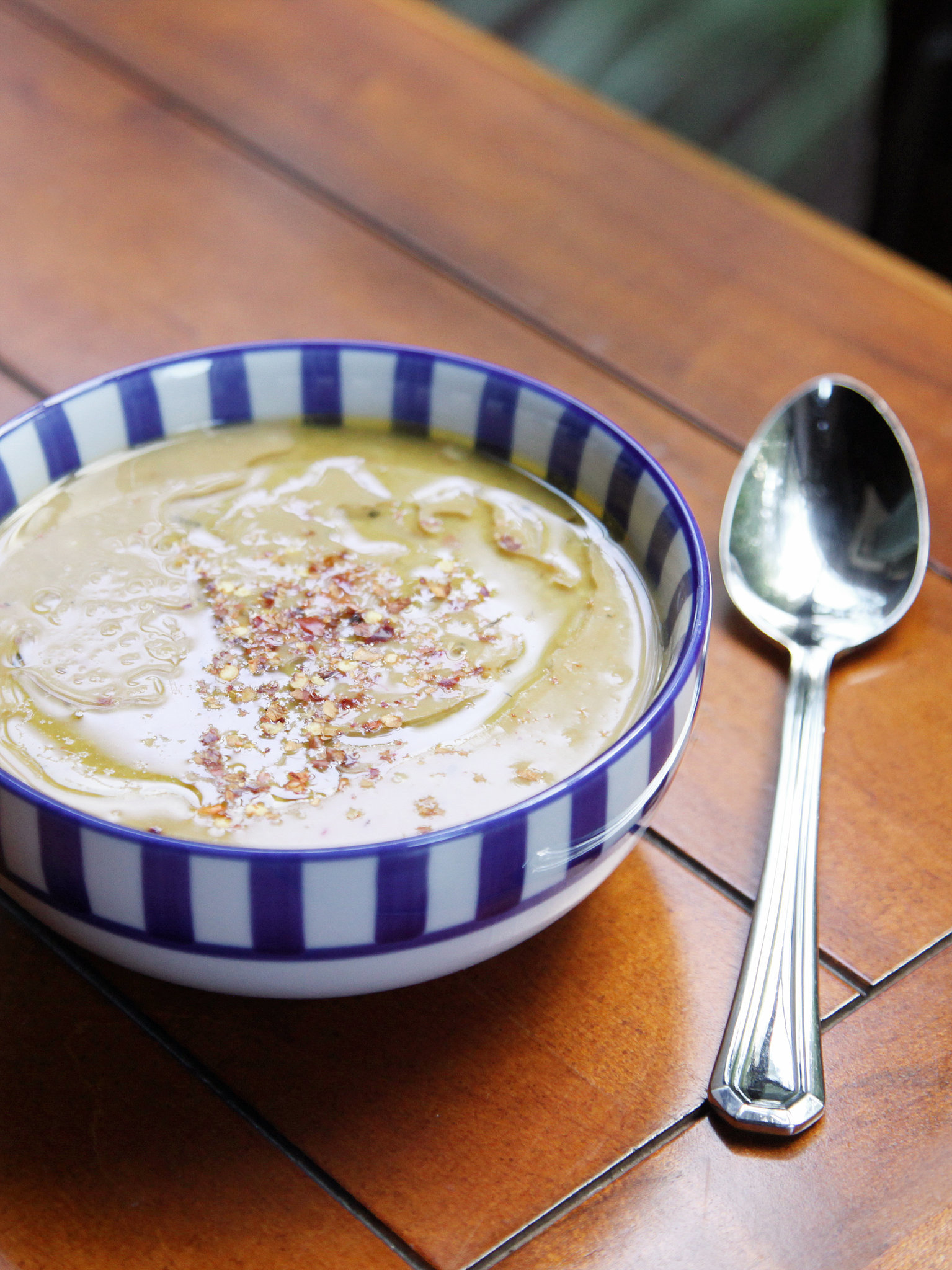 Image and Recipe adaption from PopSugar
There you have it, 5 days worth of delicious lunches to suit any time constraint, taste and budget.
Most of these recipes can be made in batches and popped in the freezer or fridge to rotate through your work week or even for nights you've not got the energy to cook dinner.
We need to look at our meat intake globally and think about how every action we make every day effects the world around us. Choosing foods that have a lower impact is one thing we can all do atl east once a day, to make a difference.
---