We gave you 5 plant-based dinner recipes for a meat-free work week, and then we gave you 5 more plant-based dinner recipes for a meat-free work fortnight and now we bring you 5 plant-based breakfast recipes!
We always hear it: breakfast is the most important meal of the day! But we often ignore that knowledge.
A while ago my doctor told me that I had to start eating breakfast if I wanted to fix digestion issues I was having, I complained about how hard I found it to eat in the morning and she suggested starting off with breakfast smoothies and then moving oto more substantial breakfasts as I became more accustomed to it.
Nowadays, these plant-based breakfast recipes have me up earlier every morning, starting off the day with protein and fibre rich foods, and my body has never been so thankful.
Starting off your day with an entirely plant-based meal can also be great for the environment.
Did you know that it takes 2 kilos of chicken feed to produce 1 kilo of eggs? And to create that chicken feed we're talking mass land clearing, hundreds of thousands of litres of water as well as greenhouse gases that the chickens and their waste produce.
So ditch the bacon and egg roll, and give these recipes a whirl for your morning kick-start
1 Million Women is empowering women and girls around the world to lower their impact on the planet. If you love what we do, please support our work by donating a couple of dollars. For the price of a cuppa, you can help us inspire millions more! (click to donate)
Monday: Start right with a green smoothie*
When I first boarded the breakfast train, I made a smoothie every day. This was for two reasons; firstly I wasn't very good at waking up and could have everything prepped and ready to go and then literally just throw it in the food processor on my way out of the house and secondly because I found it hard to eat solids first thing in the morning (boy how times have changed).
Ingredients:
- 1 frozen medium banana (I keep a box of frozen bananas in the freezer, cut them in half before freezing, so they blend easier)- 1 cup of baby spinach
- 1/3rd cup coconut water or soy milk (both work, you need a dash more)
- 1.5 tablespoons of your favourite plant-based protein powder in vanilla flavour
- 4 frozen strawberries
- 8 fresh blueberries
- LSA (optional)
- Chia Seeds (optional)
Method:
1. Put all the ingredients into your blender/ food processor (make sure you start and end with liquid, to help the blades cut through)
2. Turn your processor/ blender onto a high speed
3. If you need to, add a little more liquid if needed (if everything gets stuck, etc. I just pour a bit more coconut water, soy milk or even plain water in)
4. Pop in a jar, and throw in your bag for the journey to work
Tip: for an extra filling smoothie, pop extra berries and sprinkle some muesli on top as can be seen from my breakfast this morning!
*Smoothie often turns out not green, sometimes purple, sometimes green, it's a mystery.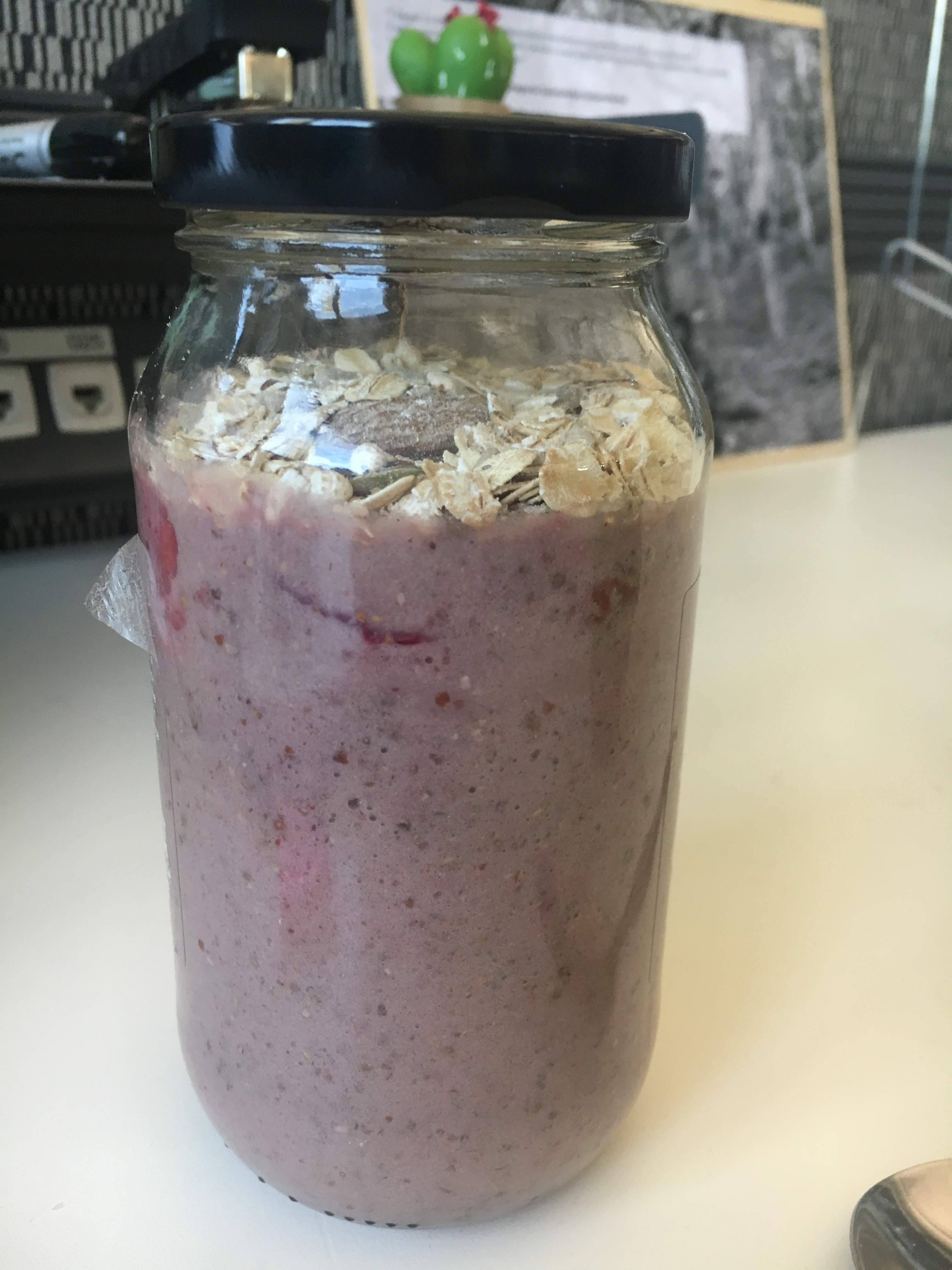 Tuesday: Tofu scramble, not brain scramble
Tofu Scramble is dead easy to make, and a delicious filling protein filled breakfast to start your day off. The not-so-secret-ingredient in tofu scramble that makes it indistinguishable from the real thing is black salt or 'Kala Namak', salt with a high sulphur content- giving the tofu the exact flavour of eggs.
Ingredients:
- 150g-200g of firm tofu OR silken firm tofu broken into medium pieces (dependent on how soft you would usually like your scrambled eggs)
- 1/2 tsp black salt (also called Kala Namak)
- 1/2 tsp turmeric
- 1-2 tbsp of chopped parsley (optional but I love parsley in my eggs, so it makes the dish more realistic for me)
- 1 tsp dairy free spread
- Pepper to taste
Method:
1. Dairy free spread in a frying pan until melted
2. Tofu in pieces is then added
3. Black salt, turmeric and parsley all added and stirred until the tofu is coated evenly
4. Serve on toast and enjoy a delicious warm, hearty protein-packed breakfast
Recipe originally from Farm to Face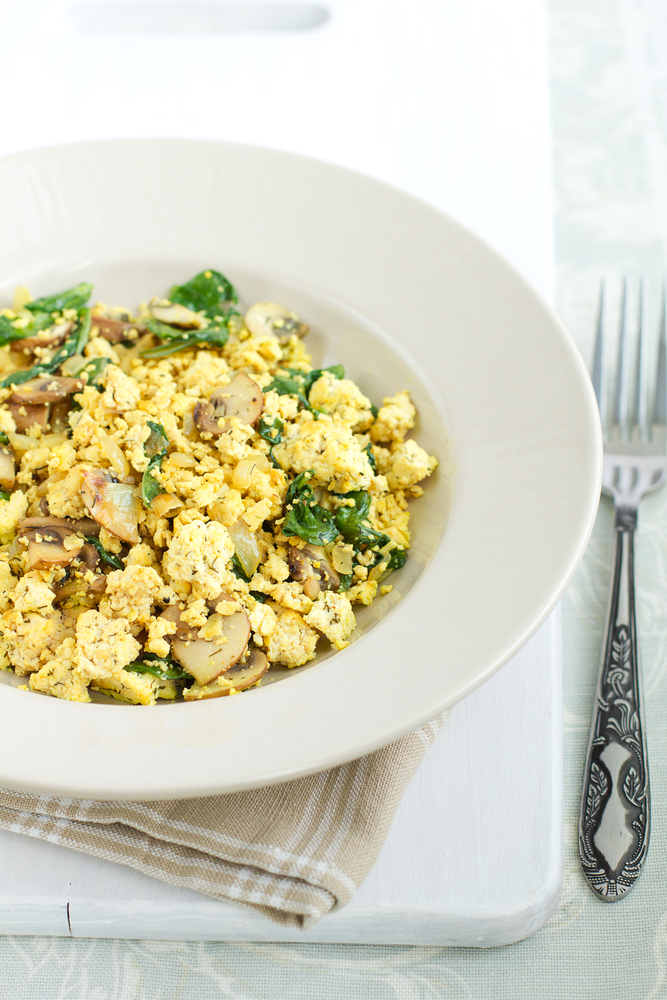 Read Next: Chickpea Brine Is Our New Favourite Egg Replacement: Here Is Why
Wednesday: Chia Pod pudding
Ok, chia seeds have a wealth of nutritional value. They're high in iron, magnesium and calcium, so they're perfect for plant-based eaters. They also, when made into this simple pudding, taste like a delicious dessert but are a healthy breakfast.
Ingredients:
- Two cups of unsweetened almond milk (or soy, macadamia- whatever you fancy)
- ½ cup of chia seeds
- 2 teaspoons vanilla extract or seeds from 1 vanilla bean
- 1 tablespoon pure maple syrup (or pure organic cane sugar syrup)
Method:
1. Place all the ingredients in a jar and mix well ( a really good shake will do the trick in your jar isn't leaky)
2. Place covered in the refrigerator and give it a shake every 1-2 hours until it sets (while you binge watch your favourite series), then leave over night.
3. Open the fridge in the morning, top with some cut up seasonal fruit and take with you to work.
So easy, so delicious and super healthy; you just won breakfast, good on you.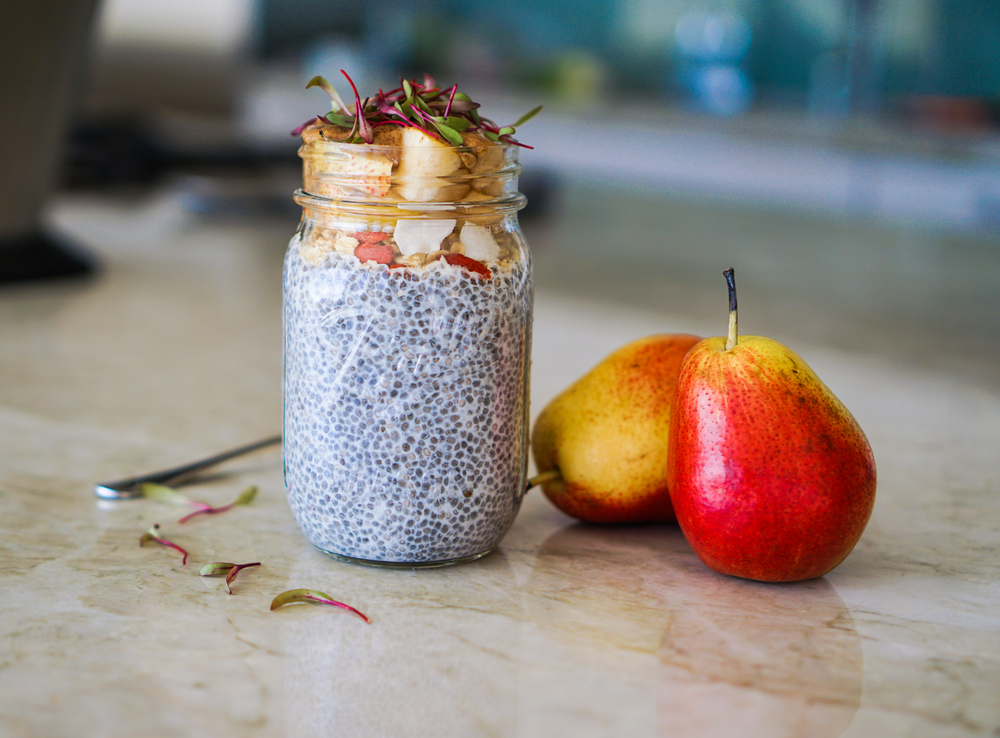 Thursday: Tofu Omelette
This recipe is hearty and satisfying for those who love eggs, just without the eggs. Did you know that the average woman needs the equivalent of 7 eggs of protein which is 42 grams per day, but this recipe packs a whopping 22 grams of protein without eggs, meaning you've only got to make up an extra 20 grams to meet dietary guidelines.
Ingredients:
- ¾th of a cup of firm, silken tofu, drained and gently patted dry
- 2 Tablespoons of hummus
- 2 large cloves of garlic minced
- 2 tablespoons of nutritional yeast
- Black salt or 'Kala Namak.
- ¼ tablespoon paprika
- 1 teaspoon corn starch
Omelette stuffing:
- 1 cup of veggies you desire- onion, mushroom, tomato and spinach recommended
- salt & pepper to taste
Method:
1. Preheat oven to 190 degrees Celsius (375 Fahrenheit)
2. Prep your veggies, drain and dry your tofu, mince your garlic and set aside.
3. Heat a small-to-medium, oven safe pan over medium heat, once hot add olive oil and minced garlic and cook until just lightly brown
4. Transfer the garlic to your food processor, along with all your ingredients aside from your omelette stuffing. Mix to combine, scraping down the sides as needed, adding a touch of water to thin if needed.
5. While the omelette mixture is processing, add a little more olive oil to your pan, and then add your cup of veggies for stuffing, seasoning with a bit of salt and pepper sauté them off and set aside.
6. Remove the pan from the heat and if you need a little more oil, add some (you don't want the omelette to stick). Add ¼ of the veggies; then spoon on the omelette batter, spreading it gently with a spoon or rubber spatula, being careful not to tear or cause caps. The thinner, and more evenly you can spread it- the better.
7. Cook over medium heat on the stove for 5 minutes until the edges start to dry. Then place in the preheated over and bake until dry and deep golden brown (around 10-15 minutes)
8. Using an oven mitt, in the last few minutes of cooking carefully add remaining veggies back on top of the omelette and cook for another 1-2 minutes to warm through.
9. Carefully remove with an oven mitt and fold over gently with a spatula, serve!
Image & Recipe Source: The Minimalist Baker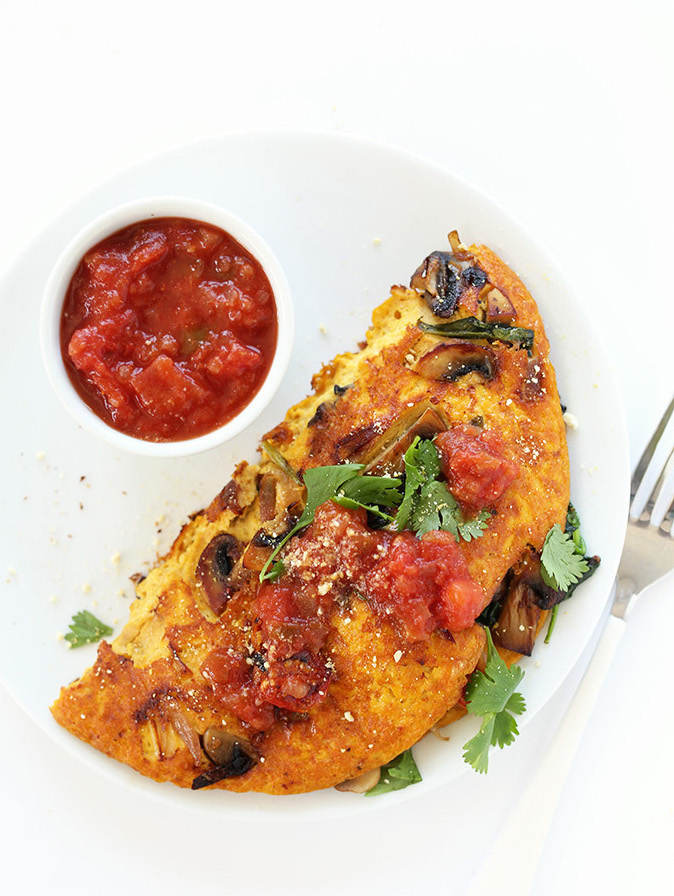 Read Next: Why Eating Offal Isn't Awful, It's An Environmental Statement
Friday: Chickpea Pancakes
You're five days in; you can do this. We're going to level up with this one, chickpea pancakes. Chickpeas being the delicious little protein morsels that they also have amazing structural integrity. These savoury pancakes will get you straight into that Friday buzz mood and did I mention it's also gluten free, grain free, nut free, refined sugar-free and soy free?
Ingredients:
- ¼ cup of finely chopped green onion
- ¼ cup finely chopped red capsicum
- ½ a cup chickpea flour
- Olive Oil
- ¼ teaspoon garlic powder
- Freshly ground black pepper to taste
- ¼ teaspoon baking powder
- Pinch of chilli flakes to taste (optional)
- ½ cup + 2 tablespoons of water
- Toppings of your choice, we suggest avocado, salsa and hummus
Method:
1. Prepare the veggies and set aside, preheat a large pan (10 inches) over medium heat
2. In a small bowl, whisk together the chickpea flour, garlic powder, salt, pepper, baking powder and the chilli flakes.
3. Add the water and whisk until no clumps remain, whisking for up to 15 seconds and trying to create lots of air bubbles through the batter.
4. Stir in the chopped veggies
5. Add a liberal amount of olive oil
6. Pour the batter into the pan to create one large pancake, spread it, so it covers the whole base evenly
7. Cook for about 5-6 minutes on one side, then once it's firm enough, us a spatula to flip it over and cook for another 5 minutes or until lightly golden.
8. Serve on a large plate, with toppings of your choice. We used avocado, salsa and hummus, Enjoy!
Image & Recipe Source: Oh She Glows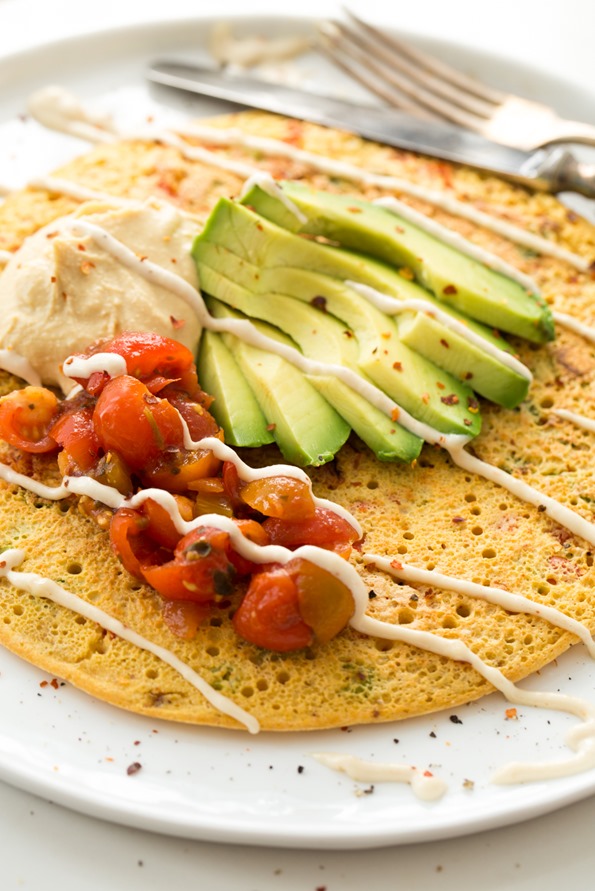 And there you have it, a work weeks worth of breakfast that are all worth getting out of bed for. A lot of the savoury options could also make a great lunch.
Not only will you feel great after these recipes, but the earth will feel great too. Did you know cutting out just 1 150g red meat meal a week saves around 195kg of C02 in a year? That's a pretty good reason to eat savoury pancakes for breakfast.
---