I eat meat; it's the truth. But I try to cut my consumption down, originally cutting my meat intake down by 50%, I'm currently eating meat once maybe twice a week.
Aside from feeling better physically, I feel better environmentally. Did you know that for us regular meat eaters, cutting out one of the 150g red meat meals we eat a week can save approximately 195kg of CO2 in a year? Click to tweet!
That's pretty incredible.
Here are 5 of my fail proof plant-based meals. Going meat-free throughout the week means weekends can be spent enjoying yourself.
Monday: Italian style easy dinner: caper linguine
Mondays are hard enough without the stress of cooking anything too time-consuming, so this easy Italian dish will quell the hunger without taking up precious Netflix time.
Ingredients:
- Olive oil
- 3 cloves garlic, chopped finely (I normally do 6, because I love it)
- 1 brown onion thinly chopped
- Chilli Flakes
- Half a cup of Sicilian olives, chopped
- 1 small jar of capers
- ½ teaspoon lemon zest
- 1 bunch fresh parsley chopped
- 1 Jar of your favourite plain tomato pasta sauce (or make your own)
- 1 box of your favourite pasta (we suggest linguine)
Method:
1. Put a large pot of water on high heat and let it come up to boil
2. In a large non-stick pan heat around 1 tablespoon of olive oil on a medium heat and add the onion and cook till its just turning translucent
3 .Add the garlic and chilli flakes cook until the garlic just starts to smell fragrant
4. Add the pasta sauce, capers, lemon zest, olives and half your parsley and then turn the pan down to low, and give it a good stir. Then, pop a lid on.5. Add the pasta to the boiling water, cook till al-dente
6. Drain the pasta, coat it with a little more olive oil then pour it into the pan with the sauce.
7. Turn the sauce off, stir the pasta in then serve with the rest of your fresh parsley on top.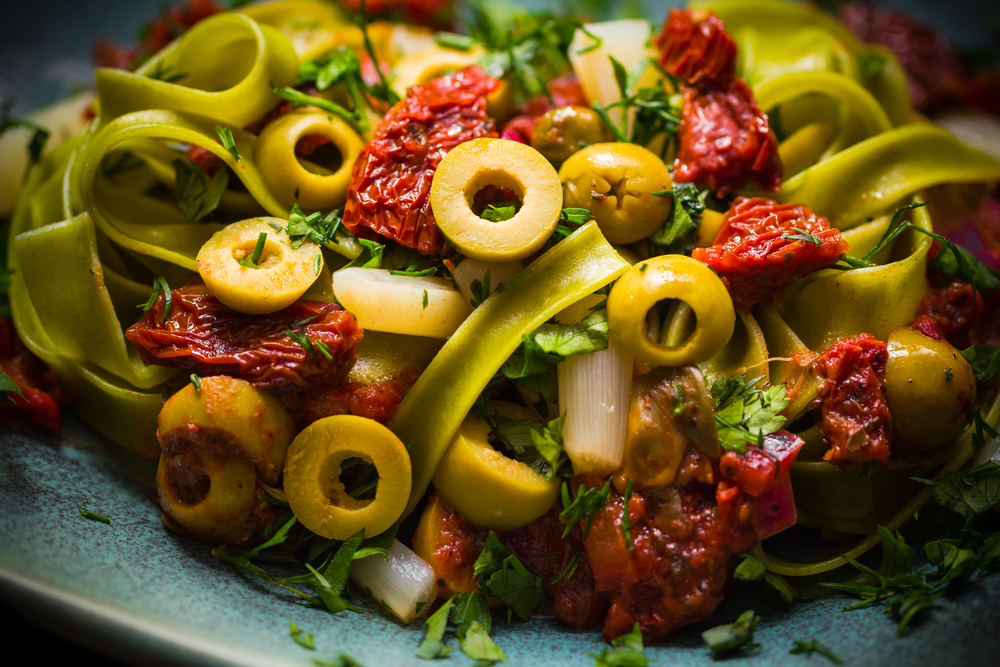 Image source: Shutterstock
Tuesday: One-pot wonder: eggplant and chickpea curry
Tuesday is a bit of a nothing day; it's not quite hump day, and you can't complain about Monday anymore, leaving you in weekday limbo, this curry is sure to spice up your Tuesday and keep it simply delicious.
Ingredients:
-Olive oil
- 2 onions roughly chopped
- 3 cloves of garlic (or 6…)
- Salt and pepper
- 2 cans of cherry tomatoes
- 1 large eggplant cut into squares, around 1.5cm each side
- 1.5 teaspoon of your favourite curry powder (try find a local spice shop!)
- 31 can of chickpeas, drained. (don't throw away the brine use it for this!)
- Half a cup of fresh basil
- Half a cup of coconut milk
- Basmati Rice (Optional)
Method:
1. If you're having rice, put that on first as it will take a little while
2 .In a big pot, heat 1.5 tablespoons of oil over medium heat, add the onion, stirring occasionally, and cook till they start to turn translucent.
3 .Add the garlic, cooking until fragrant. Then, add the cans of tomatoes, eggplant, curry powder, a good healthy dose of salt and pepper and let cook for 10 minutes.
4. Add half cup of coconut milk and 1 cup of water and bring to the boil, reduce heat once boiling and simmer, partially covered until eggplant is soft (around 12 minutes)
5. Stir in chickpeas and let them heat through 2-3 minutes.
6. Remove curry from the heat and stir in the basil.
1 Million Women is empowering women and girls around the world to lower their impact on the planet. If you love what we do, please support our work by donating a couple of dollars. For the price of a cuppa, you can help us inspire millions more! (click to donate)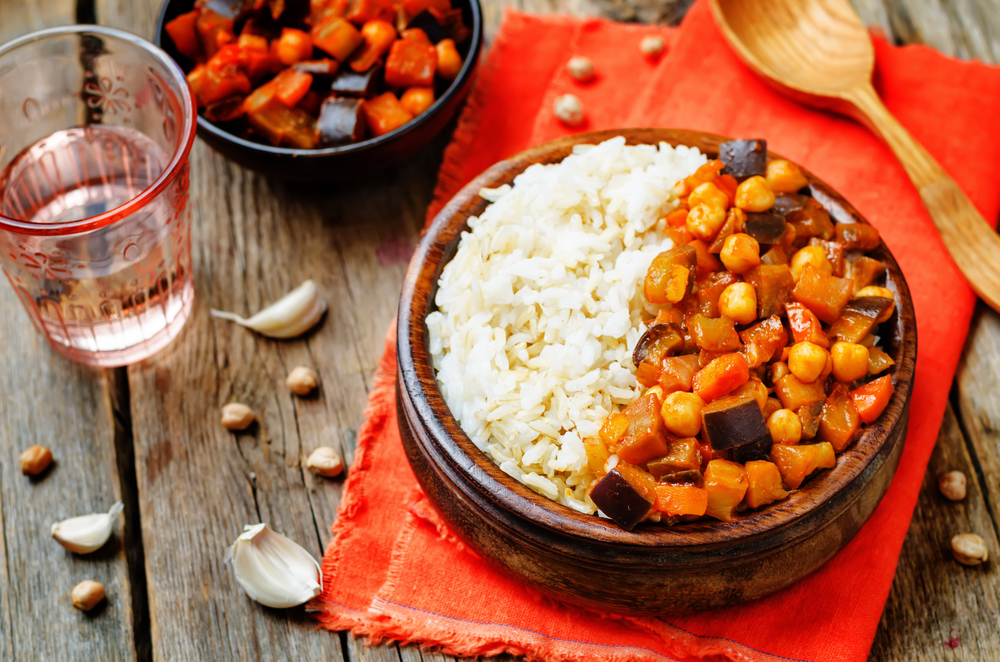 Image Source: Shutterstock

Wednesday: Hump-day cheater: Easy Ramen
OK, its Wednesday, you're doing well, this time tomorrow will be the day before Friday which is when you will be out relaxing, see what I did there? What is a better way to get through Wednesday than a big bowl of delicious noodles? Nothing.
Ingredients:
- sesame seed oil
- 3 tablespoons of grated ginger
- 6 cloves of garlic grated
- 4 cups of veggie stock
- 4 cups of water
- 1.5 cups dried shiitake mushrooms*
- Ramen noodles, you can now get heaps of different types. But honestly, instant will do if your time or cash poor. Otherwise, most stores have loads of different types of dried and fresh ramen noodles in the Asian section-Half a cup of scallion chopped
- 1 bunch Garlic chives (my new favourite find)
- 1 bunch of English spinach, stalks cut and rinsed
- 1 cup of shredded carrot
- Chilli or your liking, to taste
- Panko crumbs (optional, but delicious for crunch)
*I like to soak my shiitake mushrooms overnight, and then I use the water I soak them in, as part of my 4 cups of water. They ooze loads of flavour this way.
Method:
1. Heat 1.5 tablespoons of sesame oil in a large pot on medium heat, add garlic and ginger cooking until fragrant. Add veggie stock and water and bring to a simmer.
2. Once simmering, add mushrooms, spinach and chilli and simmer for 10 minutes, stirring occasionally.
3. While simmering, get a pan out and add about 3 tablespoons of sesame oil, on a high heat. Once hot, pour panko crumbs in, stirring them occasionally until golden brown. Then transfer them to a plate with paper towel for later.
4. Add the noodles to your soup, and simmer for a further 5 minutes or until cooked. Turn off the heat, add scallions and carrots and stir through.
5. Serve in a large bowl, and top with panko crumbs!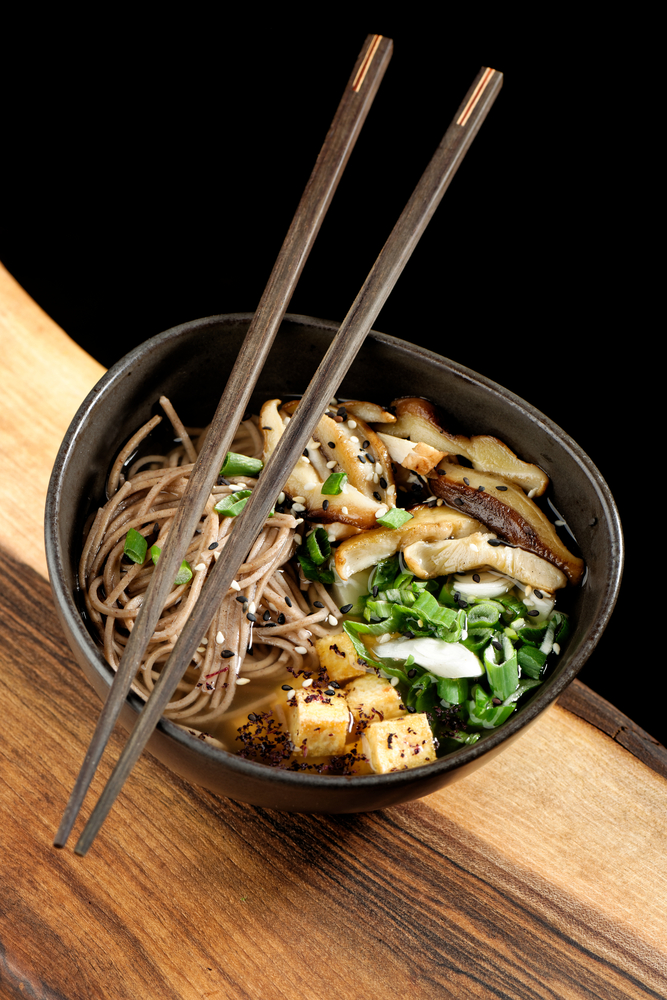 Image Source: Shutterstock
Thursday: classic with a spin: Mushroom stroganoff

You think having a plant-based week means no strog? You're wrong. This delicious stroganoff is just as meaty as its meat counterparts thanks to big, bold mushrooms. Thursday never looked so good, and they stand next to Friday.
Ingredients:
- Pappardelle pasta, most good grocers should have fresh packet otherwise dried will work, if you're a pasta whizz make it yourself!
- Olive oil
- 1 large brown onion, chopped
- 3 tablespoons of flour, keep them separate
- 2 cups of mushroom stock
- 1 tablespoon soy sauce
- 1 teaspoon lemon juice
- 1 teaspoon tomato paste
- 50grams of Portobello mushrooms and 50 grams of Swiss brown mushrooms
- 0.5 teaspoon of dried thyme
- 0.5 teaspoon of salt
- 0.5 teaspoon sage
- 1 tablespoon white wine vinegar
- Cracked pepper to taste
- 1 bunch of fresh parsley chopped
Method:
1 .Cook pappardelle to al-dente then put aside
2 .Mix mushroom stock, soy sauce, lemon juice and tomato paste in a jug or bowl
3 .In a big pot, heat about 2 tablespoons of olive oil on medium heat and cook onions until translucent, then, add 2 tablespoons of flour, stirring it, so it coats the onion.
4. Gradually start pouring your mushroom stock mix into the pot, stirring at the same time until the mixture becomes thick and bubbly, it should take about a minute
5. Add your mushrooms, thyme, sage, and salt. Stirring to combine
6. Cook for 5-10 minutes until mushrooms have shrunk a fair bit.
7. Add the vinegar and simmer for 5 more minutes
8. Add the cooked pappardelle, pepper, parsley to the pot and cook on low for another 5 minutes.
9. Serve with a sprinkle of fresh parsley on top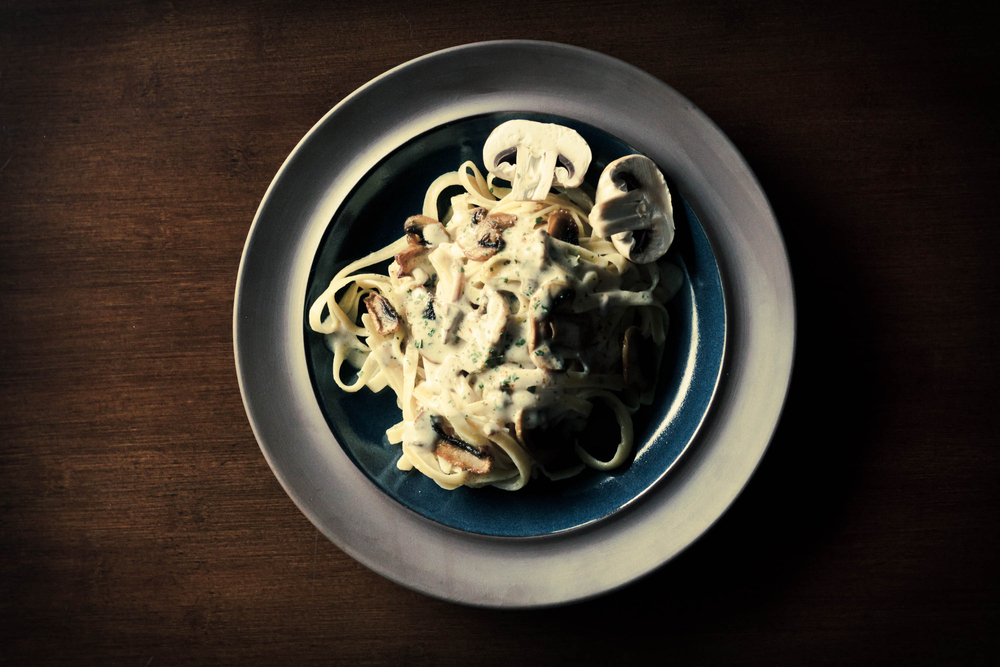 Friday: You've made it, you earned it, you deserve it: Philly Cheese Steak
Friday glorious Friday, time for the food you wanted all week, time to sit back and spend time with friends and family for a whole two days straight. This vegan Philly Cheesesteak goes perfectly with a couple of beers after a long work week.
I'm not normally a big fan of fake meat, but Seitan perfectly mimics a regular Philly cheese steak, so it's my naughty Friday treat. Seitan is made from wheat, so if wheat on bread is too much for you, you can swap it out for some big brown mushrooms.
Ingredients:
- Vegan bread rolls
- 1 large red capsicum sliced
- 1 large green capsicum sliced
- 1 brown onion
- Black pepper to taste
- Chipotle or cayenne powder to taste
- Salt to taste
- Rice bran oil
- Sliced jalapeños
- 2 tablespoons
- Crushed chilli to taste
- Vegan cheese, either a store bought cheese sauce, or you can make your own with this recipe
- 1 cup of seitan strips OR 5 large brown mushrooms sliced
- Fresh tomato, coriander and jalapenos diced for garnish
Method:
1. Put about 1.5 tablespoons of olive oil in a large non-stick pan on high heat
2. Add capsicum, onion, crushed chilli, sliced jalapenos and cook until the edges of the capsicum start to blacken, or the onion is caramelised
3. Add spices and pepper and stir through
4. Toast bread rolls in the oven
5. Transfer to a bowl
6. While the pan is still hot, add another tablespoon of oil, then throw in either your seitan strips or mushrooms sprinkle with a little bit more of your chipotle/cayenne powder and pepper and cook until the edges blacken
7. Add veggies back into pan and mix everything together
8. Turn the heat off, rub a little olive oil on your warm bread rolls and stuff them with the mixture, topping off with some creamy vegan cheese.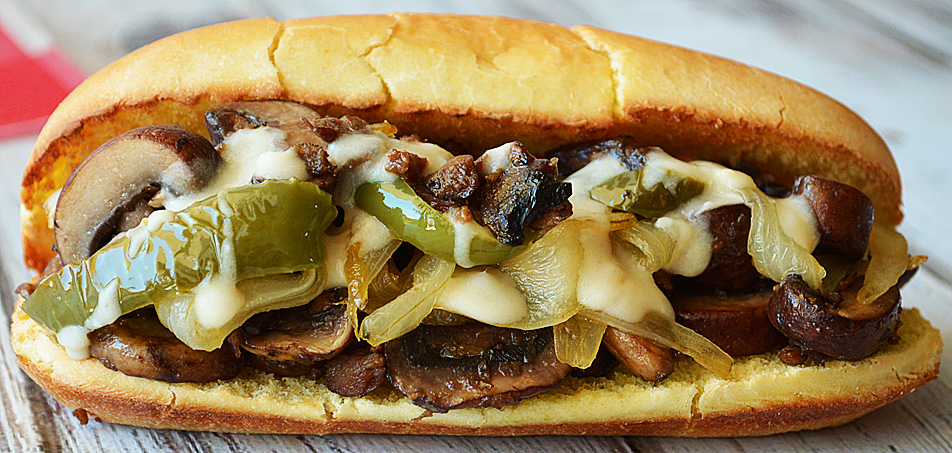 Image Source: The Veg Life
So there you have it, an easy to cook, meat-free workweek that doesn't compromise on flavour or the environment. The more you get into the habit of plant-based eating, the easier it becomes.

---