This International Women's Day we're celebrating the collective power of women - change makers who don't back down and continue to fight for a better world no matter what. We wish we could write an article and include all the amazing women who we admire and cheer for, but that article would go on forever. So we've put together a shorter list of four women from around the world who are at the forefront of climate movements, land rights fights and pollution solutions. Let's follow these women and support their important work!
Hindou Oumarou Ibrahim
Hindou Oumarou Ibrahim is a strong advocate for Indigenous people around the world, working to include their voices and knowledge in efforts to solve the climate crisis. Indigenous communities are on the forefront of climate damage, despite being the people who have contributed least to the climate crisis. Hindou Oumarou Ibrahim is a true leader, advocating for the inclusion of Indigenous knowledge on the world stage. Through her work, she also sheds light on unique Indigenous solutions and traditional knowledge of the land, which is so essential to reverse climate damage.
Amelia Telford
Amelia Telford is a Bundjalung Aboriginal woman, leading a national grassroots network of Indigenous people to fight fossil fuel projects in Australia. She runs the Seed Indigenous Youth Climate Network, Australia's first Indigenous youth climate network. SEED runs campaigns around the country, including battling the Adani coal mine and fracking in the Northern Territory. Amelia Telford is a tireless advocate for climate justice and Indigenous communities in Australia and has created a space for Indigenous youth to organise and be heard.
Miranda Wang
Miranda Wang has found a way to recycle non recyclable plastics! She is the founder and CEO of BioCellection, a chemical technology company pioneering plastic recycling and helping to solve our plastic pollution crisis. At 18, Miranda Wang and Jeanny Yao discovered a bacterium that could eat away at plastics and now works to recycle previously non-recyclable plastics. The goal is to transform those plastics into new materials that can go into anything from cars to mattresses! Wang also focuses on educating people on waste management to help build a future where we aren't wasting valuable resources.
Daisy Jeffrey
Daisy Jeffrey is at the head of the movement for climate justice in Australia. She is a key organiser for the school climate strikes which have united large parts of Australia in a call for climate action, drawing hundreds of thousands to protests! She fights to empower young people and shift them away from apathy and towards being ready to take action - from uniting different high schools to uniting cities and towns all over the country. Daisy has a book 'On Hope' coming out soon too, where she writes about how ordinary people are fighting back and demanding climate action.
This snapshot alone shows us how important it is to include a wide array of voices in the climate movement. Ruth Bader Ginsburg said, "Women belong in all places where decisions are being made. … It shouldn't be that women are the exception." and we couldn't agree more!
Written by Catriona Caldwell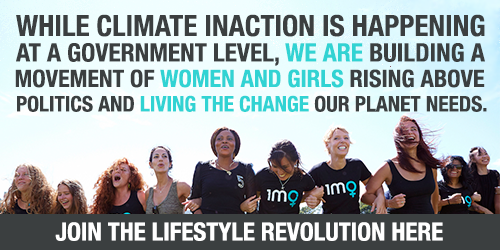 ---