We all know what it's like to have a fridge full of leftovers, a half container of rice here, a few vegetable ends there and a bowl of cold pasta and have no idea how to salvage them. Well, these things can be the basis for a whole new food creation.
It's estimated that 20% of the food we purchase in Australia is wasted. So get creative with your leftovers and dont let food go to waste.
Here are a few of our favourite recipes for your leftovers…
Pasta Frittata

This dish can be served hot or cold; it will serve 4 people and takes 20 minutes to cook.

Ingredients:
4 large free-range eggs
40g Parmesan cheese, plus extra to serve
Sea salt
Freshly ground black pepper
Leftover cooked pasta (preferably around 400g worth)
Extra virgin olive oil
Note: This is one of those dishes you can add whatever you have in, onion, garlic, zucchini etc. Get creative!
Method:
Preheat the oven to 200°C. Beat the eggs in a large bowl, and then finely grate in the parmesan cheese. Season with a little sea salt and a good ground of pepper. Whisk well, and then stir in your pasta.
To cook the frittata, heat 3 tablespoons of oil in a 26cm non-stick ovenproof frying pan over a medium heat. Add the frittata mixture and cook for about 5 minutes, or until crisp underneath, then place in the oven for another 5 minutes, or until firm.
Carefully flip the frittata onto a large plate, then slide it back into the pan and return it to the oven for a further 5 minutes. Serve with an extra grating of Parmesan
Note: If your leftover pasta is already coated in sauce, you can make a pizzaiola pasta frittata and serve by slicing and layering over 6 ripe cherry tomatoes and 40g of fontina cheese. Scatter over a few fresh basil leaves, and finish with an extra grating of Parmesan.
Recipe appropriated from Jamieoliver.com
Curry Fried Rice Recipe

Whenever I look into other people's fridges, more often than not, they have leftover rice. So rather than just heat up the rice or eating it cold… why not use whatever you have on hand to make a curry fried rice!
This recipe is easy, but completely changeable depending on what is in your fridge. So don't be afraid to tweak it.
Ingredients:
Vegetable oil
1 egg
Garlic clove
Leftover vegetables
Red curry paste
Leftover cooked rice
Method:
Heat 1 ½ tablespoons of vegetable oil in a large nonstick skiller over high heat.
Add 1 beaten egg and swirl in the pan to make a thin omelet; once the edges firm up, use a spatula to to flip it over. Cook for another 15 seconds then slide it onto your cutting board.
Reheat the skillet (or wok) over medium-high heat. Add a tablespoon of oil and garlic.
Add vegetables, greens and pepper to the pan and stir fry to heat through.
Add 1-2 teaspoons of red curry paste. Taste to see if the flavor is sufficient, if not, then add more curry paste as needed.
Add the rice, keep stir-frying for 1-2 minutes.
Turn off heat, stir in the ginger and season with salt.
And there you have it. Simple, easy and delicious!
Vegetable Rice Patties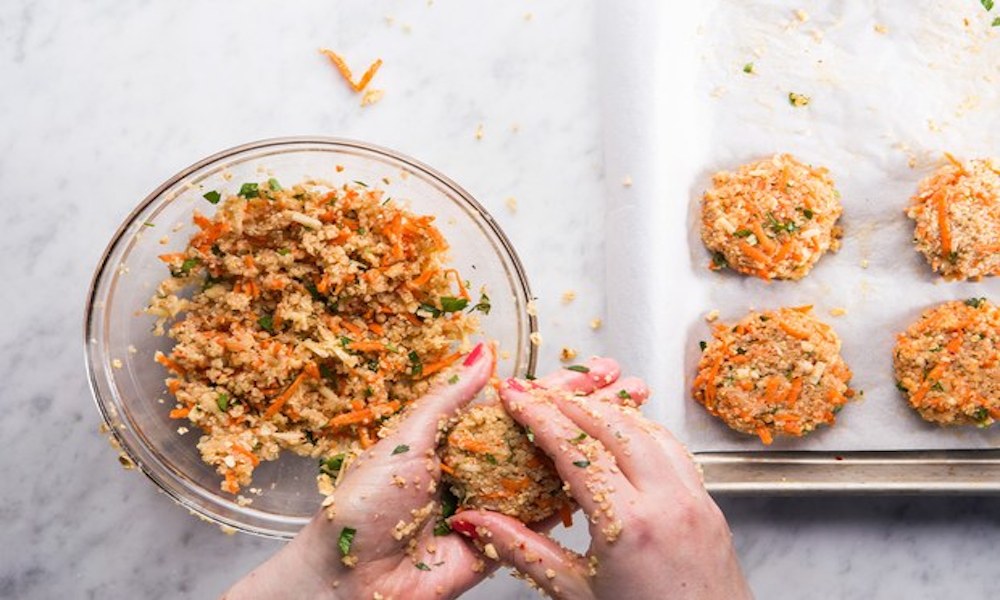 [Photo from Epicurious by Chelea Kyle, Food styling by Anna Stockwell]

Ingredients:
1 Tablespoon olive oil
1 Onion, chopped
½ Cup chopped mushrooms
1 Zucchini, grated
1 Carrot, grated
3 Cups cooked cold rice
2 Eggs
½ Cup toasted breadcrumbs
Any spices or herbs you have
Method:
Sauté onion in oil until soft. Add mushrooms, courgette and carrot and cook until soft.
The original recipe had cottage cheese in it, but if you're not into this like us, then add a handful of chopped, fresh herbs or any spices you have, from cumin to chilli powder or finely chopped peppers.
Mix rice and eggs in a bowl and add vegetables
Press 1 tablespoon of mix into patties and roll in breadcrumbs.
Heat a little oil in a pan and cook patties on each side until golden brown.
Note: If you don't want to use cheese (as used in most recipes) you may need to add more oil to help stick together.
[ Header Image: Shutterstock ]
We're trying to save 8 billion dollars worth of food from going to landfill this year. Will you help us by pledging to be a food lover and eat your leftovers?
---