Last year was the hottest on record globally by a huge margin. Climate change is a major factor.
Figures released yesterday from the world's three principal temperature datasets, the UK Met Office, Nasa, and the National Oceanic and Atmospheric Administration (Noaa), showed the average global temperature in 2015 was "0.75C higher the long-term average between 1961 and 1990, much higher than the 0.57C in 2014, which itself was a record" (Guardian).
2015 has smashed the record for the hottest year since reporting began in 1850, with The Met Office already predicting 2016 will set another new record.
Despite a strong El Niño event peaking at the moment, scientists are clear that the vast majority of the warming seen in 2015 was due to the emissions from human activity.
"Even without an El Niño, this would have been the warmest year on record,"
- said Prof Gavin Schmidt, director at Nasa's Goddard Institute for Space Studies.
At the end of last year, a historic climate agreement between 200 nations was reached at the COP 21 in Paris.
All parties agreed that they will hold global temperatures:
"Well below 2°C above pre-industrial levels and to pursue efforts to limit the temperature increase to 1.5°C above pre-industrial levels".
The mention of 1.5°C is especially pertinent for low-lying Pacific Island nations, and as heat records are being broken year after year.
Currently, we're tracking close to a rise of 3°C. In fact, as the Guardian reports, The Met Office data, "when compared to global temperatures before fossil fuel burning took off, shows that 2015 was already 1C higher."
The Climate Council have a new report out called 'The Hottest Year On Record (Again)'.

The reports key findings show temperature records are being smashed across many regions of the world, largely through the influence of climate change.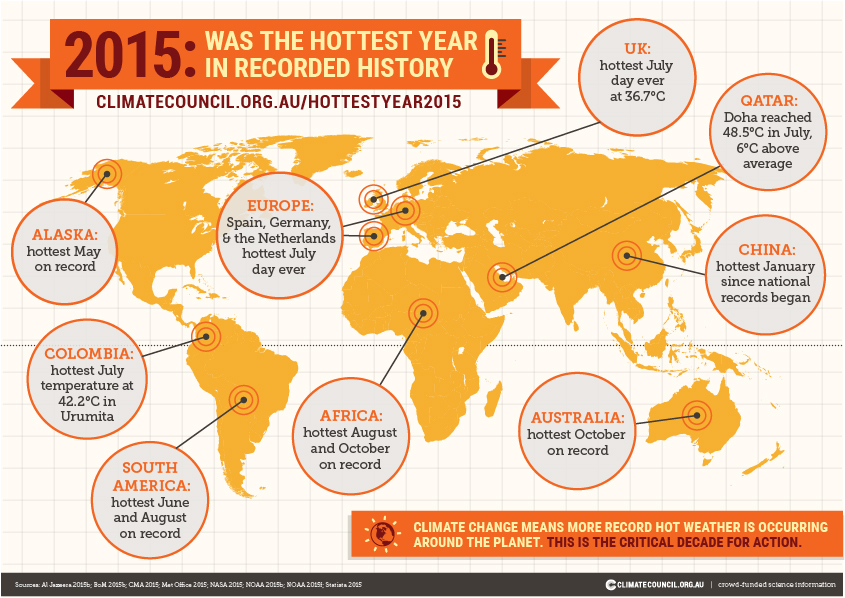 Other unsettling statistics hot from the report include:
"The record global warmth of 2015 is part of a long-term trend. All of the world's 10 warmest years have occurred since 1998. 2015 is the 39th consecutive year with above-average global temperatures."
"No one aged under 40 has lived in a year with global average temperatures at or below the global 20th century average."
This is yet another wake-up call that there needs to be a rapid shift towards 100% renewable energy if we are to meet the Paris agreement and avoid dangerous climate change.
READ THIS NEXT:
1 Million Women is more than our name, it's our goal! We're building a movement of strong, inspirational women acting on climate change by leading low-carbon lives. To make sure that our message has an impact, we need more women adding their voice. We need to be louder. Joining us online means your voice and actions can be counted. We need you. We're building a movement of women fighting climate change through the way we live
---