All you need for this recipe is two ingredients. Seriously, it couldn't get any easier.

I was happy to report earlier this week, that Ferrero achieved their 2014 goal to source all of the palm oil in Ferrero products (like household favourite Nutella), from ethical and sustainable sources. You can read the full article here, but basically this is a huge step for the brand.
A step which will hopefully inspire other brands to follow, and more consumers to demand, that if companies insist on using palm oil in their products, then it must 100% Certified Sustainable Palm Oil that does not contribute to further deforestation and habitat loss.
I understand many of you may have made decisions to completely boycott any products containing palm oil, however Palm Oil Investigations have a lot of great information on why this can be counter productive, and in the long run doesn't actually force brands to change.
That's why it's a huge step Ferrero has taken to map their supply chain to ensure it is ethical. In light of this, I thought it fitting to share a Nutella recipe. All you need for this one are two ingredients. Seriously, it couldn't get any easier. Obviously, it will be delicious too, because it's Nutella we're talking about. Enjoy!
Thanks to The Kitchn for this recipe.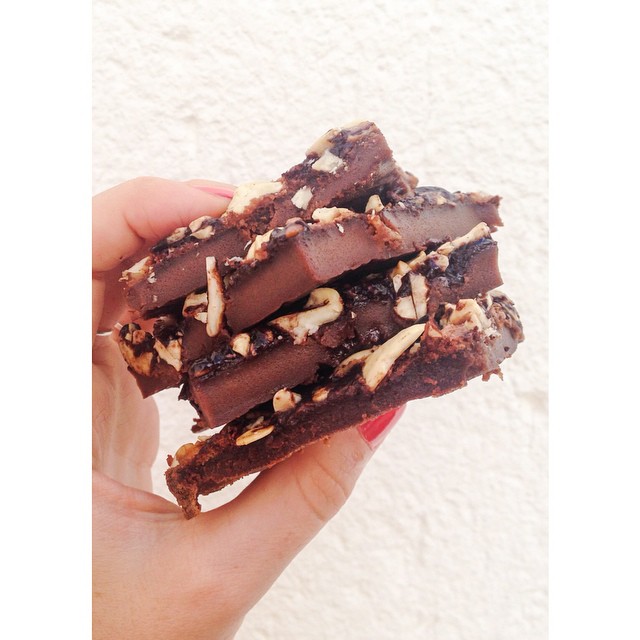 2-Ingredient Nutella Brownies
Ingredients
4 large eggs
1 cup Nutella
Optional: 1 cup chopped nuts sprinkled on top
Equipment
8 x 8-inch baking dish
Parchment paper
Nonstick spray or oil
Measuring cups and spoons
Microwave-safe bowl or cup
Stand mixer or hand-mixer
Mixing bowl
Spatula
Directions
Heat the oven to 180°C with a rack placed in the middle position.
Cut a length of parchment paper and lay it in your baking dish with the ends hanging over the sides of the dish like flaps. Spray the parchment and sides of the baking dish with cooking spary. (A light spray of cooking spay under the parchment will also help hold it secure.)
Crack all 4 eggs into the bowl of your stand mixer or your mixing bowl. With the whisk attachment, whisk the eggs together. Begin on low speed and gradually increase to medium-high.
Continue whisking the eggs until they become light lemon-colored and billowy, and are tripled in bulk. This will take 6 to 8 minutes (slightly longer if you're using a handheld mixer). The more billowy your eggs, the better the texture will be in your brownies and the less "eggy" they will taste.
While the eggs are whisking, measure the Nutella and transfer it to a microwave-safe bowl. Heat the Nutella for 1 minute, stopping every 15 seconds to stir the Nutella. When warmed, the Nutella should be loose and creamy.
With the mixer on low speed, drop spoonfuls of Nutella into the egg mixture using a spatula. (With a hand-mixer, add a little at a time and mix in between.) Continue mixing until all the Nutella has been added and the Nutella is thoroughly combined with the eggs.
Use a spatula to stir the mixture by hand a few times, making sure to scrape the sides and bottom of the bowl where the whisk might have missed.
Pour the Nutella mixture into the prepared pan. Use a spatula to scrape the bowl clean.
Transfer the dish to the oven and bake for 25 to 30 minutes. The brownies are done when they start to pull away from the sides of the dish and a cake tester inserted into the middle of the brownies comes away clean.
Let the brownies cool as long as you can. They are delicious while still warm from the oven, but will easily fall apart.
For sturdy brownies, wait until they are completely cooled before cutting or removing them from the pan.
Store brownies in an airtight container at room temperature for up to a week or so.
Header image from The Kitchn
Post Body image by Bronte Hogarth
What you can do
Place pressure on brands! If a brand is not using CSPO (Certified Sustainable Palm Oil) then consumers need to place pressure on these brands to change to certified oil.
Always do your shopper research before you buy!
629
Tonnes of CO2
savings pledged
---