Zero emission electric vehicles are the cars of the future, but luckily we don't have to wait that long for that future to be here. More and more electric vehicles are entering the market, and while many seem out of reach due to their price point, there are others that are becoming much more affordable. One of those is the Nissan LEAF- Nissan's 100% electric vehicle. As part of 1 Million Women's partnership with Nissan, 1MW founder Natalie Isaacs has been given a Nissan LEAF to drive for a year. We sat down with Nat to hear all about her experience with the LEAF so far.
What was your biggest concern before getting an electric vehicle?
Getting my Nissan LEAF I was just really excited! I didn't really have any concerns - all I could think about were the pros. Like you can drive around without petrol? Amazing! When I started 1 Million Women 10 years ago, I thought electric cars were something out of a science fiction movie! But I think the story of EVs is similar to the story of solar panels. When I started 1MW, there were only maybe 12000 homes in Australia with solar panels and now there are over 2 million homes. There is a rooftop solar revolution going on here right now and I see that story happening again with EVs. The demand is growing and soon there will be electric cars everywhere. I think the prediction is that by 2023, 1 in 6 cars will be electric so that's incredibly exciting. Knowing that this is one of the best things we can do for climate change action in the future makes it worth dealing with things like 'range anxiety'.
'Range anxiety' is an issue a lot of electric vehicle drivers in Australia currently talk about dealing with, as electric charging stations can often be a long way apart, and driving distances here in Australia are often longer than they are elsewhere. The anxiety comes from doubting whether you'll make it from A to B.
And how has the Nissan LEAF been since you've got it on the road? Like range anxiety, what challenges have popped up?
Since getting the car, it's been an adjustment. Anyone who knows me knows I am not the most organised person and I like to be spontaneous but having an electric car requires me to be more organised and plan my trips better. First I downloaded a couple of apps which show you where all of the charging stations are in the country.
The LEAF is the perfect city car. (I should note, when I say city, I say that as someone who lives on the Northern Beaches of Sydney, about an hour's drive from Sydney CBD. To me, it all counts as the city.) Its range is about 270km (you can charge it at any time but that is it's full range on one charge.) I love using my LEAF to drive around the city. I don't need to think or plan too much because it has plenty of range for that kind of area!
But I am a long distance driver too, I love long trips. I am a Queenslander who used to drive to Sydney all the time. (Brisbane to Sydney is 920km!) This is well before I got the point on climate change and realised how these big trips were not so good in the high polluting car I had at the time.

So my first out of town trip with the LEAF was to Barrington Tops, about 260km north of Sydney and that was fine! It was beautiful to go there and felt great knowing that I had charged the car on my solar panels at home, and the place I had booked to stay at also had solar. That meant the entire trip was charged by the sun! Apart from a quick rapid charge on the NRMA chargers, which probably weren't solar.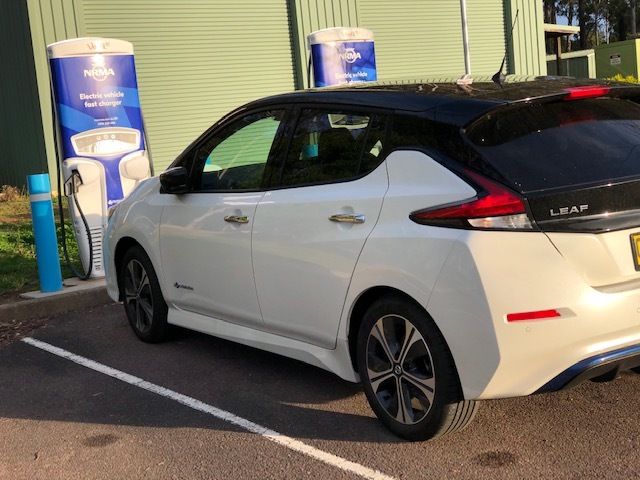 I can see how having a good plan would make travelling in an electric vehicle feel like a breeze!
Yes! Range anxiety is what happens when you don't plan properly. It is like when you are about the run out of petrol and you get that nervous feeling. With a petrol car you think 'I can just make it to the next petrol station' but you can't do that with an electric car so we definitely had a bit of range anxiety on this first trip.
There were a couple of things we did wrong on our trip to Barrington Tops which made for a good lesson. We charged the car the day before and a little more overnight in preparation. For whatever reason, something to do with our house caused the charge to go off throughout the night. When we jumped in the car the battery was only at 70% charge, so we didn't have the full 270kms. We had it "perfectly planned" to charge in Cessnock, on the way to Barrington Tops (with a rapid charger) so this threw us into disarray and range anxiety set in. Instead of risking it to Cessnock we went to Newcastle, thinking the Nissan dealership would have a rapid charger but turns out they only had a slow trickle-feed charger. After waiting around for an hour and getting our charge up a little bit we made our next mistake of taking the wrong turn on the highway getting out of Newcastle and wasting all of that charge we had just gotten trying to turn around and get back on our route. We did make it to Cessnock in the end and realised we would have made it in the first place but this being our first big drive we were really learning as we went along. And once we got to Cessnock it was easy. We put the car on the rapid charge and after 20 mins we were good to go.
What sort of trips is the LEAF best for, or what lifestyle do you think the Nissan LEAF fits in with the best right now?
I am currently in Northern New South Wales. I went away for a few days with my girlfriends to recharge but I couldn't drive the Nissan LEAF here. In terms of wanting to get somewhere in a day, I just couldn't do it quickly enough because there aren't enough fast charging stations along the way yet. I can get as far as Port Macquarie. There are fast charging points along the way. From Port Macquarie to Grafton there are only slow chargers at the moment (a slow charger or trickle feed charge, would charge the LEAF about 10% over an hour). In my time frame, I couldn't get up here in a reasonable amount of time. didn't have time to stay overnight using slow charging and the infrastructure just isn't there yet.
With the Nissan LEAF, the most important thing is learning and understanding the car's range and what it is best used for. I've learned not to expect the car to do something it wasn't designed to do. The Nissan LEAF is an amazing city car, with a huge range for short to medium trips. It isn't the vehicle for driving super long distances unless you've got a lot of time up your sleeve and don't mind slowly charging your car at a bunch of different places.
But the charging stations are getting better and better too. They are building more rapid charge stations, one in Coffs Harbour. It'll be great once the infrastructure keeps up with the technology!
How do you charge the Nissan LEAF at home, when you are using it day to day?
There's a plug in the back and you just plug it straight into the powerpoint in the garage if you've got one. Easy as that! And if you've got solar panels at home then you are powering your car with the sun! I just make sure that the car is charged overnight and it always gets me where I need to go.
Wow, that's amazing that it isn't that difficult to use renewable energy to charge your car! With new technology it isn't always the most accessible, what kind of budget are people looking at these days to do something like that?
The Nissan LEAF starts at around $53,000 (AUD), so it's a lot more affordable than a lot of other electric cars. I am excited for it to become even more accessible for lots of people, the more demand there is. Now that I've got an electric vehicle I will never buy another petrol car again.
For me, this is another step to living with the least impact on the planet and getting me closer to a net carbon zero life. Transport is one of the largest contributors to climate change and electric vehicles are already here and will soon we will hopefully all have the chance to be driving around in electric vehicles when they are accessible and cheaper!
What makes you feel the best about driving the Nissan LEAF?
Without a doubt, knowing that the car itself creates zero emissions is an incredible feeling, it really is. I know that the electric vehicle story isn't perfect yet because of the available infrastructure, but for me, being able to drive around town in a car that is powered by our home solar panels gives me such a feeling of empowerment. My trip to work is quite a long one to do daily on public transport and being able to drive an electric car without the guilt that came with driving my petrol car makes it worth it. And it is so quiet!
[Header image: Natalie charging her Nissan LEAF where was staying in Barrington Tops]
---