Our story
Words from Natalie Isaacs, 1 Million Women Founder & CEO

In 2006, my lifestyle was very different. I was a cosmetics manufacturer and knew little on how climate change was impacting our world. After a conversation with a friend all that changed. I had an epiphany. I realised every single thing we do shapes the kind of world we want to live in. That's what led me to start 1 Million Women (1MW). I figured that there must be millions of other people out there who also connected with that idea. I believed that individuals, and particularly women, had incredible power to change the future.

I left behind the over-packaged world of skincare and beauty products, and began building a global movement of women and girls. My aim was to empower women everywhere to act on climate change through the way they live.
To empower people is a truly glorious thing to wake up for, and 1 Million Women is now a movement of 600,000+ women and girls (and growing everyday). We are pioneers in the gender and climate change arena in Australia and around the world.
In Australia, women make 85% of the consumer decisions that affect the household's carbon footprint – we can influence through every dollar we spend and every choice we make. The world needs a lifestyle revolution. It's easy to sign a petition or to put pressure on governments and march on the streets, which we have to do, but we can't do that on the one hand, and then live our lives with overconsumption on the other. It's about bite sized changes - reduce your household energy, buy quality not quantity, cut your meat consumption by half. If a million of us did it, imagine the result. Wherever you are, on your journey, whether you just want to get started, or you're way down the track, what's important is that you just act.
I'm so inspired by every person who joins our movement. I know through my own climate journey from apathy to action that profoundly changing your lifestyle is not easy, but it is key to solving the challenge of climate change.

It's time for us all to harness the power of individual action. How we live each day matters. One small action at a time multiplied by millions and millions changes the system.
At 1 Million Women, we're constantly finding new ways to emotionally connect people with climate change. Otherwise it becomes viewed as an adjunct to who you are as opposed to simply how you live your life.
We are building a movement of inspirational women and girls acting on climate change through the way we live. Will you join us and be counted?
Nat x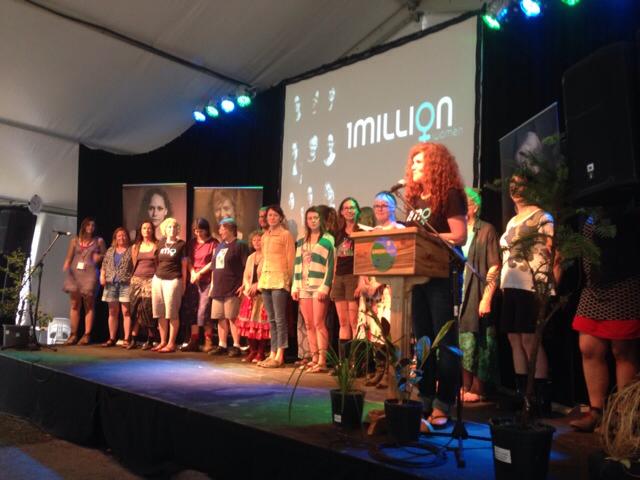 "I believe a million women will tell a million more and lead a million communities."
- Natalie Isaacs, 1 Million Women Founder
---